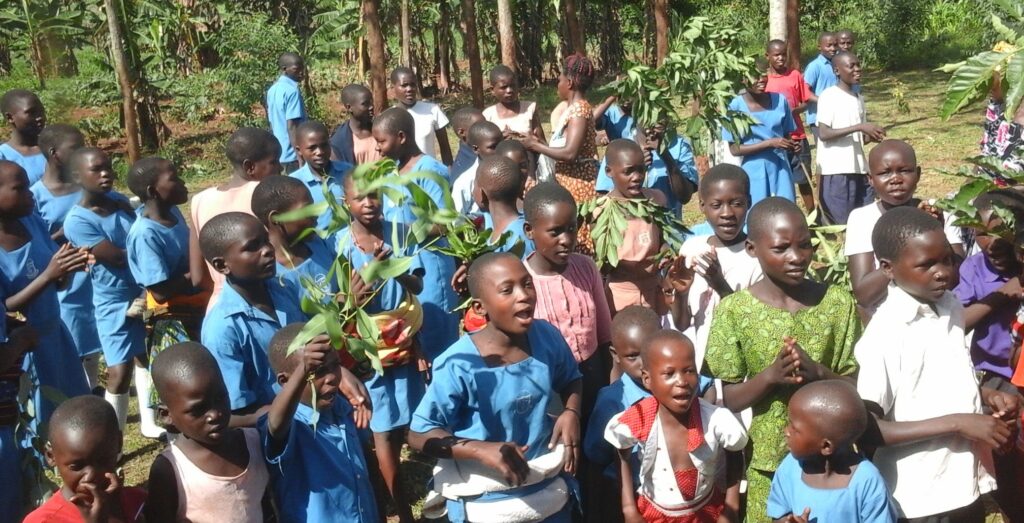 By Jeanette Windle with Lois Lass
BCM missionary Lois Lass was just turning thirteen years old the last time she'd set foot in her birthplace—and her heart home. Lois was born in the Belgian Congo (now the Democratic Republic of Congo) to missionary parents Ray and Wanda Florence. Lois remembers her childhood growing up along Africa's Great Lakes, both in the Congo and neighboring Burundi, as idyllic.
"It was a happy time in my life, and I didn't see the poverty.  It was just how people lived. Mud houses with grass roofs, dirt floors and just one room. No beds or furniture, just mats. No running water or bathrooms. No electricity or stoves to cook food on, just an open fire that you had to collect wood for every day. The villagers had to walk to wells to get their water every day. But I also saw people filled with joy and the love of God. When they smiled, the joy shone through their eyes."
When Lois headed to her parents' homeland for her secondary education, she always planned to return one day to equatorial Africa. After college, she married a widower with two small children, Jim Lass, who was also preparing for missionary service in Africa. But mission leadership recommended the couple adjust to their newly blended family for at least two years before heading overseas. Jim and Lois began working in inner-city neighborhoods, first in Muskegon, MI, then in Atlanta, GA.  As time passed, they recognized God was calling them to continue in this ministry. Lois' dream of returning to Africa remained on a back burner.
The Lass family joined BCM as missionaries in 1980. Over the next decades, they taught Bible clubs. adult Bible studies, teacher training, served in BCM camp ministries, along with raising three additional children. When God called Jim Lass home in 2002, Lois continued serving with BCM, both in children's clubs and in summer camps. And though she'd never had opportunity to return to her childhood home in Africa, she was once again involved in ministry there.
This connection began when Lois attend a concert of Ugandan Thunder, a children's choir from a Ugandan Christian orphanage that was on its annual tour in North America. Ugandan Thunder is part of a children's ministry, Pennies for Posho, that feeds and houses around 6000 orphans in some twenty orphanages and feeding stations across Uganda, a country of almost forty million population just across the border from the Congo where Lois grew up.
Uganda was called the pearl of Africa by Winston Churchill because of its beauty. But it is also one of the planet's poorest countries with 80% of its population earning less than $2 a day. Almost half the population is under 14, of which two million are orphans. HIV-AIDS has been a major contributor to this statistic as well as malaria and war. A cheap corn gruel called "posho" is the staple diet of the poor. The ministry name comes from children's Sunday school classes and VBS offerings (not just pennies!) collected across North America to help feed these children.
Lois first got involved with PfP as a sponsor. A sponsorship of only $9USD can provide a Ugandan orphan with three nutritious meals a day. But in October, 2015, God opened doors for her heart dream to come true when Lois was able to join a mission team traveling to Uganda to minister for two weeks in 19 different orphanages.
The team's main priority was delivering food and supplies to each locale as well as meeting with the local pastor in charge of each orphanage and feeding program. Lois was deeply touched by the sacrificial lifestyle of the pastors and teachers involved, many of whom had given up secular careers to dedicate themselves to this ministry. One pastor fixes thrown-out sewing machines and sells them in order to pay his teachers. Another holds a professional position out-of-town from which he pays his teachers as well as supports his own family. The orphanage schools have few supplies, with children sitting on a concrete or even dirt floor for lack of desks or tables.
And yet, as Lois remembered so well from her childhood, the children exhibited a joy that was at complete odds with the poverty of their surroundings. She shares, "Everywhere we visited, we were greeted by children running alongside beside our bus, singing. As we stepped off the bus, 3 or 4 children would grab each of our hands to lead us where we were supposed to go."
At each stop, the children would put on a program with singing and dancing, after which a pastor on the mission team would share a salvation message with the children. Any extra time the team had was spent playing games with the children and giving them one-on-one attention and love. Since English is Uganda's official language, Lois and her teammates could communicate with older children without a translator, sharing God's love and a gospel message with them.
One entire day was less pleasant as Lois and her teammates helped a medical team remove jiggers from children and adults. Jiggers are sand fleas common to equatorial areas that burrow into bare feet to lay their eggs, leaving behind blister-like sores that can cause permanent damage if not removed.
"I washed dirty little feet and some feet that weren't so little," says Lois. "What a humbling experience." Once jiggers were removed, each child and adult received a pair of new shoes to help protect feet from further infections.
But during her two weeks in Uganda, Lois was impacted most by one 12-year-old girl named Angela. The little girl had held Lois' hand the entire time the team was touring her feeding program. As the team got back on the bus, Angela begged Lois to consider providing her school fees. It was evident just how difficult the request was for the little girl, but also urgently she felt about it. Schooling isn't free in Uganda. This is particularly exigent for the girls, since without education, they are typically locked into a cycle of servitude at best and sex traffic at worst. Even at elementary age, if the education is sub-par, they have no hope of passing the Level 7 (post-primary) exam required to be able to continue on to secondary education.
Lois promised to pray about the request, but couldn't get Angela off her mind. She discovered from the local pastor that Angela's father had abandoned the family and her mother was disabled, so couldn't work. While middle school fees of $250USD and $450 for high school per year seem modest by North American standards, it is far out of reach of a child like Angela.
"This weighed on my heart," Lois shares. "What future does she have without an education?  So I'm paying her school fees for this year at least, and she will be my third child to sponsor."
But Angela is only one of thousands. Lois asks prayer for these children that they will grow into godly adults and especially for the girls that God will protect them against sexual abuse. While Lois is now back to working with BCM children's ministries in North America, part of her heart has remained in Africa, and it is her hope to return again to be able to share God's love in the region of her birth.
"Being able to go to Uganda was such a blessing from the Lord," Lois expresses. "It's much more than helping children in poverty on the other side of the world. It's a heart thing. The orphans of Uganda now have a permanent place in my heart."
[hr]
Originally Published in BCM World March 2016