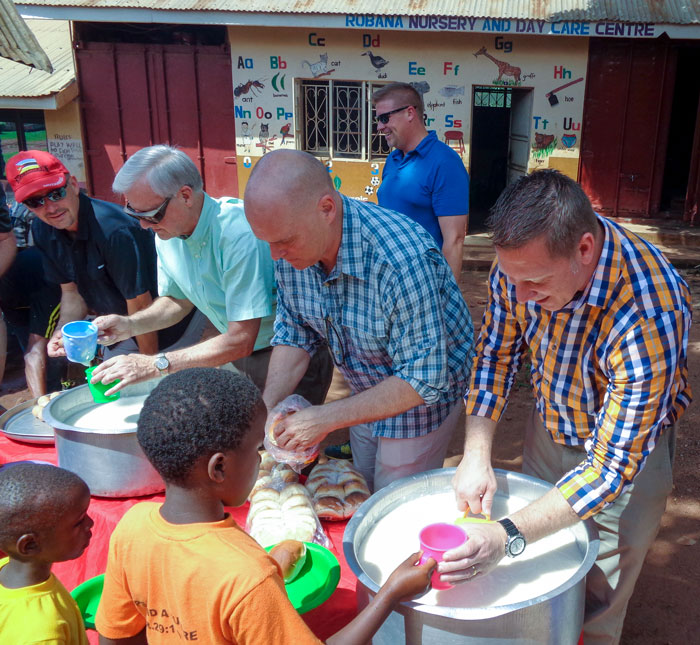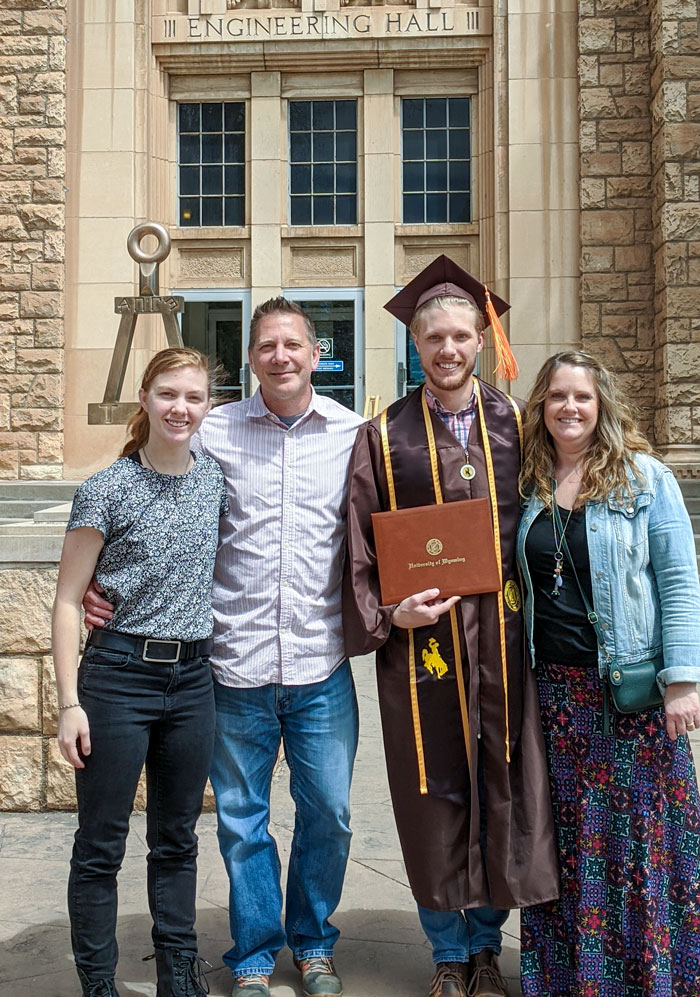 Dr. Rick Rhoads serving in Uganda;
Dr Rhoads with family
Dr. Rick Rhoads serving in Uganda
BCM Commissions New President
The BCM global family and International Board of Directors (IBOD) are delighted to welcome incoming BCM president Dr. Rick Rhoads. An answer to much prayer over the past year of BCM's presidential search, Rick receives the baton of leadership from Dr. Marty Windle, who has served as president for the past seventeen years. Rick comes to BCM with a wealth of life and ministry experience, including twenty-nine years in church, Christian higher education, and health care ministry settings. Rick holds a Doctor of Ministry in Global Leadership from George Fox Evangelical Seminary and a Master of Arts in Leadership for Evangelism and Discipleship from Columbia Biblical Seminary & School of Missions. He is a licensed minister in Pennsylvania, USA. Over his years of ministry, Rick's heart has been in serving both the local and global mission of God. Unique to his doctoral studies was an immersive research experience with church leaders in Asia, Africa, Europe, and North America, centering on burnout among ministry leaders in the digital age and seeking a corrective through Christian spiritual formation for healthy integration soul development. Rick has served in leadership ministry at Lancaster Bible College/Capital Seminary & Graduate School since 2005 in a variety of projects, positions, and programs, most recently as chair of the Church and Ministry Leadership Department. He has also taught leadership, spiritual formation, and related missional courses on the global church at both undergraduate and graduate levels. An emphasis over his last decade of ministry has been on creating global networks, contextualized educational offerings on four continents, and partnering with individuals and multinational organizations to further the mission of God. Specific leadership initiatives during this time period have included:
Providing key leadership/networking of pastors to the Pastor's Discipleship Network (PDN) centered in Uganda, which includes pastors from Uganda, Rwanda, Kenya, and Ethiopia.
Partnering to create a new educational site for theological and leadership training of pastors and church workers within the Pacific Rim region with a focus on South East Asia.
Partnering and leading the creation of a new educational site for theological and leadership training of pastors and church workers in the global south, particularly Brazil.
Helping sponsor and host at Lancaster Bible College such global children's ministry events as the Second Lausanne Forum on Children at Risk (May 2017).
Additionally, Rick is also a licensed radiographer and neurotrauma MRI technologist.  Throughout his seminary years, Rick served as neurotrauma MRI technologist at Palmetto Health and the University of South Carolina's health system.  During the COVID pandemic, he served as lead of neuroimaging division at Neurology and Stroke Associates, PC. He also works with the MRI neurotrauma team at Penn Medicine and Lancaster General Hospital, in central Pennsylvania, USA.
Rick has been married to his college sweetheart Naomi for twenty-five years. They have two adult children, Grace and Eli. Eli graduated from the University of Wyoming with a degree in architectural engineering and is currently working in an engineering firm near the Philadelphia area. Grace is a sophomore at the University of North Dakota and is a theatre major specializing in technical theatre.
Dr. Rick Rhoads will begin his ministry as the seventh president of BCM International upon his commissioning on December 5, 2022. He expresses his own joy at joining the BCM global team. "I am honored and humbled to serve each of you and this beautiful movement of global disciple-making.  My prayer for each of us is that God will continue to grow each one of us while in turn He uses each of us to transform others into the image of Christ."
Outgoing president Dr. Marty Windle adds, "Thank God together with me for this great answer to prayer. Pray for Dr. Rhoads as he leads us into the future. I have come to love each of you as we've worked together around the world these last seventeen years. I look forward to seeing and participating in BCM's next chapter of reaching children and strengthening the Church under the excellent leadership of Dr. Rick Rhoads."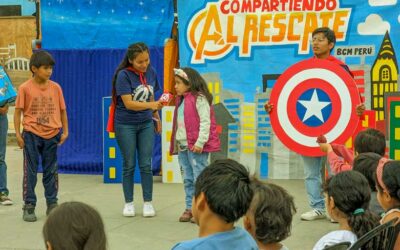 In June 2023, Ecuador became BCM's newest ministry field with the commissioning of Juan Fer and Rita Sanchez from the capital city, Quito, and Jose Quezada in the coastal megacity of Guayaquil. Participating in a week of inaugural events were BCM president Rick Rhoads and wife Naomi, Latin America director Carlos Odicio, president emeritus Marty Windle, and wife Jeanette Windle. BCM Latin America began in Peru in 1993 with a very specific vision: "Pointing children to Christ and pointing churches to children." BCM Quito missionary Juan Fer explains why this is so urgent…
read more