By Shantal Artieda, BCM Peru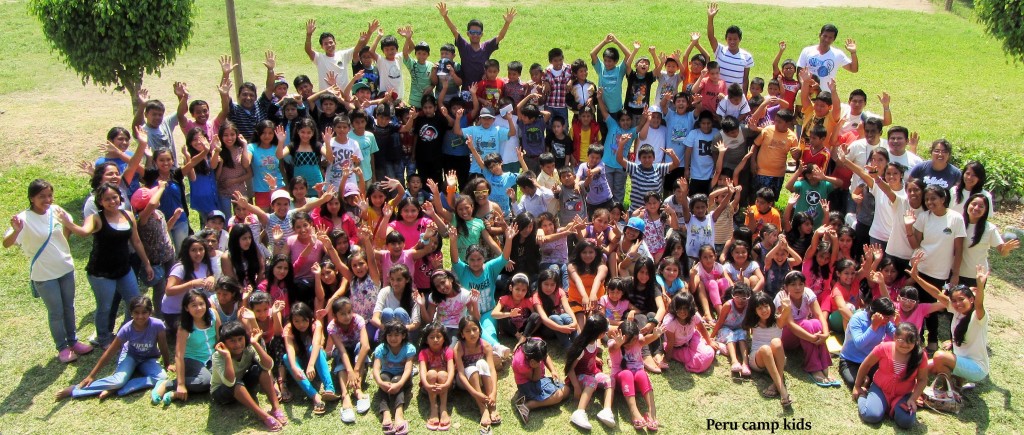 Lima, Peru (BCM World)—The last day of camp season had arrived at BCM Peru's campground in Pachacámac, a half hour away from Peru's capital city, Lima. Even from a distance could be heard the resounding chant of an entire auditorium full of teenagers singing at the top of their lungs, "Te doy gloria, gloria, a ti Jesús" ("We give you glory, glory, Jesus"). These campers had been enjoying the camp atmosphere for just one week. Still, each knew life would not be the same for them the next day.
BCM Peru began operations in 1993 when Carlos and Marion Odicio started a mission with a very particular vision which still remains its main focus: reaching children for Christ. The ministry began in the capital city, Lima, with open air activities inviting children to come out of their houses to the streets, parks or plazas to participate in a show with clowns, mimes, songs and games, all designed to creatively share the gospel with them. Sunday school classes and children's ministries in both Peru and North America were encouraged to collect pennies and other coins to fund the ministry, so the program became known as "Pennies for Peru".  In a country where children´s curiosity seems to exceed the norm and parents appreciate time off from their children, carrying out these activities in Peruvian towns and cities has never been a problem.
Soon a number of children's Bible Clubs had been established. The next logical step was a camp ministry so these children could learn more about God and His Word. God provided a property thirty minutes drive from Lima in the small town of Pachacámac, where BCM Peru has been able to develop a camp complex. The camp first opened its doors to receive children and teenagers in 2001. The camp goal is to allow campers to enjoy a time away from their regular lives, a time set apart to teach them about the wonders of a great God and the personal relationship He wants with each one of them. Over the years campers have come and gone and the camp experience has changed. But one thing remains the same: the focus is set on God and the decisions these campers can make before their God.
The 2014 camp season lasted for seven weeks from January to February, which is the summer season since Peru is in the southern hemisphere. This included three children´s camps and four for teenagers and youth.  Months of preparation and rehearsals had already been invested by BCM Peru missionaries, led by camp directors Daniel and Joan Irrazabal, and the camp staff, composed mainly of students from BCM Peru´s Bible Institute as well as volunteers. The first group of campers arrived the second week of January. Though only forty campers had been expected, the staff were thrilled to receive 135 children for the first week of the season. Such a large group was a challenge, but one they were happy to take.
The focus for the 2014 camp season was Israel vs. Egypt. Classes, devotion time, object lessons and special chapel time at nights had been prepared around these two important nations. During the week, campers learned about the traditions and characteristics of the Egyptians in contrast with the Israelites and how the Israelites under oppression had to learn to stay true to the one true God who would deliver them from slavery. The object was to compare Egypt to the world we live in with its worldly influences and obstacles Christians face, and how Israel was chosen as a nation, not because they were better or bigger, but because God chose them to be separated for God, just as He has chosen us to follow Him and serve Him.
The topic and theme may sound like a big bite for young children. But the whole program was developed to meet the children at their own level, explaining complex truths in a simple and biblical way they could understand, through songs, dramas with colorful costumes as well as a little humor to keep it fun for kids ranging from teenagers clear down to four years old.
This was the first time the staff had received such a young camper and a deaf one at that! A young lady, Karen Quiroz, had graduated a few years ago from BCM Peru´s Bible Institute. Since then she has devoted her life to work with deaf children. This year Karen returned to the camp as a counselor and translator to eight of the deaf children she works with on a regular basis. To see these children make friends and participate in the games, worship time and classes was heartwarming. In the end, four of them trusted Jesus as Savior and the others made important decisions regarding their spiritual lives.
Fun is an important part of the BCM Peru camp experience. Campers participate in a lively program of activities, games and challenges throughout the week. They are divided into three teams to encourage healthy competition, teamwork and sportsmanship, and excitement can be seen in faces and heard in noisy rooting for their own team as they accumulate points each day. Campers also enjoy playing soccer, volley ball, swimming in the pool and going on excursions near the camp property.
Each counselor has between seven to ten campers in their room each week. These volunteers do an amazing job of helping campers participate in the competitions and pay attention during classes. Above all, they are in charge of caring for the lives of each camper. Their job is to get to know the campers personally, talk to them and get to know their hearts in a more intimate level, helping campers realize what God is trying to show them throughout the week and guiding them in making right decisions that will bring glory to God.
At a special bonfire on the last day of each week, the children shared the decisions they'd made before God and the desires of their hearts: "One day I would like to be a missionary." . . .  "When I grow up, I want to do what the people at this camp do."
To watch little boys and girls at the bonfire committing to dedicate their lives to God was very moving. Sincerity and assurance could be seen in their faces as they prayed. Some of them even wept as they promised their Creator to be a light shining bright for His glory in this world.
The teenagers who come to the camps are quite a different story. A difficult life and street smarts have taken away innocence they once possessed as children. Most of the teenage groups who come to camp are part of Compassion Ministries in Lima. These young boys and girls are in desperate need of structure, love and understanding. Some are confused as far as their beliefs. Some are just rebellious and indifferent to anything anyone has to say about God and living a godly life.
However, no heart is too tough to be touched by God. It was encouraging to receive feedback from some of these teenagers: "This was the best camp of my life. It really helped me in my spiritual life and I truly enjoyed it a lot." . . . "What a beautiful week I've had with everyone at the camp. Continue to press on in what you do. There is a reward in the Heavens." . . . "You helped me to appreciate everything the Lord gives me" . . .  "This truly was one experience I will never forget. For many like me, you are a fundamental part of our lives. Thank you!"
During the seven weeks of camp season, the camp staff was able to minister to 764 campers. 207 of them trusted Christ for salvation. 552 made decisions to dedicate their lives to God, committing to stay pure and shine as a light for God in this world, being an example of what a Christian life should look like to their parents, family, friends in school and in their neighborhoods. These are all decisions that surely are not easy to make, but will have an unquestionable outcome that will affect the lives of these campers eternally.
"We have seen groups come and go for the past seven weeks," sums up Jonatan Odicio, BCM Peru Director. "And for us too nothing will be the same as they will stay in our hearts forever!"
Originally Published in BCM World April 2014