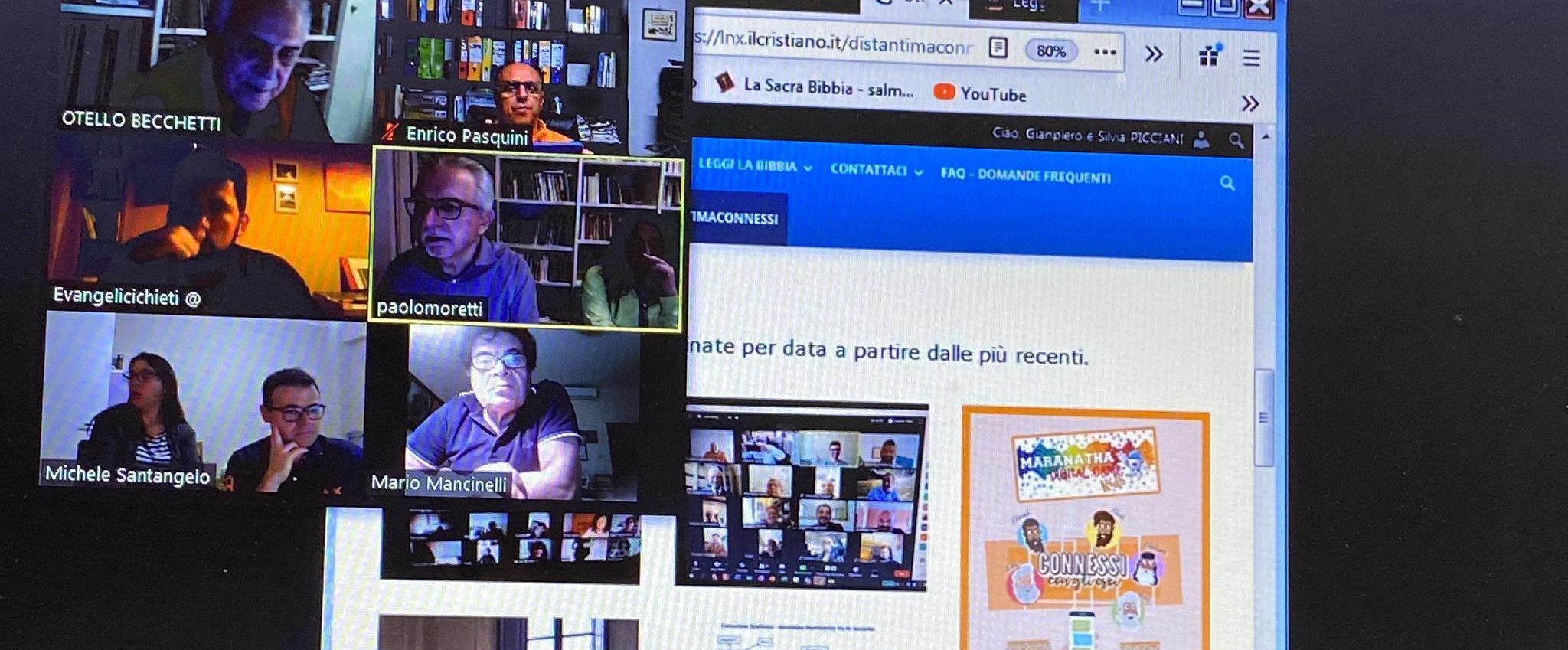 Enrique Pasquini in Zoom meeting
By: Enrico and Betty Pasquini with Jeanette Windle
Italy has been among the hardest-hit nations globally by the COVID-19 virus behind only the UK and the United States for confirmed cases and deaths. BCM Italy field directors Enrico and Betty Pasquini live in the northern Italy region where contagion and deaths have been especially high. Italy was among the first nations to go on full quarantine lockdown, including BCM's year-round camp and retreat center, Centro Maranatha. This was especially disappointing since 2020 is Centro Maranatha's fortieth anniversary year and a full program of events had been planned.
Enrico and Betty are thankful that none of their family, campers, or church congregants have contracted COVID. But as in much of the world, all camps and other in-person ministries have been placed on hold. Enrico and Betty began praying for creative options to turn a problem—quarantine—into an opportunity for ministry. Enter modern technology. Using Zoom as a calling platform, the Pasquini began contacting the many boys and girls who had been campers at Centro Maranatha, eventually organizing a number of weekly virtual discipleship meetings.
Betty has about twenty girls in one group who meet weekly to read and have discussion on a biblical passage. They have also created videos from their studies to share on Facebook and Centro Maranatha's own Youtube channel. Betty started similar meetings for adult women in their church. She is also part of a messaging service where people can call if they are lonely, grieving, or just need to share their problems. Along with a listening ear, Betty has been able to share the gospel and God's love with a number of women through this service.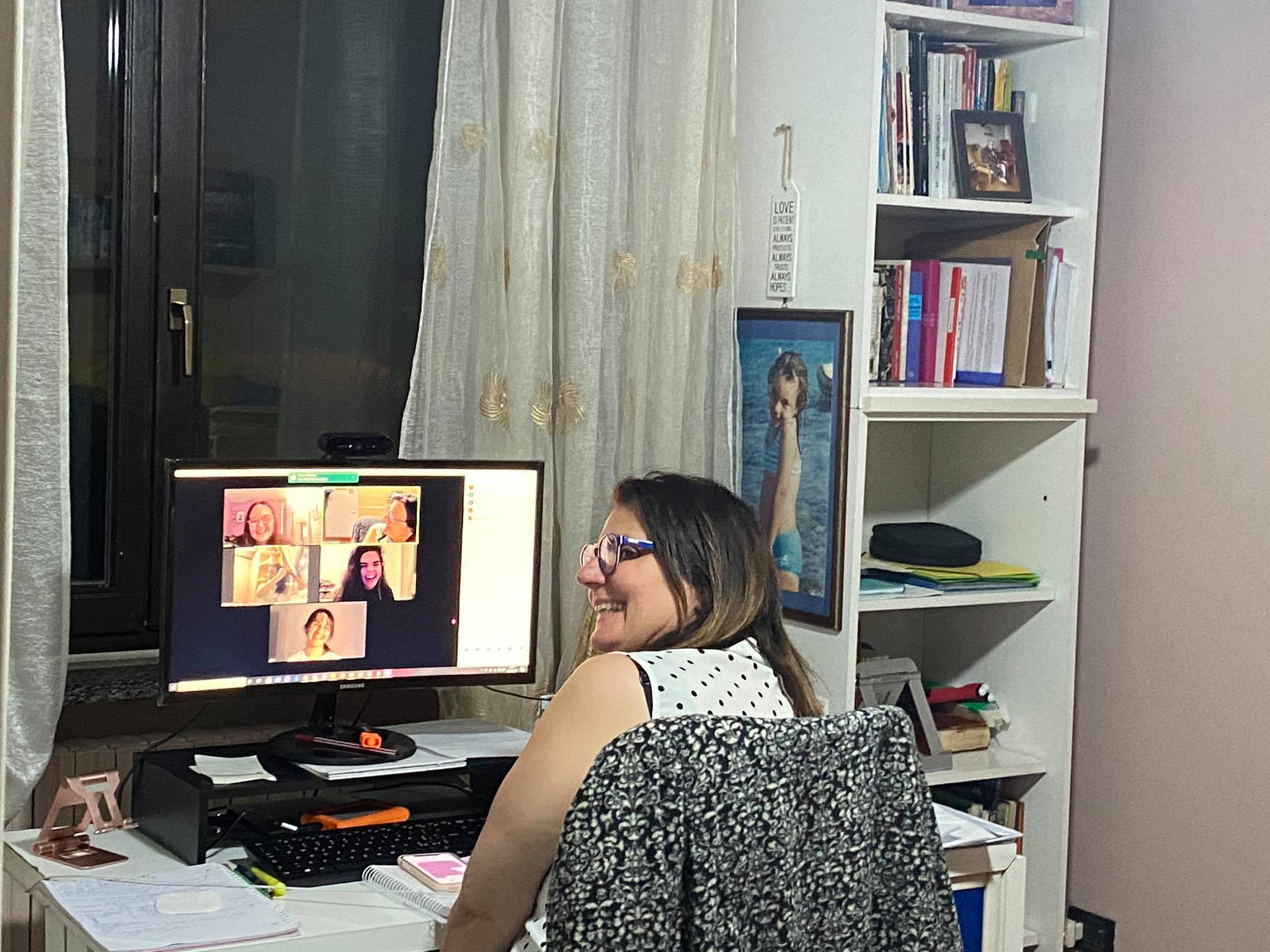 Betty Clemente using Zoom for discipleship
Meanwhile, Enrico is meeting weekly with two groups of young people, spending up to two hours each Zoom meeting to study a book on God's character and pray together. He is also teaching a premarital course to two engaged couples and preaches virtually at two to three churches a week, also through Zoom. Centro Maranatha is also offering a number of virtual seminary courses and conferences. One online men's conference with speaker Ruben Lafuente with the theme "What does God have to teach us with COVID-19?" has about 130 virtual conferees from across Italy as well as Switzerland and Germany beyond those who can watch any time on YouTube.
A women's conference titled "#WaitBut Prepare!" on the book of Ephesians also had to be cancelled. Under leadership of Betty and two other conference organizers, the ninety-two conferees are studying a chapter each week from home and sharing their observations virtually. Each week Betty compiles the responses for that week's study and sends to all the participants to read and share.
With the cancellation of this summer's in-person camps at Centro Maranatha, their virtual success has motivated the Pasquinis to design online camps as well. Three camps are now scheduled for the last week of June and first two weeks of July, one for elementary age children, one for young teens, a third for young people. With a team of Centro Maranatha faculty, counselors, and volunteers, activities, speakers, and music have been planned for campers to participate in online. In the afternoon, Zoom chats permit interactive small groups.
Enrico Pasquini explains, "Our focus is to present the gospel so that each camper can take a step towards Jesus or towards salvation or towards a better relationship with the Lord."
Originally Published in BCM World July 2020

COVID-19 Relief Fund
Your gift of any amount will help offset the affects that COVID-19 has had on the ministries of BCM International.