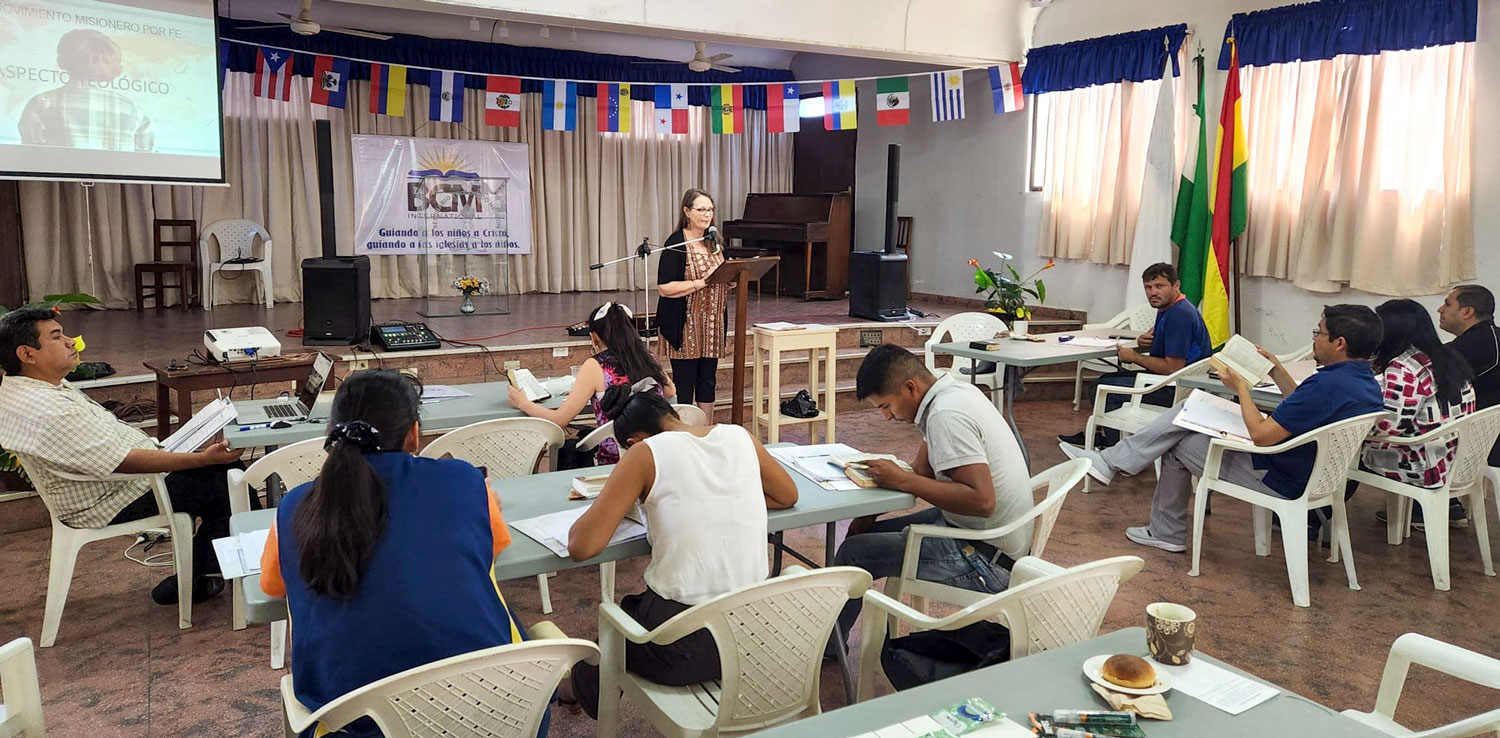 BCM Candidate Orientation - Bolivia
Expanding Territory for BCM Latin America
By: Marion Odicio
In December 2021, a candidate orientation (CO) was scheduled at BCM Peru's Lima camp for missionary candidates from several Latin American countries. Less than a week before the planned dates, the Peruvian government closed all land borders due to renewed Covid restrictions, making it impossible to enter the country except by air. While four candidates from Ecuador and Bolivia were able to fly in to join Peruvian candidates, it became clear a second CO would be needed.
This became a reality August 2022 in Bolivia's lowland city of Santa Cruz. Seven candidates arrived from different regions of Bolivia along with two married couples from Venezuela and Ecuador, respectively, and two Brazilians. A Leadership Development event (LEADS) was scheduled for the same week to take advantage of BCM personnel and faculty already present. Personnel from five BCM Latin America fields worked together on sharpening their ministry vision, planning strategies, and leadership skill development sessions.
One new missionary candidate couple, Victor and Yunny Rojas, have opened up an entire new field for BCM—Venezuela. Victor graduated from the Baptist Biblical Institute of Venezuela as well as the Universidad Pedagógico Experimental Libertador (UPEL), specializing in social science. He has served for over a decade as professor of theology at Vida Nueva Bible Institute in northwestern Venezuela as well as professor of social sciences for several educational institutions. He also pastors Vida Nueva Baptist Church. Yunny graduated from New Life Baptist Bible Institute as well as completing a Bachelor of Nursing from Rómulo Gallegos University. 
In 2019, the Rojas founded a children's ministry called "Sowers of Seedlings," which provides churches with teacher training workshops in the areas of Sunday School, children's evangelism, leadership, hermeneutics, and homiletics. They have already taught these courses in more than sixty churches across Venezuela as well as churches in Colombia, Ecuador, and Bolivia. This outreach led to contact with BCM and the recognition that BCM's vision for children's ministry was fully shared by the Rojas and their ministry. After completing BCM candidate orientation, they are looking forward to formalizing BCM Venezuela as a field.
Both the LEADS event and CO were held in the guesthouse of Hebron Theological Seminary in Santa Cruz, where BCM president Marty Windle taught for many years while field director of Gospel Missionary Union (now AVANT) in Bolivia. Marty also gave workshops and a keynote address at a missions/leadership conference of the Unión Cristiana Evangélica (UCE), one of Bolivia's largest evangelical denominations, with some five hundred leaders attending. His keynote was broadcast live on local Christian radio. A special blessing was reconnecting with Bible Institute and seminary students from Marty's teaching days in Bolivia and even Quechua church leaders he knew growing up as a missionary kid in the Bolivian highlands.
This participation has already led to requests from the UCE to partner with BCM in training children's ministry leaders for Sunday school and outreach. At a breakfast meeting with Hebron Theological Seminary's current director, much interest was also expressed for BCM to train current and future HTS students in effective ministry to children. Another newly-appointed BCM Brazil missionary and chairman of the BCM Brazil board, Kennede Soares, is president of AMESPE (Academia Memorial de Ensino Superior de Pernambuco) Seminary in Recife, a city of over four million in northeastern Brazil, as well as regional director of discipleship of Samaritan's Purse. He is working together with the BCM team to promote a much-needed vision and training for children's ministry among his seminary students as well as throughout the churches and pastoral teams he partners with across northeast Brazil.
To bring in the ripe harvest among the children of Latin America, it is vital to equip, train, and empower more workers. Providing training in Bible schools and seminaries is one effective way to do this. There is great hope for the harvest as the growing BCM Latin America team continues to prepare more teachers, strengthen churches, and reach children for Christ across the Spanish-speaking world.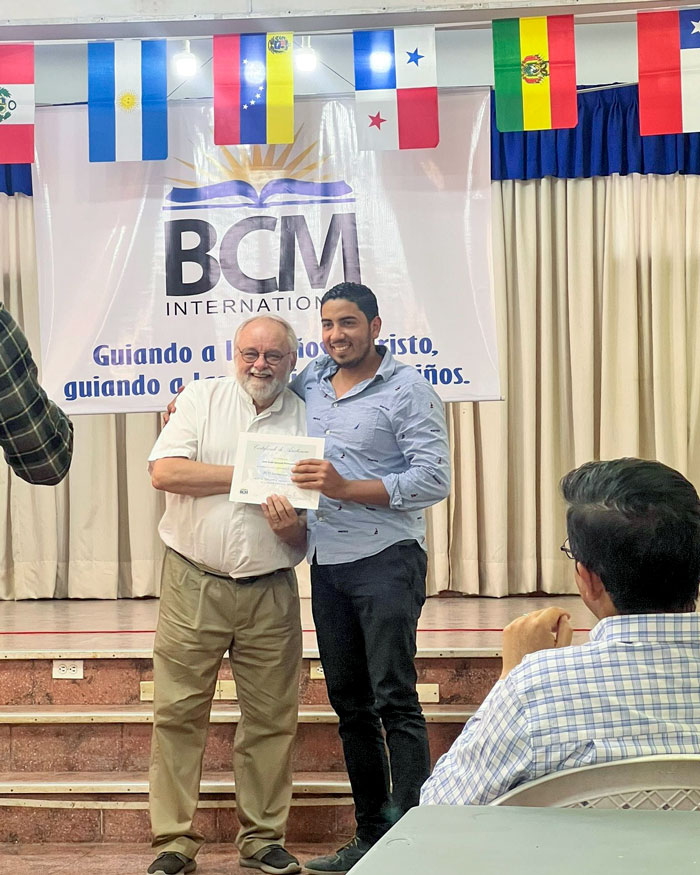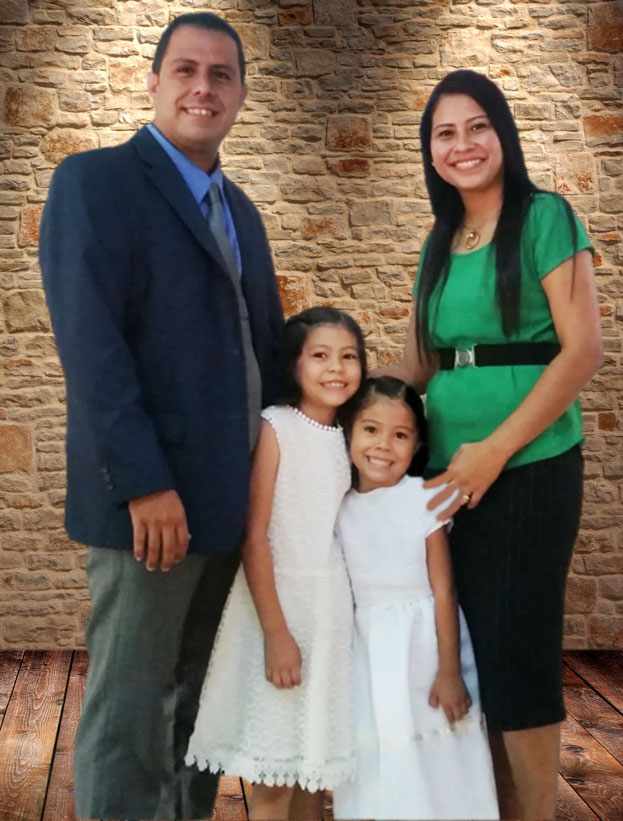 BCM President Marty Windle
with new missionary;
Rojas family