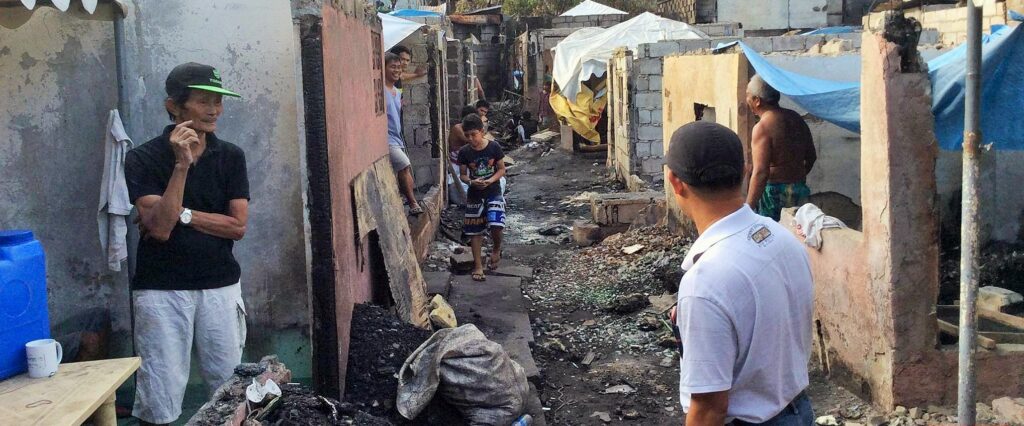 By: Gerlyn de Jesus (Director, BCM Philippines)
It was just after midnight, February 3, 2016, when fire broke in Bagong Sibol, a neighborhood of Muntinlupa City located in the southeastern part of Metro Manila, Philippines.  Within three hours, at least 100 homes were destroyed, leaving 120 families homeless. Ten of these families are members of a local Bible Centered Ministries (BCFi) church.
Bagong Sibol is for the most part a very poor community. Some professionals have purchased land there to build more substantial homes. But in general the residents are vendors, tricycle-cab drivers, domestic servants and other low-income professions. Their simple homes are made largely of wood and other highly flammable materials, crowded together along the banks of a very polluted stream so that the area looks like a giant maze.
Sixteen years ago, BCM Philippines started a Bible study cell group in the area with one family under the leadership of Pastor Frax Napole. This eventually grew to a full church, BCM Bagong Sibol, where members gather for regular worship services and prayer meetings. The church has also started additional cell groups in the area.
Receiving word of the fire, I rushed to the site. My thoughts were with our people. I was desperate to know their situation. I also wanted to know if our church building had destroyed. To my disappointment, I discovered that the street leading to the church had been blocked, due to the fire. By 3:00 am, I received word from a church member that the fire had been stopped just three houses short of where BCM Bagong Sibol Church stood.
That no deaths had been reported was reason to rejoice. But my heart sank as I saw our church families who'd lost their homes scattered in the street, crying out in desperation, hurting and in need. I gathered together with church members, and we prayed for God's presence to bring comfort and peace. As news spread about the disaster, others in the Philippines and across the globe joined us in prayers as well, including our BCM family around the world.
An investigation indicated that the fire had started in a vacant house being used by vagrants who'd left a candle unattended. We made an immediate appeal for clothing, food, and water for affected members of the church. Our local BCM churches and the homes of some church members were opened to serve as temporary shelters. Meals were also provided for our affected church families. But the cry for help from the other fire victims outside the household of faith could not be ignored.
Because we did not have resources to meet the needs of all the affected families, BCM Philippines contacted Operation Blessing Foundation, which is the humanitarian arm of CBN Asia, the ministry that produces a Christian TV program, "The 700 Club Asia". In partnership with OBF, we were able to begin distributing aid by the following afternoon to all of the 120 families who'd been burned out of their homes. Each aid packet included food, water, clothes, milk, biscuits and hygiene kits.
The fire victims came to receive supplies because of their immediate and urgent felt needs. But we recognized as well that their greatest need was for a Savior to redeem them and provide them eternal salvation and hope. So along with distributing relief, we also presented the gospel to each person who came to us. During the distribution, 92 men and women surrendered their lives and accepted Jesus Christ as Lord and Savior.
Though the fire is now out, the victims still face ongoing challenges and needs as they rebuild homes and lives. BCM Philippines continues to minister to the affected families through prayer, visitation, counselling and some medical help.
Ten days after the fire, February 13th, 2016, BCM Philippines invited all the fire victims to a worship service in BCM South Green Heights, another BCFi church just a short distance from the fire zone. With financial aid from the BCM International global family as well as the BCFi churches within the Philippines, BCM Philippines was able to purchase clothes, rice, canned goods, eggs, toiletries, milk and other commodities for the fire victims.
As families arrived, I (Gerlyn) had the opportunity to visit with a number of individuals who'd been affected by the fire. One woman named Arlyne is a mother who gave birth to her second child by cesarean section just last November. A month later in December, her husband, who is a bus driver, was involved in a serious accident and is now in a coma due to brain injury. After all this tragedy, Arlyne had now lost all her possessions in the fire. She had become very bitter towards God and life. During one of our earlier visits to her home, she would not even allow us to pray for her. But now through the love and help she experienced from BCM Philippines church members after the fire, she has committed her life to Christ and found hope to keep living.
After the worship service, we distributed the aid among the 120 families whose homes had been burned. We could see how experiencing God's love in a tangible way had uplifted their spirits. One father approached to thank me, not for what he had just received, but for being there for them. A grandmother could not hold her tears as she thanked us for the prayers and the goods she received. BCM has impacted a community by responding to people's felt as well as real needs.
Today BCM Philippines continues to minister to these affected families as they rebuild their homes and their lives. We ask for your prayers as we follow up with new believers and find ways to extend material help as well as provide ongoing livelihood to the people of Bagong Sibol.
If interested in donating to ongoing fire disaster relief in Bagong Sibol, more information and instructions for giving can be found at www.bcmintl.org/a-brother-in-need/.
[hr]
Originally Published in BCM World March 2016