One of the key assets that BCM has brought to children's ministry over the years is the visual communication of the Scriptures by providing a Genesis-to-Revelation curriculum that includes a variety of visual aids, teaching tips, and coaching advice. This curriculum, titled Footsteps of Faith, has been fully revised and is now available to you. Visit our online store to get your hands on it .  But wait…. There's more!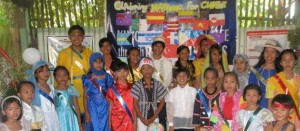 Two of the challenges that BCM faces as we strive to reach our goal of giving every children's worker access to Footsteps of Faith are language and economics. Footsteps of Faith is used around the world by children's workers on five continents, because we have translated it into 14 languages, with another 19 translations partially completed. We need to do more. Our answer to the economic challenge is to continually lower the cost of producing the material, often subsidizing or gifts to those who need it most.
If you would like to participate in ongoing translation or subsidizing material in critical areas of need, We would like to invite you to click here to donate, please mark it "Footsteps for the Future".