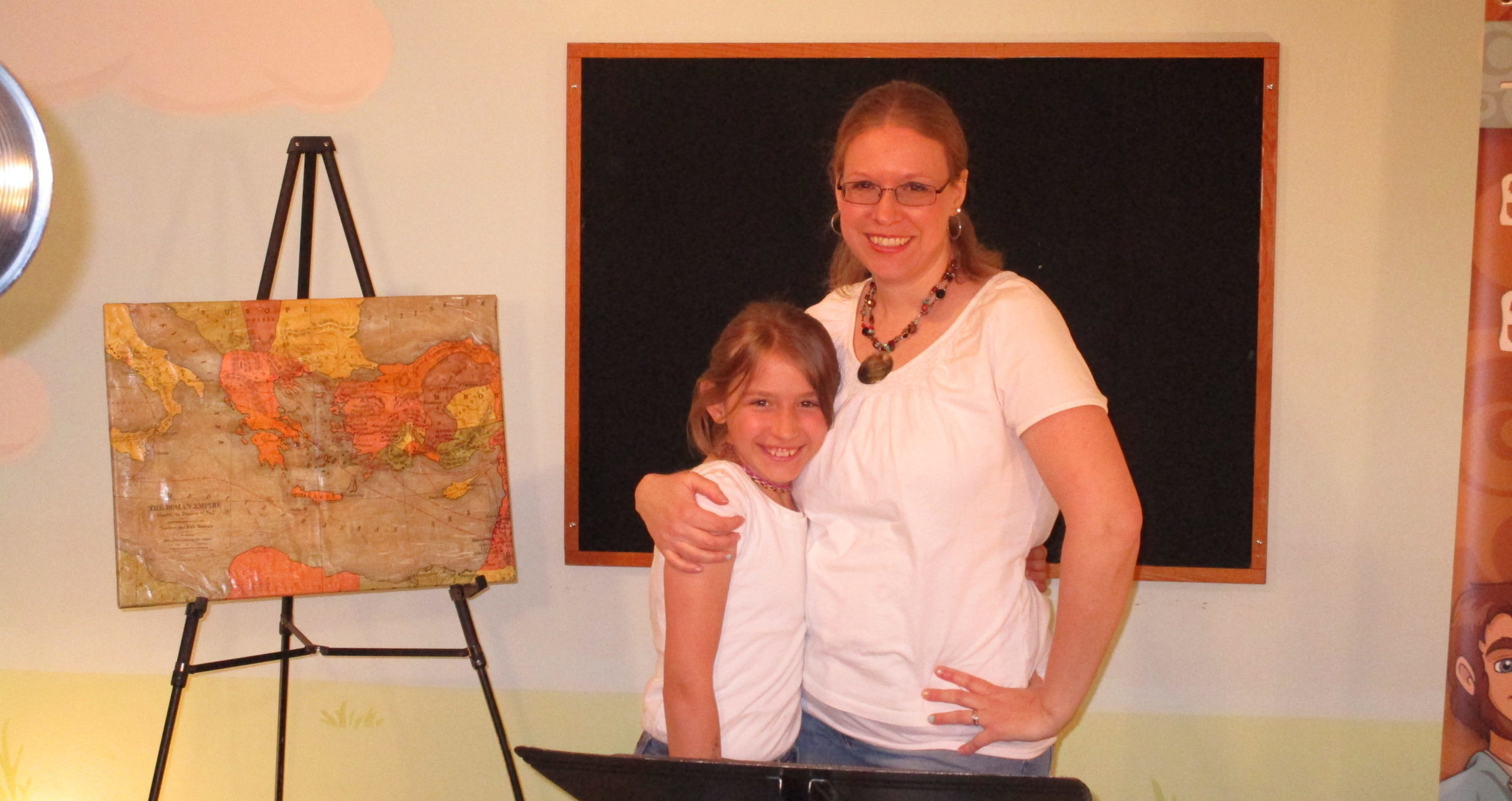 Lisa and Elena Biegert teaching duo
By: Lisa Biegert, BCM USA Missionary
I have served as children's ministry director at Grace Bible Church in Dunmore, Pennsylvania, for the last seven years. Before COVID-19, we were experiencing the greatest influx in recent history of children into our church programs. Our Wednesday evening program had doubled in size with around sixty children while Sunday morning programs were full. In fact, we were investigating options for how to better accommodate everyone.
Then came the virus. Being so close in proximity to New York City and New Jersey (two-hour drive), Northeast Pennsylvania was considered a "hot zone." Like most states, Pennsylvania was shuttered tight, our church building was closed, while all possible service was pushed online.
For me, that meant developing a weekly children's Bible study, which we recorded and put on our church's Facebook page and YouTube channel. Each video is interactive, giving families time to pause and communicate with each other or read a Scripture passage. Every video concludes with a challenge for the children to carry out that week—praying for an unreached people group, memorizing a verse, decorating a printable, etc. The lessons are meant as a replacement for our Wednesday night program, so we encourage families to sing along with YouTube videos or play a game together before watching the lesson.
During this "social distancing" season, it's easy to be discouraged. For me, going from teaching sixty children with ten volunteers helping to addressing an empty room except for my videographer/youth pastor made my head spin. The Easter lesson was the hardest to teach. I cried at the end, knowing our usual Easter party was cancelled and that I was sharing the gospel to empty room. Not knowing if anyone was even viewing these videos or if they were having any impact at all was the hardest part.
But in fact, we have heard back from many families who are using the videos. Some families are using them on Sunday mornings for Sunday school as well. At least one child in our church family received Jesus as Savior while participating in the video lesson while another rededicated their life to Christ.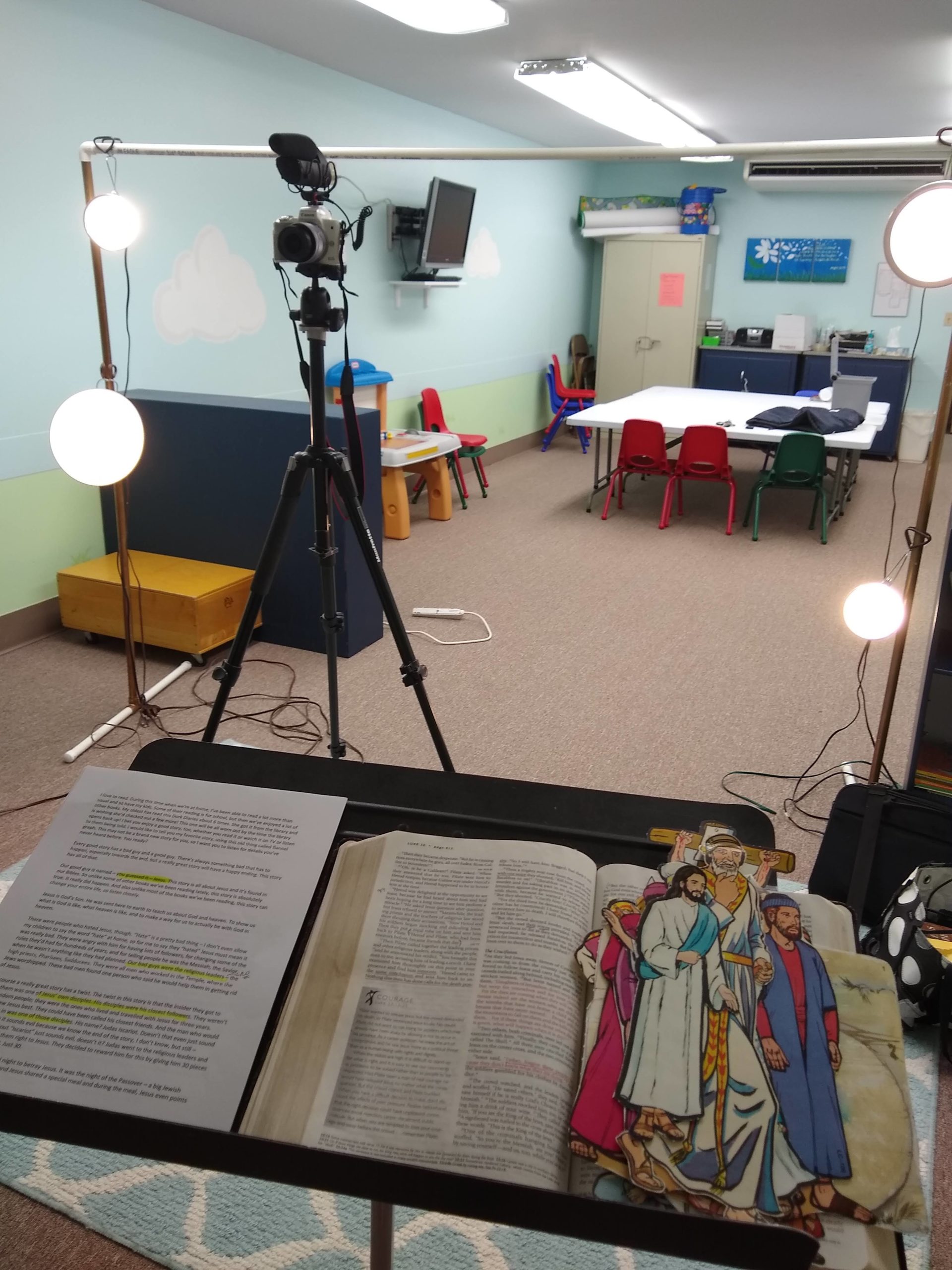 Teaching to an empty room
The most enjoyable video series to produce was our very last on the armor of God from Ephesians 6. I was able to incorporate my nine-year-old daughter into the series. She loves teaching and did a fabulous job. Children from church were encouraged to send in photos of themselves with various pieces of "armor," and we featured them each week during the video. This also gave participants an opportunity to see their friends from church, even if just in a photo, and feel like they were part of the program.
While we sure don't want to repeat quarantine, this entire experience has turned out to be a growing time for our church family as well as our own family. We have learned to "give thanks in all circumstances," even the social distancing ones!
To check out and enjoy video series with your own family of children's ministry: gracebiblepa.com/gbc-kids-videos
Originally Published in BCM World July 2020

COVID-19 Relief Fund
Your gift of any amount will help offset the affects that COVID-19 has had on the ministries of BCM International.