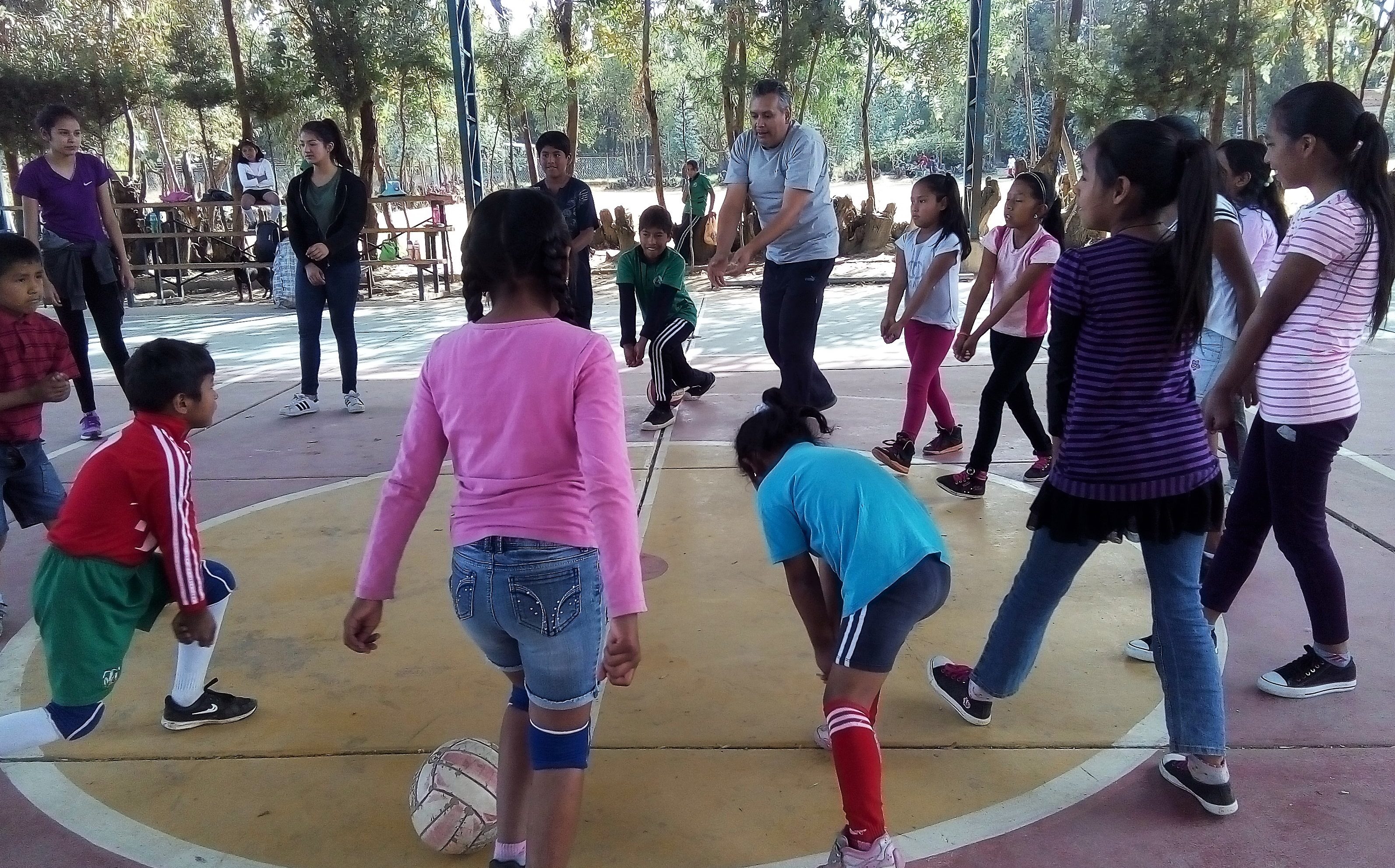 Saul Echelar leads volleyball training - Sports Club
By: Gladys Echalar with Jeanette Windle
"How can I become a missionary?" Andres asked BCM Bolivia missionary Saul Echalar. A member of the Echalars' Teen Bible club, Andres comes from a difficult home life with an atheist father. But since he'd placed his faith in Jesus Christ, he had grown steadily in his spiritual life. His question took Saul and his wife Gladys back to their own ministry journey.
Saul Echalar and Gladys Ortiz both grew up in Christian homes in Bolivia's highland city of Cochabamba. Saul and his twin brother David were the sons of Maria Luisa Chacon, national secretary to SIM International, a global evangelical mission with its Bolivia headquarters in Cochabamba. Gladys was the daughter of Daniel Ortiz, then-director of Cochabamba's SIM-founded Seminario Bíblico (Biblical Seminary), her mother Sarvia a nationwide women's ministry leader and speaker. By elementary school, Saul, his twin brother, and Gladys were classmates at Colegio Evangélico Emanuel, a top Christian school in Cochabamba.
A skilled athlete, Saul by age sixteen was representing Bolivia on international volleyball teams. By the same age, Gladys was in North America, her parents having received a scholarship to attend Talbott Seminary in California. Though a difficult adjustment, the three years spent in a Los Angeles public school gave Gladys a heart for hurting, bullied, abandoned teens.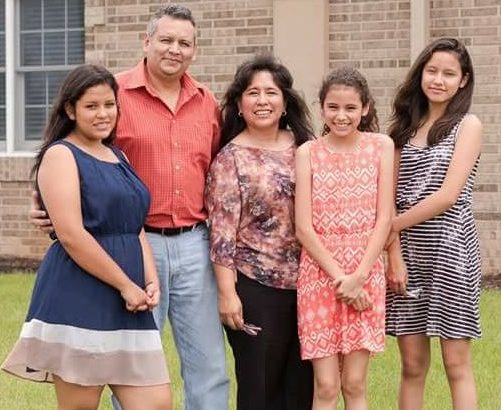 Saul & Gladys Echalar and daughters
After the family returned to Bolivia, Gladys finished high school at Emanuel, where she reconnected with childhood friends Saul and David Echalar. With other school friends, they formed a Christian music group, Mi Generación (My Generation), that performed in churches and evangelistic crusades across Bolivia. Saul had also helped found a youth outreach called Christian Athletes, using his sports experience to reach teens with the gospel through volleyball and other sports.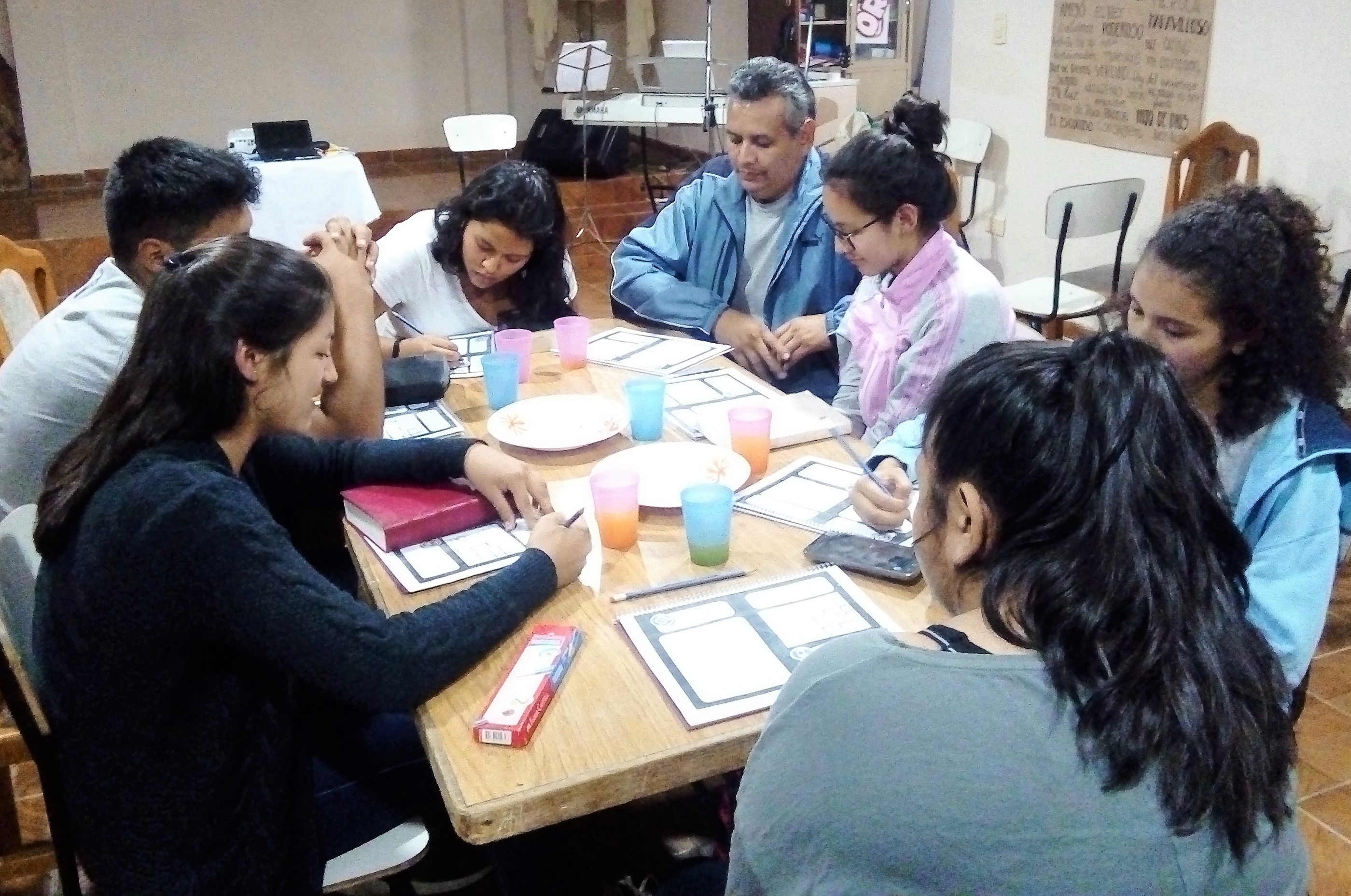 In 1999, Saul and Gladys were married, and over the next seven years their three daughters—Sarai, Raquel, and Jaasiel—were born. Saul started his own computer repair company while Gladys worked in SIM International's finance office. Both served actively in their large urban church, using their own music experience to train worship leaders as well as teaching Sunday school. Gladys also worked with Christian camping and special needs children. But after more than a decade of marriage, both knew God was calling them to serve in full-time ministry.
Specifically, in reaching at-risk teens and children. Though Saul and Gladys had grown up in middle-class Christian homes, they experienced Bolivia's deep poverty every time they stepped out onto the streets. The poorest country in South America, Bolivia has a population of over ten million, of which almost half are under the age of eighteen. Fifty percent of Bolivia's children live in conditions of extreme poverty, many unable to attend school because they enter the work force as early as age 6-7.
Tens of thousands live homeless on the streets of cities like Cochabamba, scrounging for food in garbage dumps or through petty theft, driving away pangs of hunger, thirst, and cold by sniffing glue or cocaine paste. To survive, many join gangs, who introduce them to a life of crime ranging from armed robbery, drug-dealing, and sex trafficking to murder. Without intervention, their life expectancy is poor, their future bleak.
Saul and Gladys felt both heartbroken and challenged at the need they saw around them. They also recognized that only Jesus could give these at-risk children long-term hope, peace, and love. But how to share this good news with them? They began taking seminary courses and training, praying that God would open the door to ministry of his choosing.
It was in 2013 that Saul and Gladys were introduced to BCM International. BCM's focus on reaching teens and kids through Bible Clubs, camps, and practical outreach matched exactly what they felt God was calling them to do. Gladys' parents, Daniel and Sarvia Ortiz, had already joined BCM in a regional leadership capacity. That summer, Saul and Gladys traveled to the United States to attend BCM candidate orientation, where they were appointed full-time missionaries.
Upon returning to Cochabamba, Saul and Gladys felt overwhelmed by how much need as well as opportunity they saw. They began a strategy of "casting nets" that involved planning bi-monthly events to reach youth ages 11-17 who would never set foot in a church. These have included pizza nights, karaoke, cowboy night, mini-camps, cooking session, game night, other fun activities. The Echalars' own daughters have been eager volunteers in helping reach their own friends and other teens with the gospel.
One such was a Japanese exchange student who had never heard of salvation in Jesus Christ or seen a Bible. The three Echalar daughters invited her to a teen Bible club. She enjoyed it so much she began attending Sunday school with them. When she returned to Japan, she took both the gospel of Jesus Christ and a Bible.
From this ministry, a core now of a dozen teens who have come to Christ and want to serve God with their skills and gifts are attending a weekly teen Bible club for prayer, Bible study, and discipleship. They are also being trained as leaders to help in other new Bible clubs. Andres is among them. Now at university, he is already making plans to attend seminary to prepare as a missionary.
"Working with these teens is not easy," Gladys shares. "Some of them have atheist parents, drug addicts and alcoholics in their families, broken homes, abusive family members, etc. Many times Saul has had to answer phones calls at midnight. Kids asking for prayer. Kids asking for protection. Kids crying out in panic. We have been pushed to the limits of our faith and strength. But God is transforming their lives, and in it all, God has become our Refuge, our Strength, our Salvation (Isaiah 41:10)."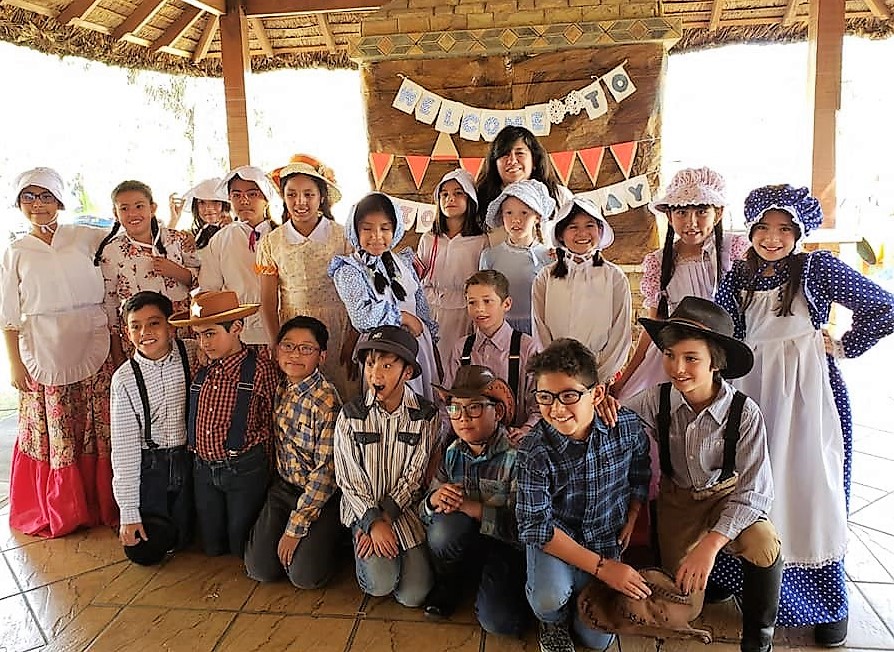 Western theme teen outreach
Then in late 2017, Saul was approached by some teens who knew his background as a celebrated athlete for his country. Would he be willing to train them in volleyball? A passion to reach teens for Christ through sports had been in Saul's heart since he'd helped start a Christian Athletes program in Cochabamba in his young adult years. He agreed to train the boys, but only if he could share the gospel with them. One teen, Rodrigo, came to Christ and is now being discipled through the teen Bible club.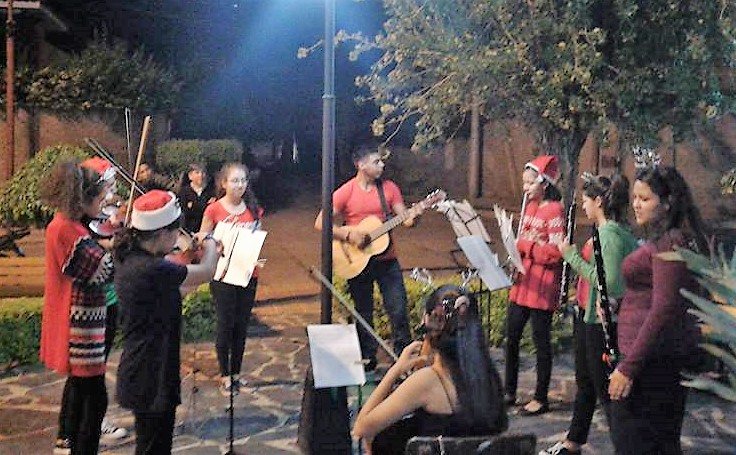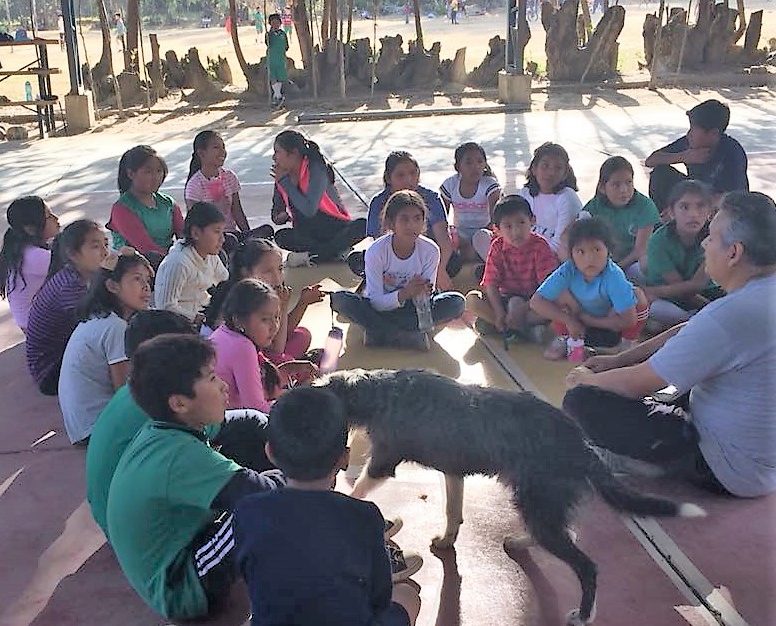 Christmas music outreach; 
Saul leads sports club time
But that was just the beginning. The principal of the public school these teens attended contacted Saul. Bolivian public schools are so underfunded that any family who can afford it sends their children to private school. So public school students are typically impoverished, many already having to work to help support their families. Others have to drop out because they can't pay for books, school materials, uniforms, and other required supplies. Organized sports is a luxury few can afford.
The director asked if Saul would consider training their volleyball team. Saul and Gladys spent time in prayer, asking God for direction before Saul returned with a counterproposal. He would start a Sports Club at the school, teaching children and teens to play volleyball, if he was granted permission to also share the gospel. The principal took the proposition to the school board, and it was enthusiastically approved.
Today Saul trains around forty children and teens three times a week, along with teaching Bible and sharing the gospel. Several children have already received Christ and even invited the Echalars to visit their families to share the gospel with them. The Echalars' daughters and others from their Teen Bible Club are also participating in this outreach.
The Echalars' long-term vision is to open more Christian sports clubs in other schools, especially public schools that have so few available resources. Saul and Gladys express together, "Abandoned kids aren't just children who live on the streets, but also kids whose parents just don't see them, who feel they have to go out searching for love. These kids need to have other options—a place or a group of people they can bond with. People who will show them Jesus's love.
To reach this goal requires many more volunteers. Saul and Gladys are praying that others will share their dream. Gladys sums up, "We cannot wait to see what God has for us next! There is so much need of Jesus here in Bolivia, of love, of people who show Jesus in their actions and faith, that we feel impelled to follow God's commission, which is to MAKE DISCIPLES! Would you like to be part of this story? We are praying for people to partner with us. To share our heart for Bolivian kids. We invite you to join with us in being part of this ministry."
To inquire how you can partner short or long term with the Echalar family and BCM Bolivia, contact Saul and Gladys at gladysechalar@gmail.com