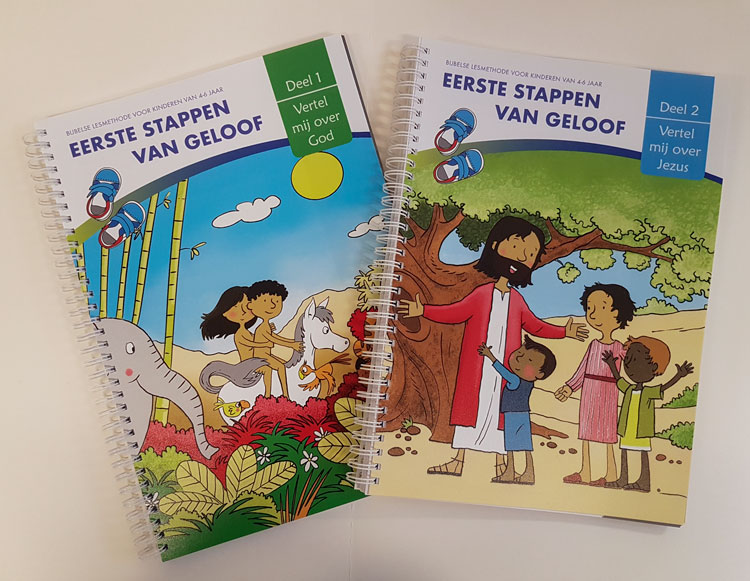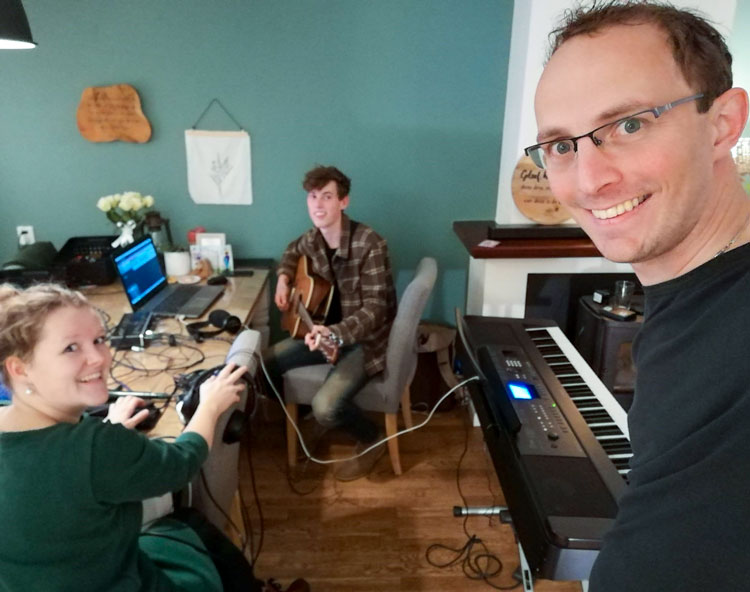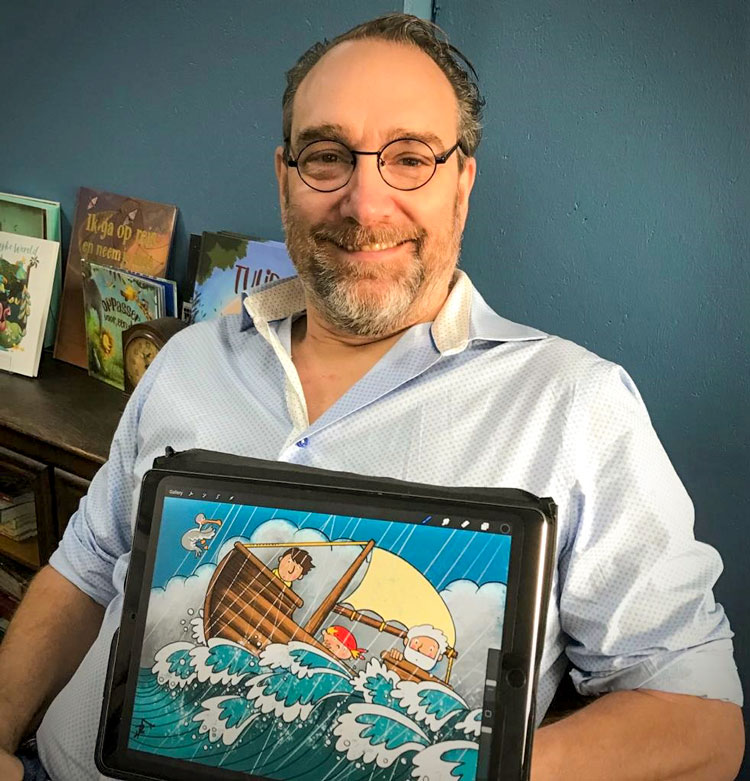 Renowned Dutch Artist Michel de Boer
with Tiny Steps Illustration
By: BCM Netherlands Team
The four-volume Bible curriculum Tiny Steps of Faith was created for preschoolers ages four to five by BCM missionary Lois Haas in 1959. The material is characterized by a single easy-to-understand biblical truth per lesson combined with a practical application for that age group. Over the decades, the material has been translated into numerous languages, blessing countless thousands of small children in many countries. Its excellent Bible teaching remains as relevant today as it was in 1956.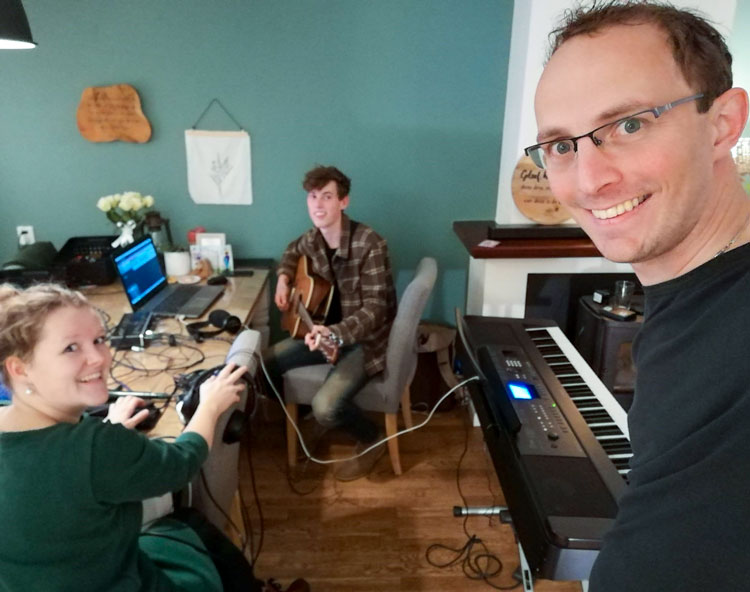 Same Message, New Structure
That said, almost seventy years since Tiny Steps' original release, its graphic design, accessibility, and supporting tools such as visuals and crafts have urgently needed a twenty-first century update. With previous experience in translating and revising BCM's Footsteps of Faith curriculum for elementary-age children, the BCM Netherlands team accepted the challenge and has been pushing forward on the revision since autumn 2020.
A core focus has been the development of new supporting tools such as puppet videos to accompany Bible lessons, games, and crafts. Some additional lessons have also been created to bring each volume to a total of sixteen lessons with three to four overall themes per volume. Along with writing and editing new lessons, various BCM Netherlands volunteers have also created a theme song for each volume and Bible memory verses put to music to help preschoolers remember God's truth more easily.
The curriculum also includes numerous teaching tips and other aids to help teachers effectively convey God's Word to such a young audience. Brightly-colored visuals, easy-to-use teaching material, and a wide choice of crafts and other activities make Tiny Steps uniquely attractive for preschoolers.
Thanks to modern technology and communication, it has been possible to make this revision a truly international team effort. Renowned Dutch illustrator Michel de Boer, known globally for illustrating children's picture books like the Old Woody series and Uncle Walt's Christmas Box (Kregel Publications), has produced beautiful new graphics for each volume. Graphic designer Dorine Zandberg, from a church with close ties to BCM Netherland's camp De Herikon, has given the curriculum a modern-day layout. Puppet videos were produced by Jonatan and Shantal Odicio of BCM Peru while American BCM staff have been working on the English text simultaneously with the Dutch revision. Funds for the project have been largely raised through BCM International.
All materials have been made available online. This allows users to download a wide range of resources, including lesson books, illustrative storyboards, pictograms, crafts, games, coloring pages, and other activities for each lesson. Theme songs and memory verses put to music are available as MP3 files while puppet videos are accessible as MP4 files. Sheet music and Bible memory cards can also be printed.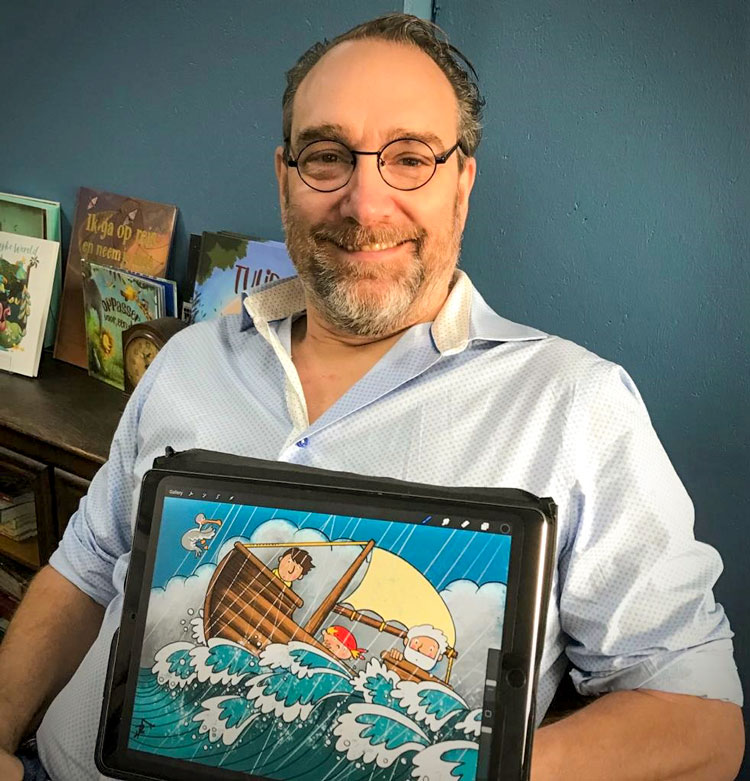 Renowned Dutch artist Michel de Boer
with Tiny Steps Illustration
Where Do We Stand?
As of autumn 2022, the first two of the four volumes are available both digitally and in print form for the Dutch-speaking public along with accompanying materials. Volumes three and four are scheduled for completion by mid-2023. The goal is to have the English translation complete as soon as possible after release of the Dutch publication. From English, the new revision can be translated into other languages. Requests have already been made for German and Spanish versions.
One great advantage of making this curriculum available digitally is that adjustments can be easily made to the material and new additions made immediately available to all users. Using editable graphics for visuals and activities permits easy translation into any language. While designed primarily for ages 3-6, the materials can also be used in primary schools, primary-age Sunday school programs, and as a devotional curriculum for Christian families.
More information, project updates, and a downloadable pilot lesson can be found at: https://www.tiny-steps.org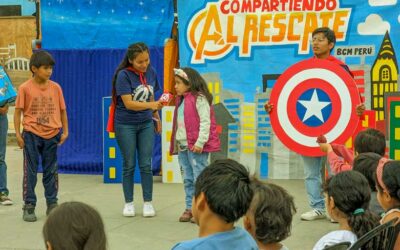 In June 2023, Ecuador became BCM's newest ministry field with the commissioning of Juan Fer and Rita Sanchez from the capital city, Quito, and Jose Quezada in the coastal megacity of Guayaquil. Participating in a week of inaugural events were BCM president Rick Rhoads and wife Naomi, Latin America director Carlos Odicio, president emeritus Marty Windle, and wife Jeanette Windle. BCM Latin America began in Peru in 1993 with a very specific vision: "Pointing children to Christ and pointing churches to children." BCM Quito missionary Juan Fer explains why this is so urgent…
read more