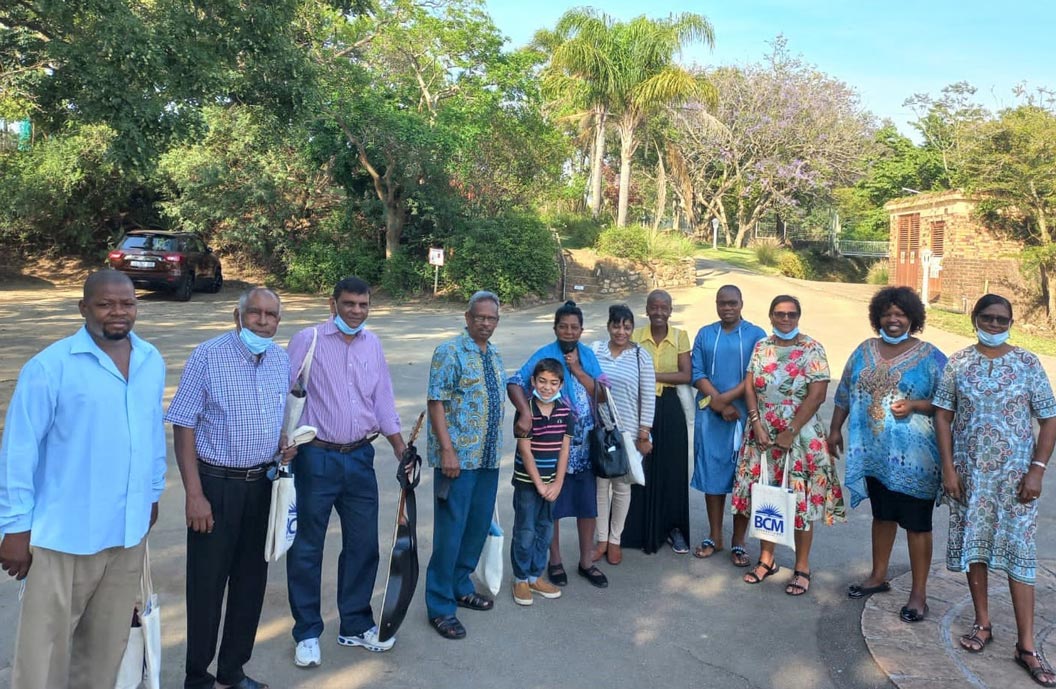 BCM Africa candidate outing
New Missionaries for BCM Africa
By Annie Viljoen with John Peter
The chaos of the world, including Covid-19, seemed very distant as BCM Africa personnel from all over Africa gathered at Skogheim Christian Conference Centre on the beautiful coastline of Kwa-Zulu Natal, South Africa, October 2021, for training, candidate orientation, and commissioning of new missionaries. The week-long event was co-hosted by BCM Africa director Dr. John Peter and his wife Vijay. In attendance were BCM missionaries from all over Africa along with BCM president Dr. Martin Windle, Vice President of Personnel Joe Dukes, and BCM Asia/Africa director Stephen King, who all arrived from the BCM International Ministry Center in the United States.
Those participating represented BCM Africa churches, hospital chaplain ministry, children's Ministries, the BCM council, and delegates from Uganda, Swaziland (Eswatini), Zambia, South Africa, and other nations. Due to renewed Covid-19 lockdown restrictions, the Madagascar delegation was not able to arrive. Core objectives for the conference included presenting the ethos, policies, and worldwide ministry of BCM and implementing practical plans for partnership amongst BCM personnel and departments.
Highlights during the week included presentations of BCM ministries around the world, brainstorming sessions on ministry and church planting, a guided prayer walk in the facility's ten-acre indigenous prayer garden, a trip to the beach, praise and worship, commissioning of new missionaries, and plenty of fellowship, good food, testimonies, and sharing the joy of the Lord. Missionary candidates included:
Joshua and Nollah Anguyo, Uganda: Joshua holds a bachelor's degree in human resources management and has a track record of successful ministry for many years as regional children's coordinator for Scripture Union in Uganda. He has been a BCM Lead Trainer since 2019 and was commissioned national director for BCM Uganda along with his wife Nollah (see Uganda Joins BCM Africa, BCM World, 2022).
Mabel Ngoma, BCM Zambia: An educator, Mabel has been an active co-worker in children's ministry with BCM Africa children's ministry director Pat Govender. Originally from Zambia but currently based in East London, South Africa, she ministers in both countries. Now approaching retirement from teaching, she has committed to being a fulltime BCM missionary.
Ingrid Kjonstad: Descended from Norwegian settlers in South Africa, Ingrid has been the manager of Skoegheim Conference Center and has for many years partnered in children's ministry and as an ISMT Lead Trainer with Pat Govender, both locally and in other African nations. Relocated recently to Cape Town, South Africa, Ingrid is presently setting up BCM ministry in the Cape through Bible studies, children's ministry, and outreach into local colleges and seminaries.
Lindiwe R. Simelane Mbhamali, Eswatini (Swaziland): A practicing attorney who attended the conference with her husband Joseph, Lindiwe has served for many years in BCM Bible club ministry with long-term BCM missionaries Assiena Maseko and Martha Tsabedze across Eswatini, formerly known as Swaziland (see Raising Next Generation's Leaders, BCM World, 2008).
Rev. Cobie and Annie Viljoen, Durban, South Africa: Cobie founded BCM Africa's hospital chaplaincy program (see Bringing the Church to Durban's Hospitals, BCM World, 2019) and has served tirelessly as a hospital chaplain throughout the Covid-19 pandemic. His wife Annie works alongside him in hospital ministry and coordinating BCM events, reports, and other ministry.
Pastor Mike and Sharm Ramiah, Phoenix, South Africa: Mike is the pastor of BCM's oldest established church in South Africa, known as Jeriel BCM Phoenix. Mike and his wife Sharm have an active children's ministry. Their three sons all support their father in church ministry.
Pastor Mervyn and Jane Appadu, Phoenix, South Africa: Pastor Mervyn pastors a BCM church, known as Caneside Fellowship BCM. Mervyn has a legal background while Jane's background is in medicine, so they keep busy caring people physically and with legal needs as well as in counselling, prayer, and the study of God's Word.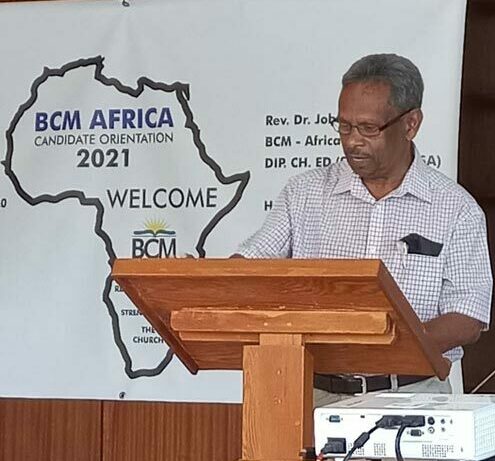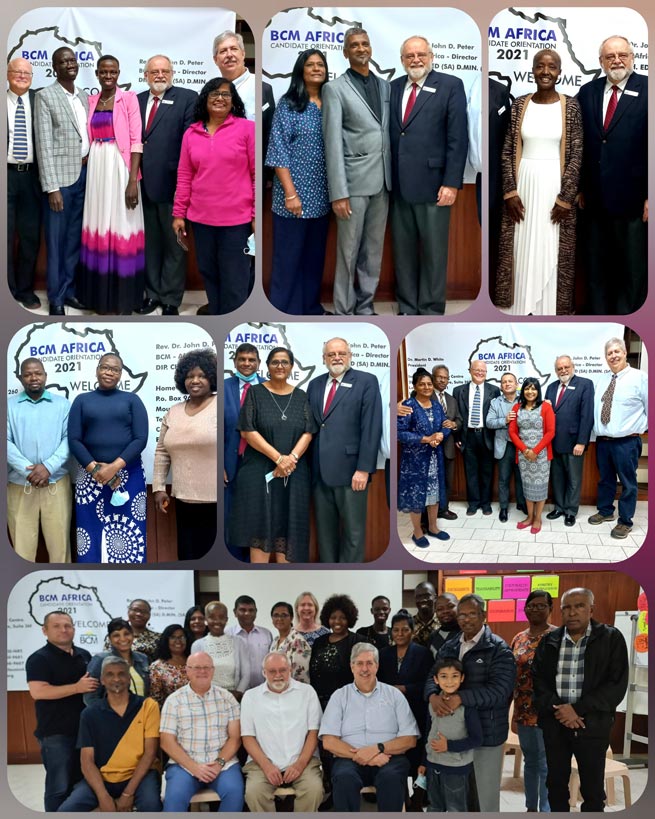 John Peter at Africa CO
BCM Africa CO collage
BCM Africa director John Peter sums up what the October 2021 candidate orientation has meant to the BCM Africa team: "Despite being confronted with various challenges, the greatest being the Covid-19 pandemic that brought the world to a standstill—and to some extent, ministry as well—we saw by faith the opportunity to move forward with this candidate orientation. It was my joy to welcome our guests, especially those from beyond our borders who had to contend with the discomfort of travel regulations. An atmosphere of great fellowship and ministry prevailed throughout those seven days, leaving the entire group encouraged, edified, and better equipped to be serving with BCM. Looking forward, we affirm and pledge to hold our BCM core values, mission statement, and in reaching children and strengthening the church."
BCM South Africa missionary Annie Viljoen adds, "We all came from different places, cultures, and backgrounds in the name of the Lord Jesus Christ. We parted as a close-knit faith family on fire to carry the torch and continue the work of the Lord in the vineyard each of us are placed."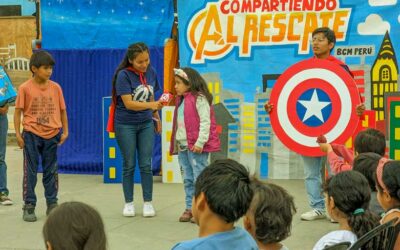 In June 2023, Ecuador became BCM's newest ministry field with the commissioning of Juan Fer and Rita Sanchez from the capital city, Quito, and Jose Quezada in the coastal megacity of Guayaquil. Participating in a week of inaugural events were BCM president Rick Rhoads and wife Naomi, Latin America director Carlos Odicio, president emeritus Marty Windle, and wife Jeanette Windle. BCM Latin America began in Peru in 1993 with a very specific vision: "Pointing children to Christ and pointing churches to children." BCM Quito missionary Juan Fer explains why this is so urgent…
read more