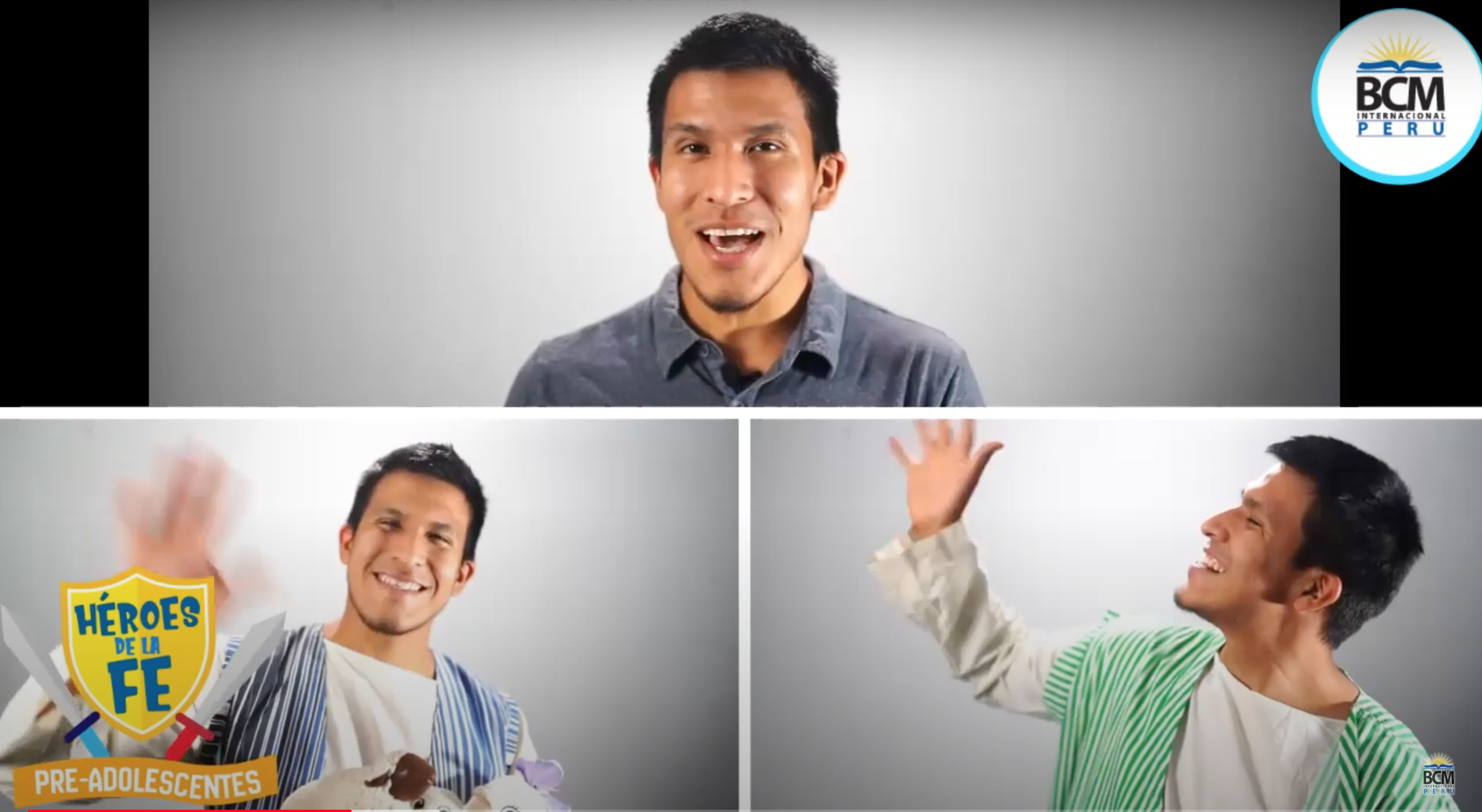 Heroes of the Faith - screenshot
The idea of a virus affecting the lives of the entire world population seemed a distance thought to most Peruvians until the first case of a COVID-19 patient in Perú's capital city, Lima, hit the local news March 6, 2020. Immediately institutions began precautions to protect the Peruvian population from this unknown enemy. Schools suspended classes, and on March 16 a state of emergency was declared for the entire country. Peru has enacted some of the strictest quarantine measures of any country. People can leave home only to buy groceries, medicine, and other essentials.
This uncertain situation has led Christian leaders to rethink the way church is usually carried out. Many pastors in Peru and around the world have found a way to broadcast church services, sermons, do online devotion times, and more. But there was a void when it came to children's ministry. BCM Peru missionaries immediately began brainstorming possibilities of online tools and programs so that children could continue growing spiritually in the midst of this pandemic. Bible lessons were created, and a guest bedroom in the home of BCM Peru director Jonatan Odicio was turned into a small video studio.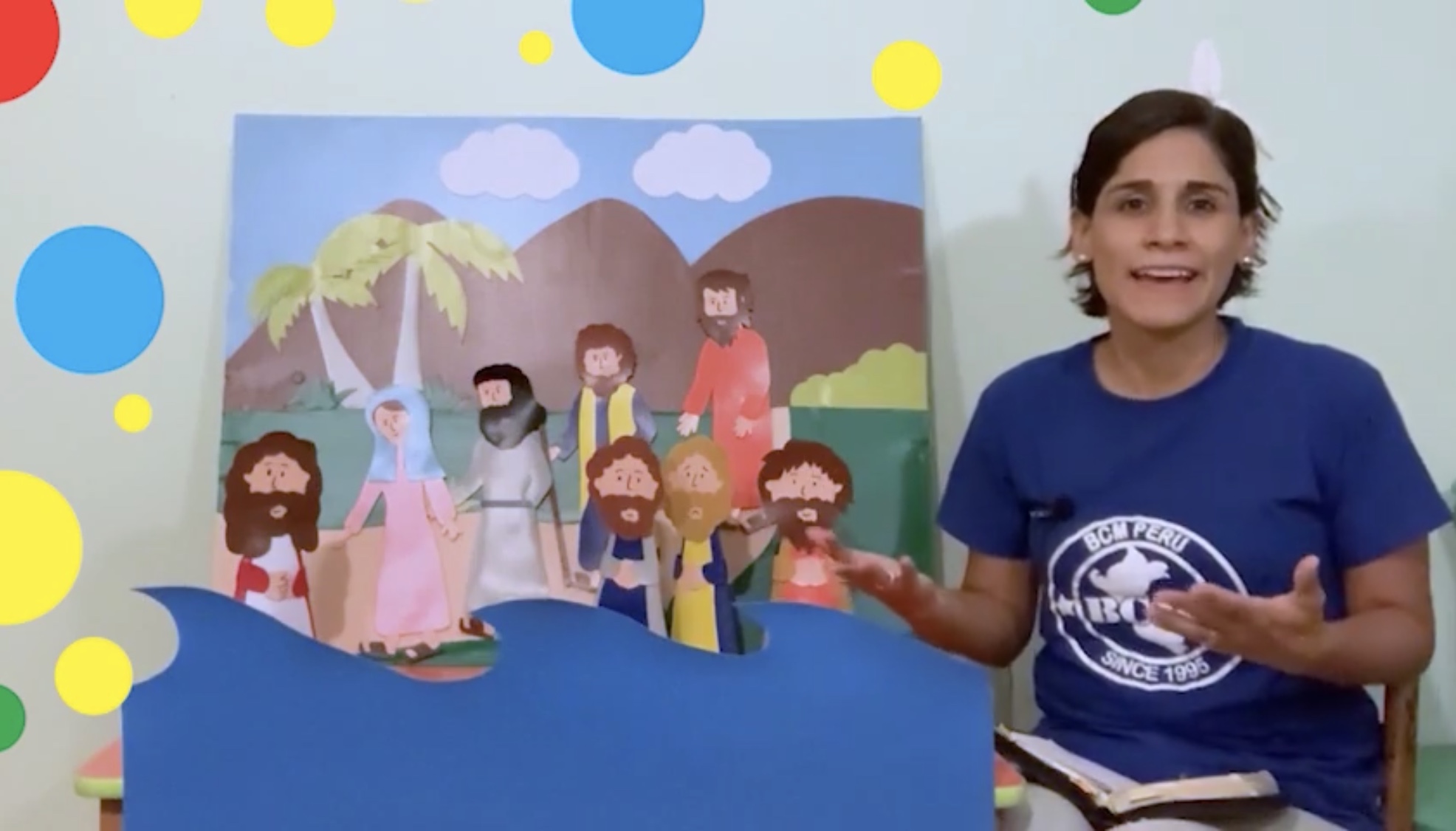 By Sunday, March 22, 2020, the first Online Sunday School lesson was posted on the BCM Peru Facebook page and YouTube channel. Each video post included a Bible lesson, memory verse, craft, and printable activity pages. In the beginning, BCM Peru missionaries had no idea what impact this project might have or how long they'd be doing it. But the response was overwhelming. Parents were encouraged and thankful to have a resource for their children to continue learning about God.
The Online Sunday School has continued to evolve and improve with programs becoming more elaborate. Production has faced many difficulties, and at moments it has been a real challenge to put together a new program every week. But despite many sleepless nights, hard work, and the challenge of each member having to work remotely, the team has remained equal to the task. Other churches have also been encouraged by BCM Peru's program to place their own Sunday School programs online.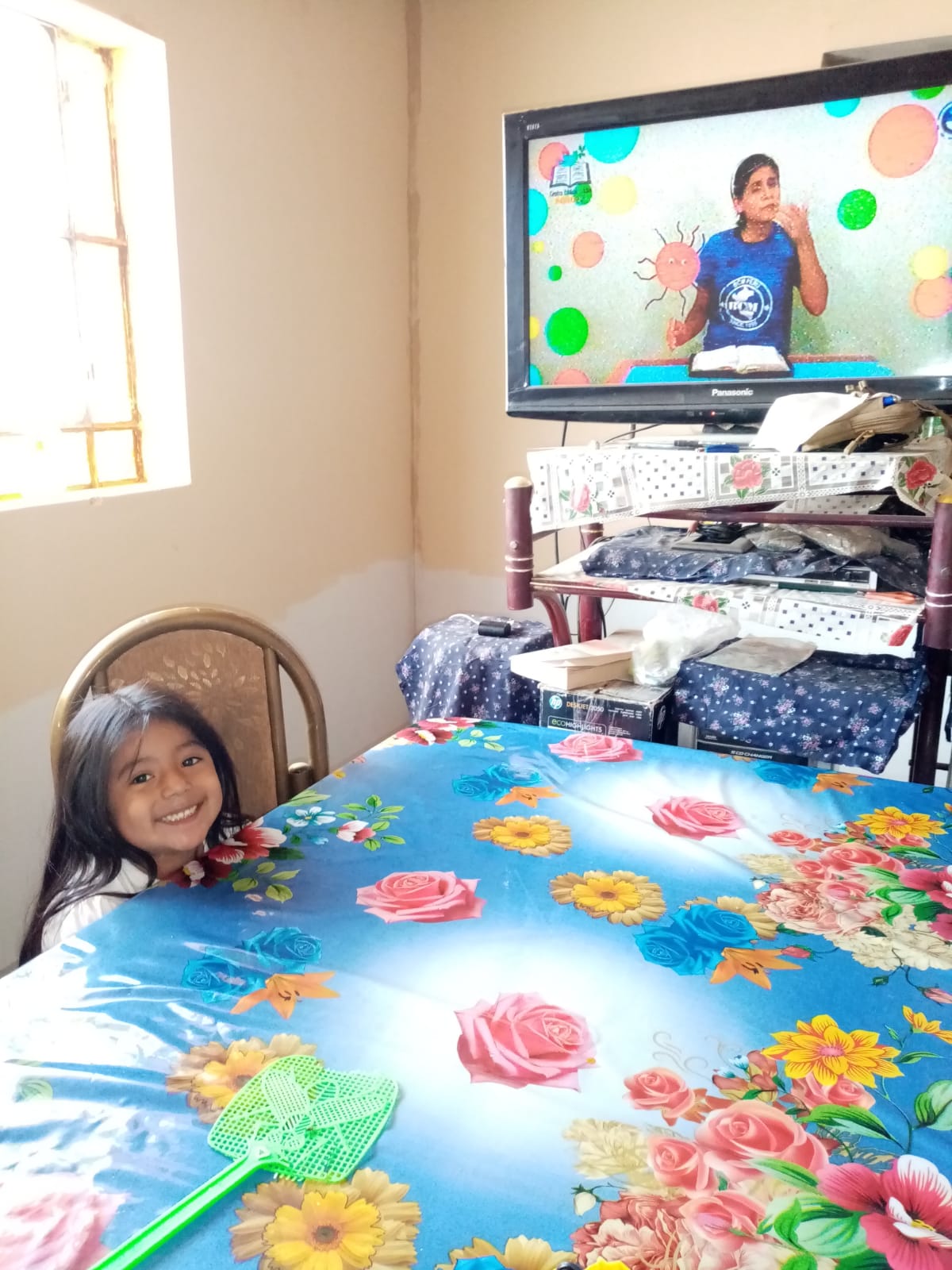 Watching Sunday School on TV
"This is an encouragement!" expresses BCM Peru field director Jonatan Odicio. "In fact, part of our task as missionaries is to help the local church see the importance of reaching and teaching children the Word of God."
The internet proves to have nearly no limitations as to how far this outreach can go. Children across Spanish-speaking countries are tuning in to the BCM Peru Sunday school programs every Sunday. Responses and messages of thanks have come from Costa Rica, Honduras, Ecuador, Colombia, United States, and other countries. A local TV station in northern Peru has requested permission to broadcast the Online Sunday School every Sunday at 3 p.m. for children in that region with no access to the internet. 
Just through Facebook and YouTube, almost four thousand homes every week are tuning in to the Online Sunday School. With Peru's quarantine restrictions extended at least until the end of June, the BCM Peru team is continuing to produce the Online Sunday School for children and now also for pre-teens. But there is more! A Saturday Online Bible Club is in production as BCM Peru missionaries continue to seek out new ways for helping churches reach children and teach them God's Word during these uncertain times.
Another BCM Peru ministry that has been pushed online is their Children's Ministry Training Center, scheduled to begin classes on their Lima campus the beginning of May. Faculty members have had to learn about online platforms and virtual teaching, but on May 24, 2020, online classes officially started. What is exciting about this project is that the new Online Children's Ministry Training Center has been able to reach far more students than would have been able to attend the classes in person, including from as far afield as Ecuador, United States, and Mexico as well as across Peru.
BCM Peru works with a large volunteer force, mostly church youth who dedicate their time, gifts, and talents to carry out children's outreach programs and camps. To keep them motivated growing spiritually during lockdown, the BCM Peru team has also created a series of fun and spiritual challenges to complete each week, including daily devotions, memorizing Scripture, games, and more. Volunteers from three regions of Peru—Lima, Iquitos, and Tarapoto—compete to complete the challenges. 
At the end of each week, volunteers and missionaries have an online meeting to play games together, have a Bible meditation, pray for each other, and see how the teams are doing with their challenges. Our desire is for this community of young people who love God and are earnestly waiting to serve him be fired-up and ready to go out and do ministry once the pandemic is over.
No one really knows what the future will look like after the COVID-19 virus has passed. But these circumstances may have given the Christian world enough of a shake-up to cause us to re-think and re-imagine how we reach people in a world that is moving increasingly to digital platforms. For BCM Peru missionaries the reality is that less children have been allowed out of their houses, but God has still granted us tools to reach them in new and creative ways. This is Online Serving!
Many obstacles remain in taking the message of God to little ones. Some don't have access to internet. Some are in remote locations. Some live with parents who won't connect their electronic devices so their children can hear the good news. Our response and challenge should be to continue re-inventing and re-imagining children's ministries to reach them.