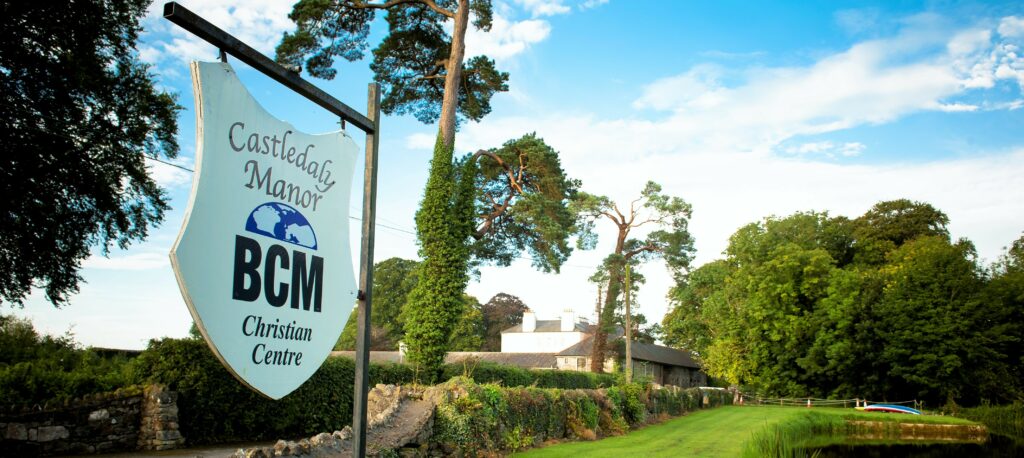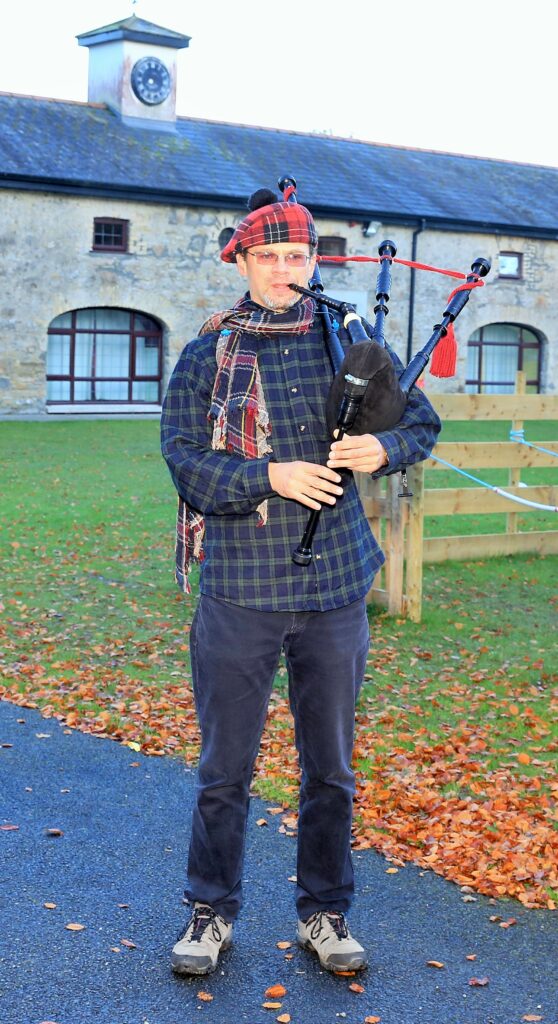 By: Jeanette Windle
What links a Star Trek officer's uniform, a Celtic fiddle, Scottish bagpipes, and the babble of intermingled Russian, Spanish, German, Romanian, Dutch, Italian, and English (make that Irish, Scottish, British, and American, respectively!) raised in prayer and song? The 2015 BCM European conference, of course.
A biannual event that brings together BCM missionary personnel from across eastern and western Europe as well as Great Britain, this year's conference was held at BCM Ireland's picturesque Castledaly Manor Camp and Conference Centre October 20-27, 2015. More than a hundred delegates represented BCM ministry in England, Scotland, Northern Ireland, Republic of Ireland, Germany, Hungary, Romania, Netherlands, Spain, Italy, Ukraine, Russia and USA. Field leadership unable to attend included Finland, Portugal, Poland, France, and Greece. The conference theme: "Past! Present! Future! What's next for BCM Europe?"
Main speaker for the week was Dr. David Clemens, USA, whose international Bible teaching ministry has encompassed 32 countries in the past 35 years. Clemens is also author of the young adult curriculum Steps to Maturity. BCM Europe director Richard Thompson and Sally McKee, BCM Ireland, chaired the conference. Other speakers included Dr. Marty Windle, president of BCM International, and Michael Leister, BCM Germany. Local pastor and chairman of Ireland's St. Patrick Foundation Keith McCrory also taught workshops on "Understanding Conflict and Reconciliation.
BCM Scotland missionary Steve Marr wrapped up each evening with a Star Trek themed Nite Bite, humorously applying such classic trekkie lines as "resistance is futile" and "the needs of the many outweigh the needs of the few" to biblical principles of life and ministry. And, yes, he owns—and brought along—his own Enterprise officer's uniform!
The week was not all teaching sessions. Among group outings were a visit to the monastery ruins of Clonmacnoise, one of Ireland's earliest Christian sites founded in 544AD. An afternoon outing to Dublin included visiting Trinity College for a glimpse of Ireland's oldest illuminated Gospel, the Book of Kell.
Saturday, October 24th, also included the 50th Anniversary celebration of BCM Ireland. A BCM Europe fair in the afternoon welcomed to Castledaly past and present campers, volunteers, and other friends of BCM from across Ireland. Each country represented created its own display. Along with artefacts and ministry information, visitors enjoyed regional delicacies brought by each field team: Italian cheeses and salamis, Romanian chocolates, Spanish fruit candies, Scottish shortbread, and more. The fair ended with an open-air barbecue, its diners serenaded by a bagpiper in full regalia. For desert, a BCM Ireland 50th commemorative cake was given its first cut by BCM Spain missionary Raquel Diaz in honor of her own fifty years of ministry with BCM.
BCM Ireland's 50th Anniversary celebration culminated with a concert by Slemish, a Christian folk group from Belfast, northern Ireland, that combines traditional Irish music with Celtic reinterpretations of contemporary worship songs as "You Raise Me Up" and "Blessed Be the Name" (listen here: https://www.reverbnation.com/slemish/songs). How was the BCM family blessed to have one of Ireland's finest folk music groups travel down to join its celebration?
Both Slemish founder Paul McComiskey and lead singer Albert have served as volunteers at Mullartown House [BCM Northern Ireland's camp & conference centre] and teaching BCM Bible clubs. Paul shares, "My four sons all went to Mullartown House for camp. They loved it so much we had to organize our family holidays not to clash with their Mullartown weeks! My third son Ryan got saved at Mullartown, and my two oldest sons as well as my wife have been counsellors there."
Another Slemish musician, Andrew, shared during the concert, "My wife taught Bible clubs in the town of Lisburn and at Mullartown House. It was what gave her a vision for international missions. We spent twenty years as missionaries in France. I give thanks for BCM International and especially BCM Ireland for its impact on our lives, on Ireland, and across the world."
But the core focus of the week was field reports from the individual country ministries and spending time in prayer for needs and challenges as well as a new vision for BCM Europe's future. Outgoing BCM Europe director Dale Sigafoos expressed, "We are seeing great challenges. War in the Ukraine. The seizure by Russian separatists of Donetsk Christian University [where BCM personnel were on faculty]. Floods of refugees overwhelming our countries so that there is concern as to what is going to happen to our own cultures. At the same time, these challenges offer great opportunities to reach out with the Gospel."
Part of that new vision has been God's raising up of new field and regional leadership. One highlight of the week was meeting incoming field leadership, including Enrico and Betty Pasquini, BCM Italy, Waldemar and Katarina Muks, BCM Germany, Erik & Annelien Bolhuis, BCM Netherlands, as well as new camp leadership for Northern Ireland's Mullertown House, Jason and Gemma Hill, and Republic of Ireland's Castledaly Manor, Nathan and Jenna Dancey.
The final evening of the 2015 BCM European Conference included an award ceremony recognizing long-term service: Kate Macnab, England—30 years; Barbara VanValkenburg, England–40 years; Debbie Dancey, Republic of Ireland—40 years, and Raquel Diaz, Spain—50 years. The evening ended with the commissioning of BCM Ireland director Richard Thompson as the new BCM Europe regional director.
So as BCM Europe celebrates past and present ministry, just what is its future? Current director Richard Thompson sums up: "I expect there will be changes and challenges in BCM Europe over the next few years. Many of these changes will be forced upon us through circumstances outside our control, thus bringing challenges which must be faced head on. But I believe God has much more for us to do yet, and I am really looking forward to where BCM Europe can go. While I accept it may not necessarily be easy, I am also looking forward to meeting those challenges with God's guidance and help."
[hr] [slideshow_deploy id='3341′] [hr]
Originally Published in BCM World December 2015