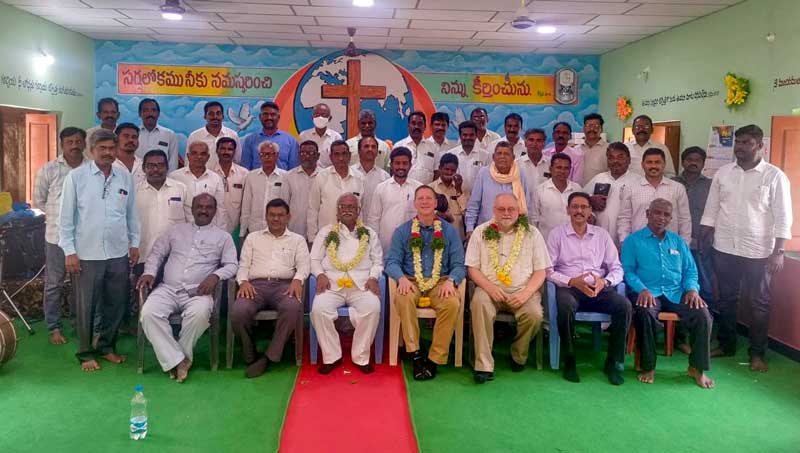 BCM India church with pastors
Reflections From the Road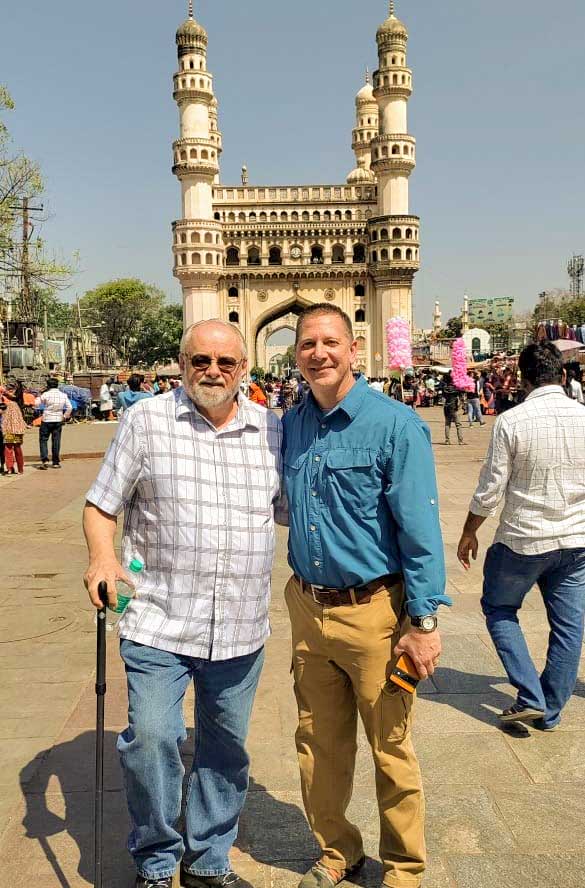 Former BCM president, Marty Windle, with
current president, Rick Rhoads, in Hyderabad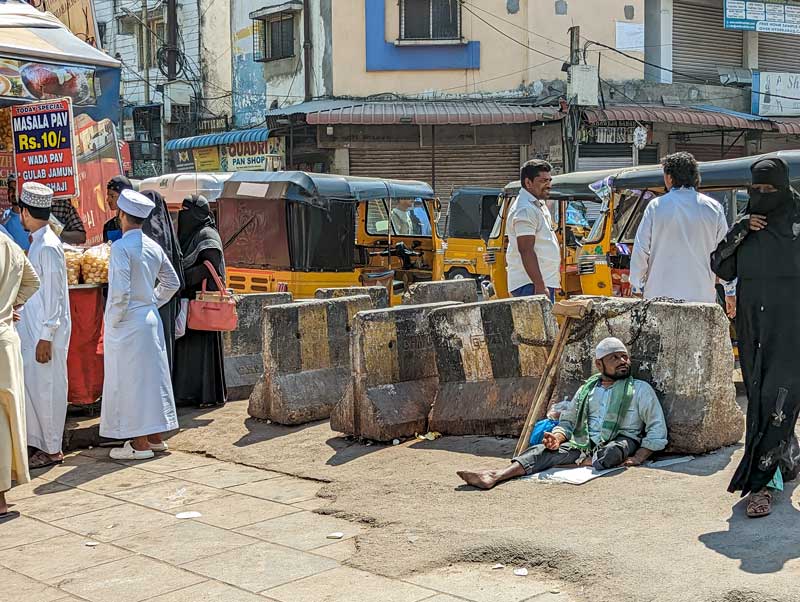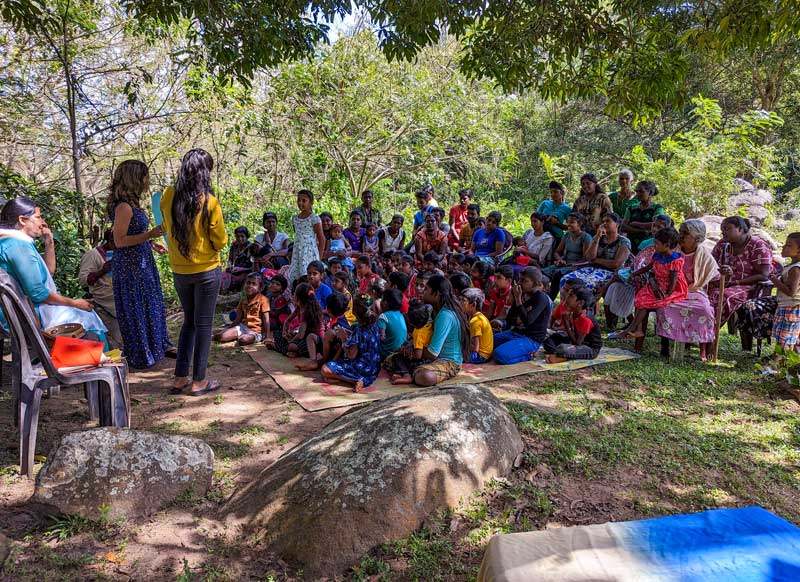 Church under a mango tree
By: Dr. Rick Rhoads, President BCM International
We've all had moments in life where God shows up in the least expected places. In fact, I sense that is often where God shows up in my life with consistency.  As I reflect upon my first seven months serving with BCM, I am struck by how God is at work globally, particularly through "the least of these" and teenagers.  The following vignettes are just a handful of countless special moments where I noticed God at work as I participated with  BCM ministries across India, Sri Lanka, Ecuador, and Peru.
India and Sri Lanka
In February 2023, I traveled to India and Sri Lanka with president emeritus of BCM International, Dr. Marty Windle. We were welcomed warmly and graciously by BCM Asia regional director Susiri Liyanage, BCM India director Paul Padmaker, and BCM Sri Lanka director Meashed Liyanage. The following ten days were filled with leadership meetings and land travel to numerous BCM ministries. A few highlights stand out.
The Bus Ride: Not long after arriving in India, we were privileged to share at a BCM church about three hours' drive from Hyderabad, where BCM India has its national headquarters. We took in glimpses of monkeys hanging from trees and farmers in rice and sugar cane fields before arriving at a small town where a sizeable crowd had gathered to welcome us. After shaking many hands and removing our shoes, we entered the church. The worship, passion, and worn Bibles were evident and convicting.
After the service, a woman approached me. She shared how she'd ridden on a bus ten hours to meet me and our team and to hear us give God's message. It was humbling to say the least. I couldn't find adequate words for this moment, but I managed to say, "If you came ten hours by bus, I'm not sure you need to hear from us! We probably need to be hearing from you as to how God is moving and working in your life!"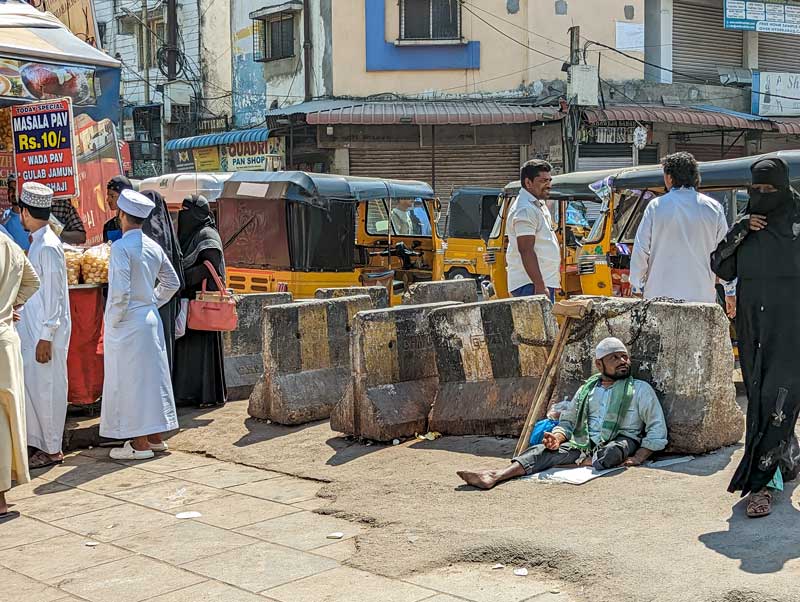 The Presence of God: Having lost my own leg below the knee to cancer at age seventeen, I am always struck by those suffering from disabilities. While walking one day around Hyderabad, I noticed a street beggar stricken with a serious disability. His left leg missing and unable to walk, he was forced to depend on others for kindness, care, financial provision, and even presence. His situation brought powerfully to mind the lame man Jesus healed in John 5. How easily this could be me!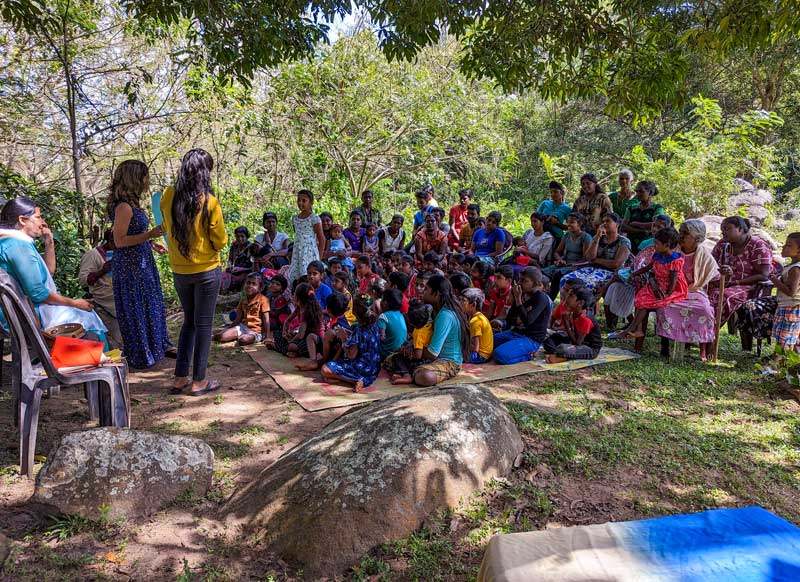 Church under a mango tree
A Mango Tree: Some days later, we spoke at a BCM church in Sri Lanka. After the service, we were introduced to the church's ministry outreach team, which turned out to be six teenagers. They asked if we'd like to visit a new area where they'd just begun an evangelistic outreach. Eyeing my metallic prosthesis, they added that it would involve a 2.5 kilometer hike up a mountain.
Not a problem! The next day we hiked the 2.5 kilometers up the mountain. Arriving at a mango tree, we found the six teenagers and more than sixty locals, mostly unchurched, waiting for us. To witness these teens worshipping, sharing God's Word, and simply being God's loving presence to others was profound to say the least. As result of their testimony, many there entered a personal relationship with God for the first time in their life.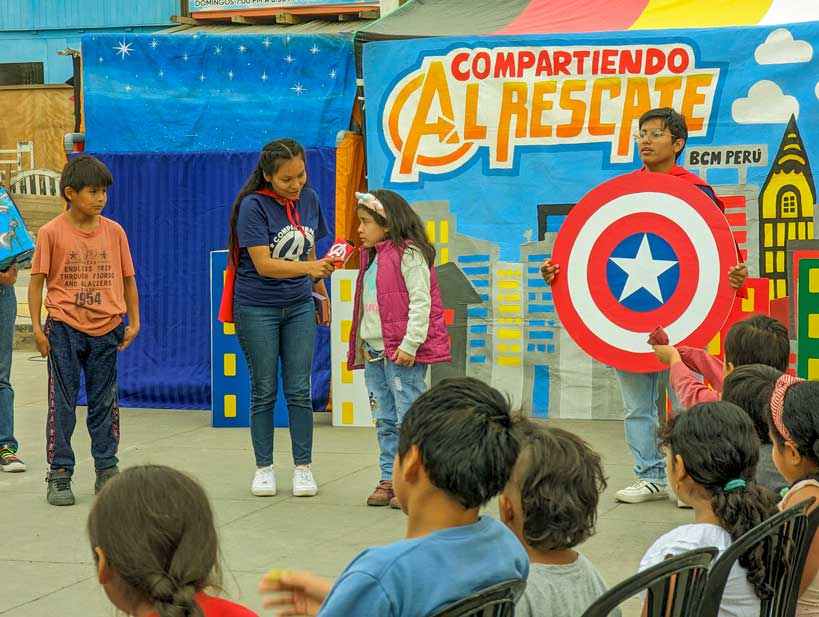 Pennies for Peru in Lima, Peru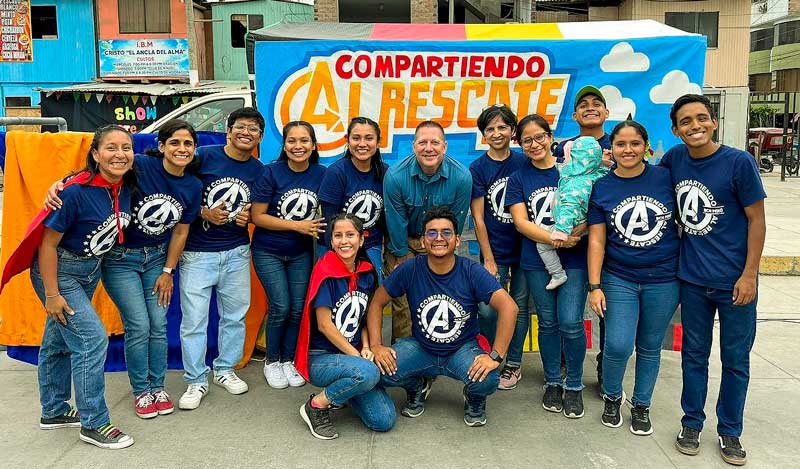 BCM Peru team with Rick Rhoads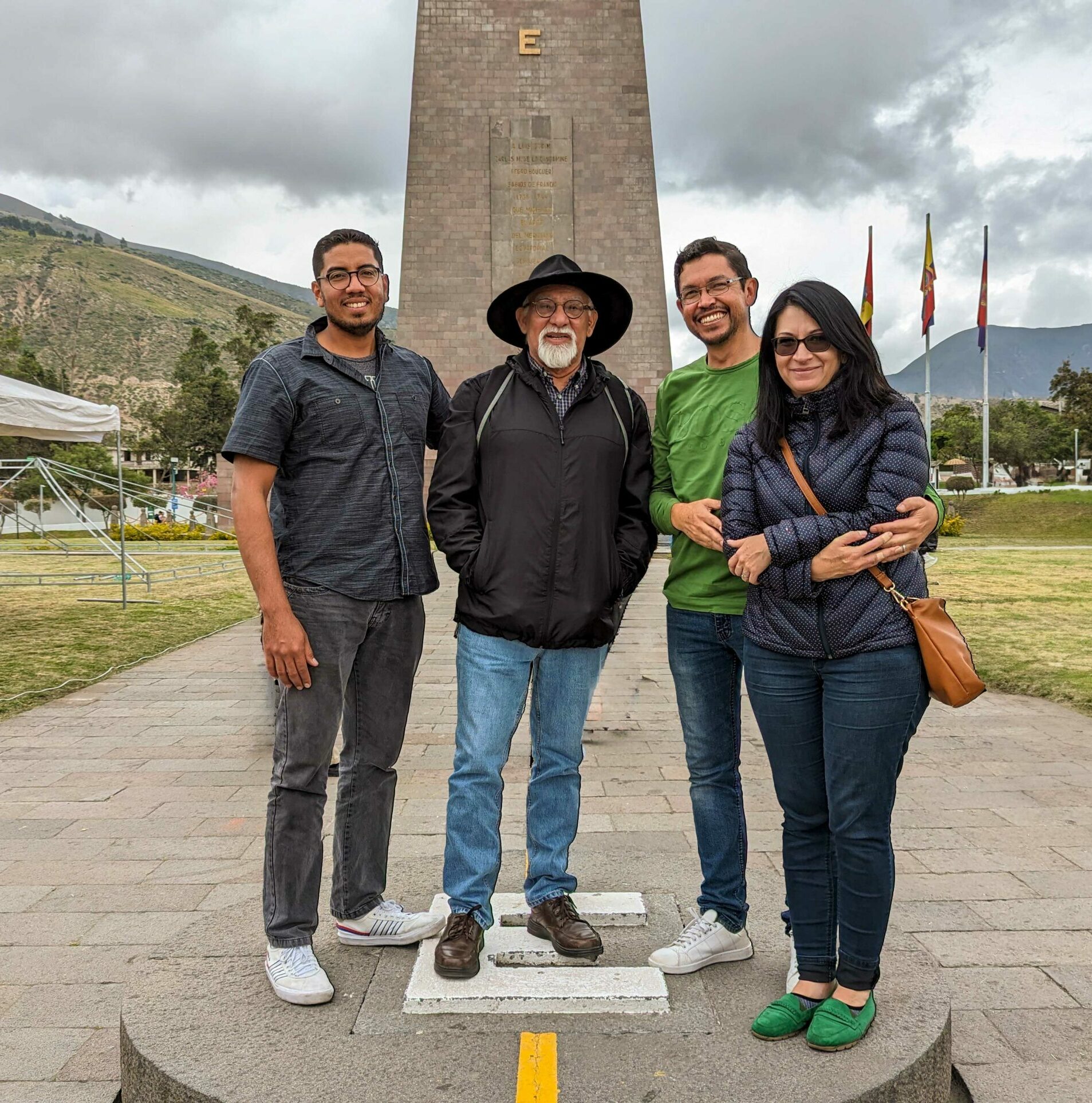 Peru and Ecuador
In mid-May 2023, my wife Naomi and I along with Dr. Marty Windle, his wife Jeanette, and BCM Latin America regional director Carlos Odicio spent approximately two weeks visiting BCM ministries in several regions of Peru and Ecuador.
Lima, Peru: Pennies for Peru is a program of evangelistic outreach that reaches tens of thousands of children each year. Teams made up of BCM Peru missionaries and volunteers partner with local churches. The church provides venue, date, and time while Pennies for Peru teams orchestrate the program, gospel presentation, and create connection to the local church for follow-up discipleship. At three different events in the Peruvian capital, Lima, we witnessed nearly three hundred children participating. At least half of these children responded to the invitation to follow Christ.
Iquitos, Peru: At almost a half million population, Iquitos, Peru's main jungle port on the Amazon River, is the largest city in the world with no access by road, only boat and air. As in Sri Lanka, much of BCM ministry there is carried out by teenagers under leadership of a single BCM missionary couple. I was again humbled to see their passion, commitment, and profound impact on so many children in this great Amazon city.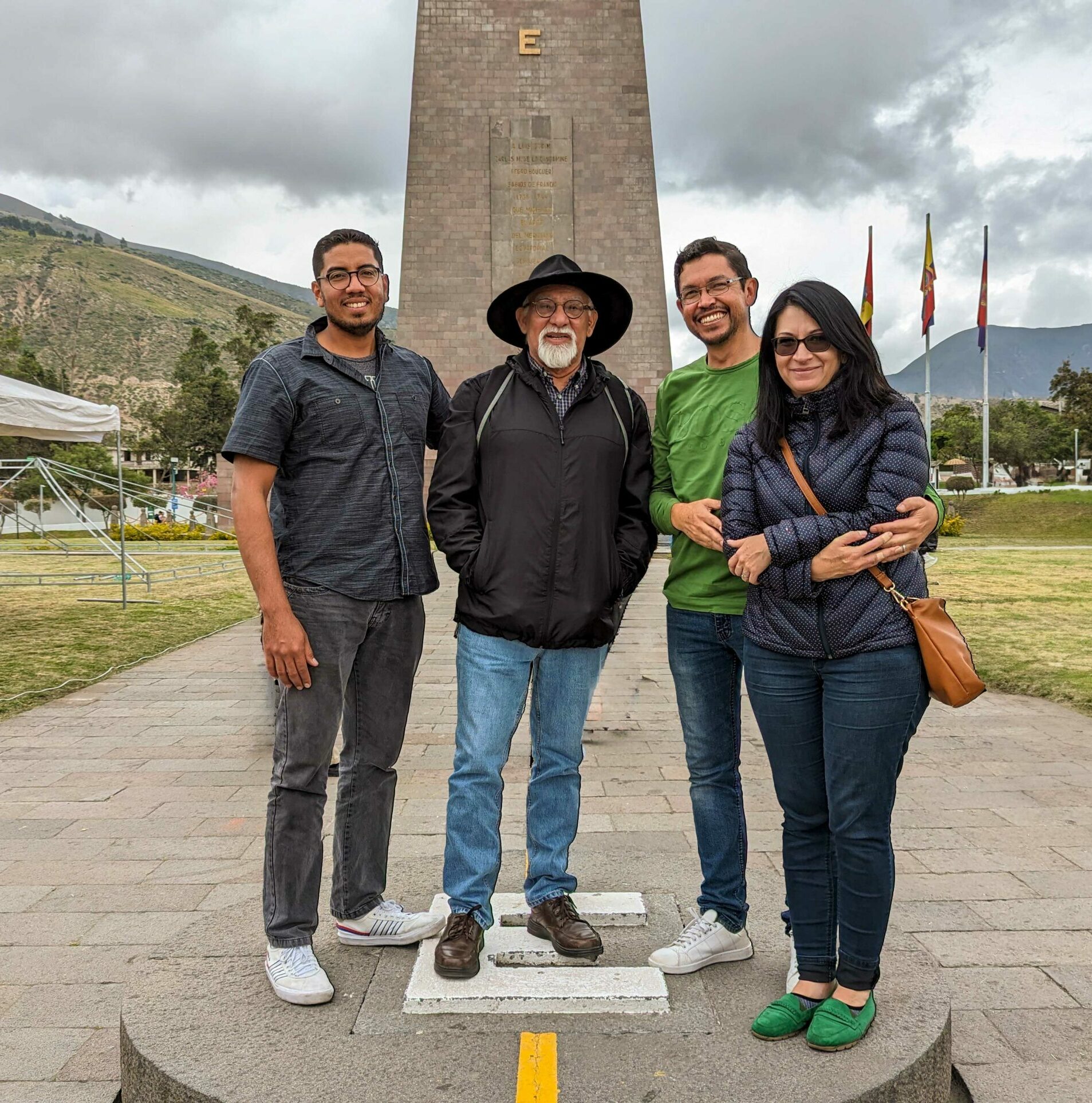 Guayaquil, Ecuador: During our time in Peru and Ecuador, we held three pastoral conferences with the intent of investing in leaders, creating partnerships, and blessing God's kingdom in both countries. One conference in Guayaquil, Ecuador's largest city on the Pacific Ocean, was geared specifically to creating awareness of BCM International and the children's ministry resources we have to offer the local church. How thrilling to have nearly two hundred pastors and children's ministry leaders turn out along with top leadership of the Christian & Missionary Alliance Seminary of Guayaquil.
Quito, Ecuador: Our time in Ecuador's capital began with a children's ministry outreach orchestrated by BCM Ecuador's brand-new missionary team in conjunction with one of Quito's largest C&MA churches. Nearly three hundred children attended. This was especially significant because we were there to celebrate the opening of Ecuador as BCM's newest country of ministry (see Pointing Children to Christ in Ecuador).
That following morning, I was privileged to speak at the church's three Sunday services. Long story short, nearly two thousand people were in attendance with thirty-nine new church members being baptized and almost two hundred adults making decisions to follow Christ.
We also had the opportunity to share the ministry of BCM in multiple interviews on HCJB Christian radio stations in both Guayaquil and Quito. Final amazing moments included standing on the actual equator not far from Quito and praying over our BCM Ecuador team and their future ministry.
As I look back on these first two journeys through BCM's global ministries and look forward to many more over coming months, I find myself deeply grateful for how God consistently invites us to join Him in the work He is already doing. It is apparent God is on the move all over the globe. I pray He give us peace, grace, and passion to participate as we travel along the road.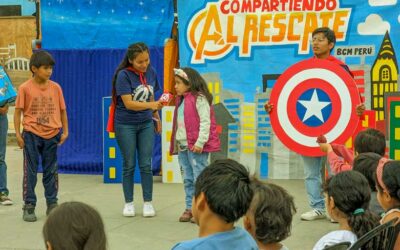 In June 2023, Ecuador became BCM's newest ministry field with the commissioning of Juan Fer and Rita Sanchez from the capital city, Quito, and Jose Quezada in the coastal megacity of Guayaquil. Participating in a week of inaugural events were BCM president Rick Rhoads and wife Naomi, Latin America director Carlos Odicio, president emeritus Marty Windle, and wife Jeanette Windle. BCM Latin America began in Peru in 1993 with a very specific vision: "Pointing children to Christ and pointing churches to children." BCM Quito missionary Juan Fer explains why this is so urgent…
read more