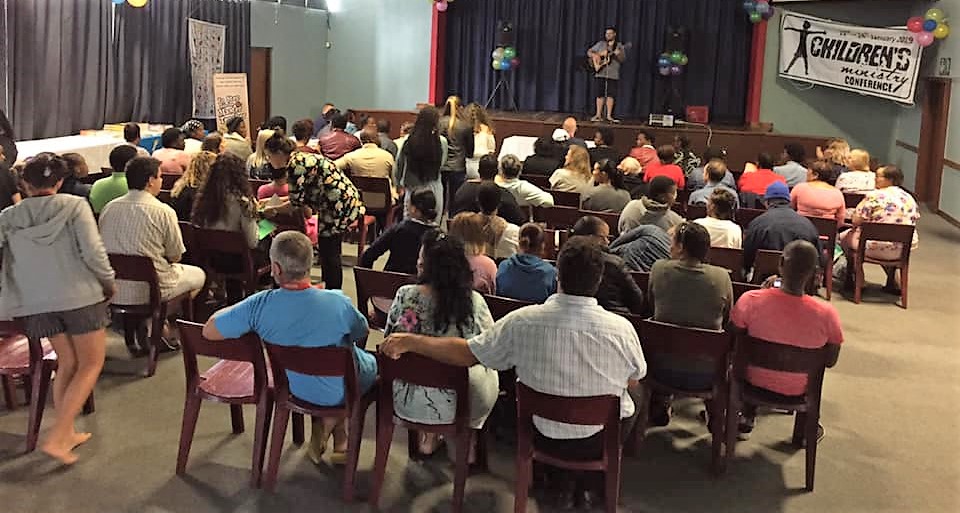 Plenary session - East London CMC
By: Pat Govender and Esther Zimmerman with Jeanette Windle 
"2019 marks ten years since my father and I first visited South Africa to launch BCM children's ministry with Africa's first Train the Trainer," shares Esther Zimmerman, founder of  In Step with the Master Teacher [ISMT], BCM's children's ministry training curriculum. "We were praying that God would raise up someone to take BCM children's ministry forward in Africa.  Pat Govender was God's answer to that prayer.  Ten years and at least ten countries later, God has done great things."
BCM Africa missionary Pat Govender now coordinates ISMT Training across Africa. She was attending the global children's ministry Equip Conference in Thailand when God spoke to her about doing more in regards to training, equipping, investing in, and supporting children's ministry leaders in her home city of East London, South Africa.
"I came back home and prayed much for God's leading. Going from church to church would take too long, and I would only reach a few at a time. So I thought of a conference where I can get many children's workers under one roof to serve them. I invited other organizations and church representatives to join us. Our first conference was held in 2016 with about eighty people from twenty-eight different churches attending."
East London's Children's Ministry Conference has become an annual event. This year the conference was held Friday-Sunday, January 18-20, 2019, with more than a hundred participants from thirty-two churches. Esther Zimmerman and colleague Debbie Keyser flew in from the USA as guest speakers.
"The main reason this conference needs to happen is to Envision, Equip, Resource and Mobilize people for children's ministry," shares Pat Govender. She goes on to explain.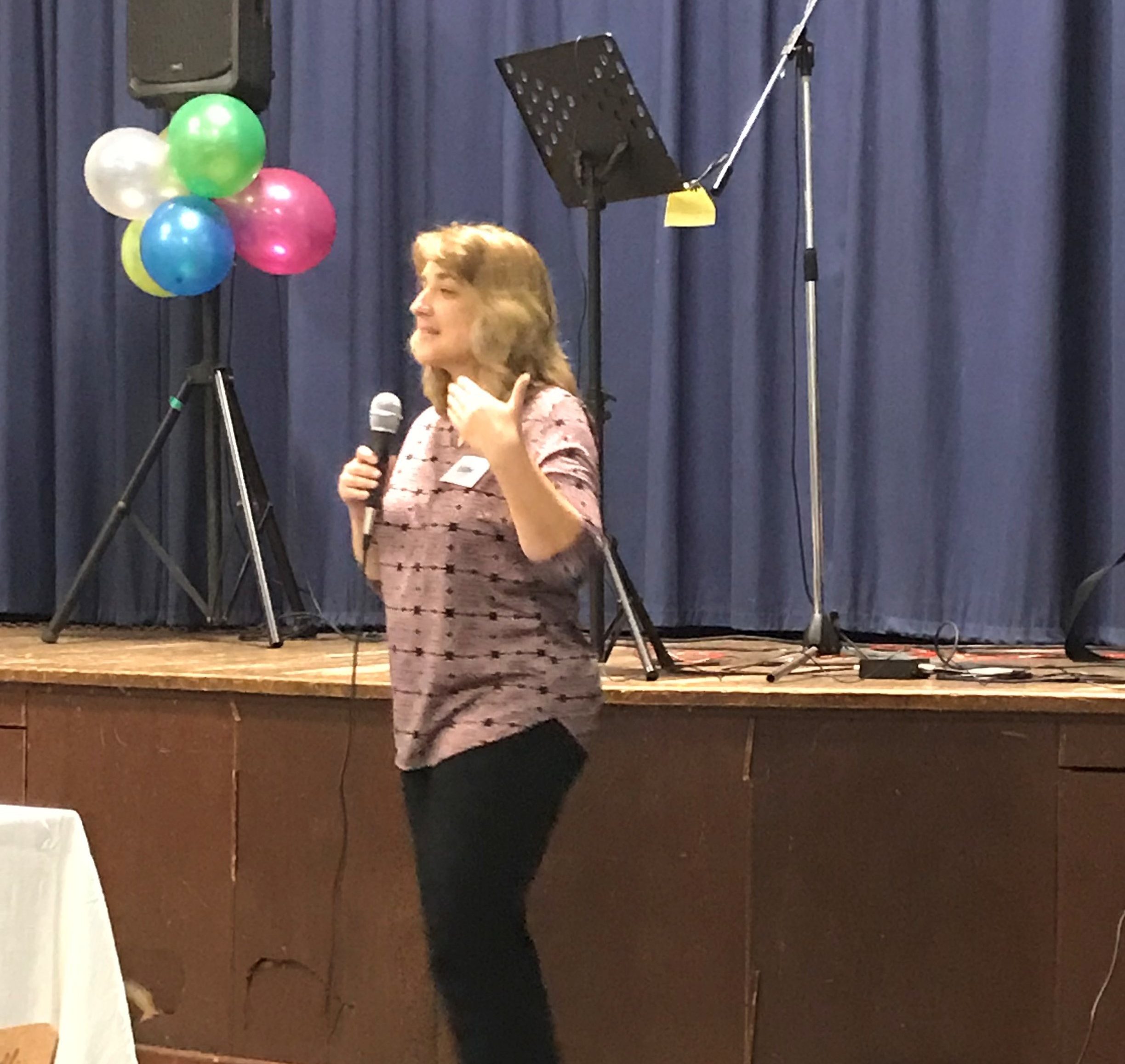 Esther Zimmerman presents "Think Big" plenary - East London
In envisioning, delegates need to really get a feel for what is on God's heart for children and to understand the importance of children's ministry. This took place in the plenary sessions on Friday evening, Saturday morning, and Saturday. Esther Zimmerman was the plenary speaker, and her challenge was to THINK BIG—about God, about children, about children's ministry.
On Saturday, three workshop slots with fifteen different workshops to choose from helped equip delegates, strengthening and teaching skills needed for reaching children. This year's workshops covered topics from human trafficking and how to work with autistic children to Faith at Home family ministry and how to run a holiday club.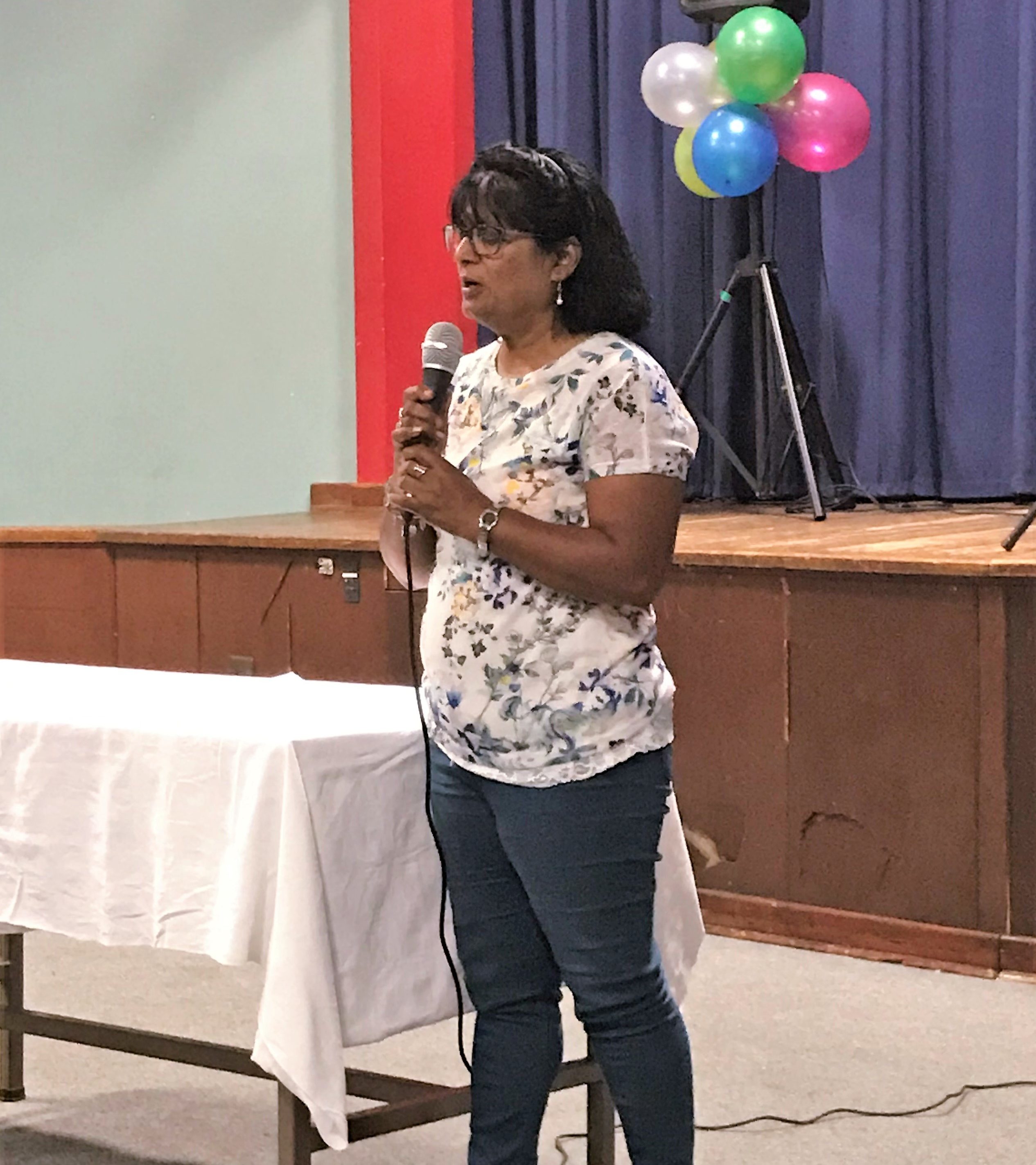 Pat Govender teaching - East London
Various ministry organizations also had displays with a range of resources delegates could acquire to take home to their local ministries. Finally, in several of the conferences delegates could also sign up for a Sunday outreach to run a children's program in certain areas/churches. This was to mobilize them to reach out to children around them as well as those who are outside their communities.
"Those who have been on the outreach ministries were blown away," shares Pat Govender, "as they were so moved by this experience of going into an area not far from them and working with children there. Many expressed that they hadn't realized there were so many children in the same city who needed reaching and that this was something they could do outside this conference as an outreach from their church or Sunday school."
The 2019 conference had two additional elements—a pastors breakfast meeting and a teachers tea for Christian school teachers working in the public school system.
Pat Govender has seen the impact of this conference on the city of East London. Many participating pastors have expressed that they are making changes in their churches to serve the children better and take children's ministry more seriously.
One 2019 participant shared that just that week she had submitted a resignation letter to her pastor stating that she was quitting children's ministry. Since she'd already committed to attend the conference, she decided to fulfill that promise. During the very first session, God spoke powerfully to her, making clear that he was not done using her in ministry to children. She recommitted herself to reaching children and attended the rest of the conference with a hunger to learn more for this ministry. Another participant left the conference convicted that God is calling her to reach out to street children and with plans to start such a ministry.
Most importantly, the churches of East London are becoming more aware of children and the value of children's ministry in raising up a strong next generation of African Christians. Many churches have followed up on the conferences by inviting Pat to their churches for further training as well as to organize children's and youth conferences. The first such took place at Mdantsane Community church in October 2018 with over two hundred children. Pat will be running a second one June 2019 with East London's Anglican church.
"For now we need to continue running this conference because there are so many people who need training and equipping and so many churches in East London who really need their children's ministry strengthened," Pat concludes. "They are recognizing this need and that BCM is able to help. I am in prayer as to how God will lead for it to continue being fresh and inspiring."
Originally Published in BCM World March 2019