Greetings as we begin the New Year of 2013.
Sometimes it seems that disaster and crisis follows one after another across this planet until it is hard to muster up new emotion, compassion, and another helping hand. In North America, the big news story of recent months has been Super Storm Sandy. But only a few weeks later in mid-December a storm, that would normally have made major headlines, swept across the Philippines. Typhoon Pablo (or Bopha locally) was 2012's deadliest tropical cyclone, making landfall as a Category 5 Super Typhoon, the strongest ever recorded to hit the Philippines' southernmost island of Mindanao.  Tens of thousands of homes were destroyed, an entire season of crops washed away, with more than a thousand dead and another 800 missing. Now, six weeks later, more than a million remain displaced.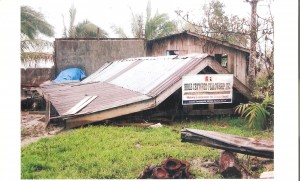 For BCM Philippines, this has been a major catastrophe since Mindanao is an important ministry region with many churches, a Bible institute and our Camp Española. BCM Philippines teams headed immediately into the disaster zone only to discover that hundreds of Bible Centered Fellowship (our BCM Philippines church association) families had lost homes and livelihood. Sadly as well, five BCM churches were completely destroyed with four others sustaining major damage. BCM Philippines believers continue to work in disaster relief, distributing food, relief goods and cash to 80+ BCM families affected plus providing meals for hundreds more people in the area.
An opportunity to show God's love and mercy in the midst of disaster and tragedy is before us, we have already sent $10,000, adding what relief funds we could to the resources and efforts of our BCM Filipino brethren. Please pray for our efforts to the affected churches, communities, and families.
But more help is still needed. If you would like to donate toward meeting this critical need for relief aid and rebuilding destroyed church buildings and homes please return the enclosed response card or donate online at https://bcm21697.thankyou4caring.org/typhoon-pablo.
Thank you for caring,
Dr. Marty Windle
President, BCM International