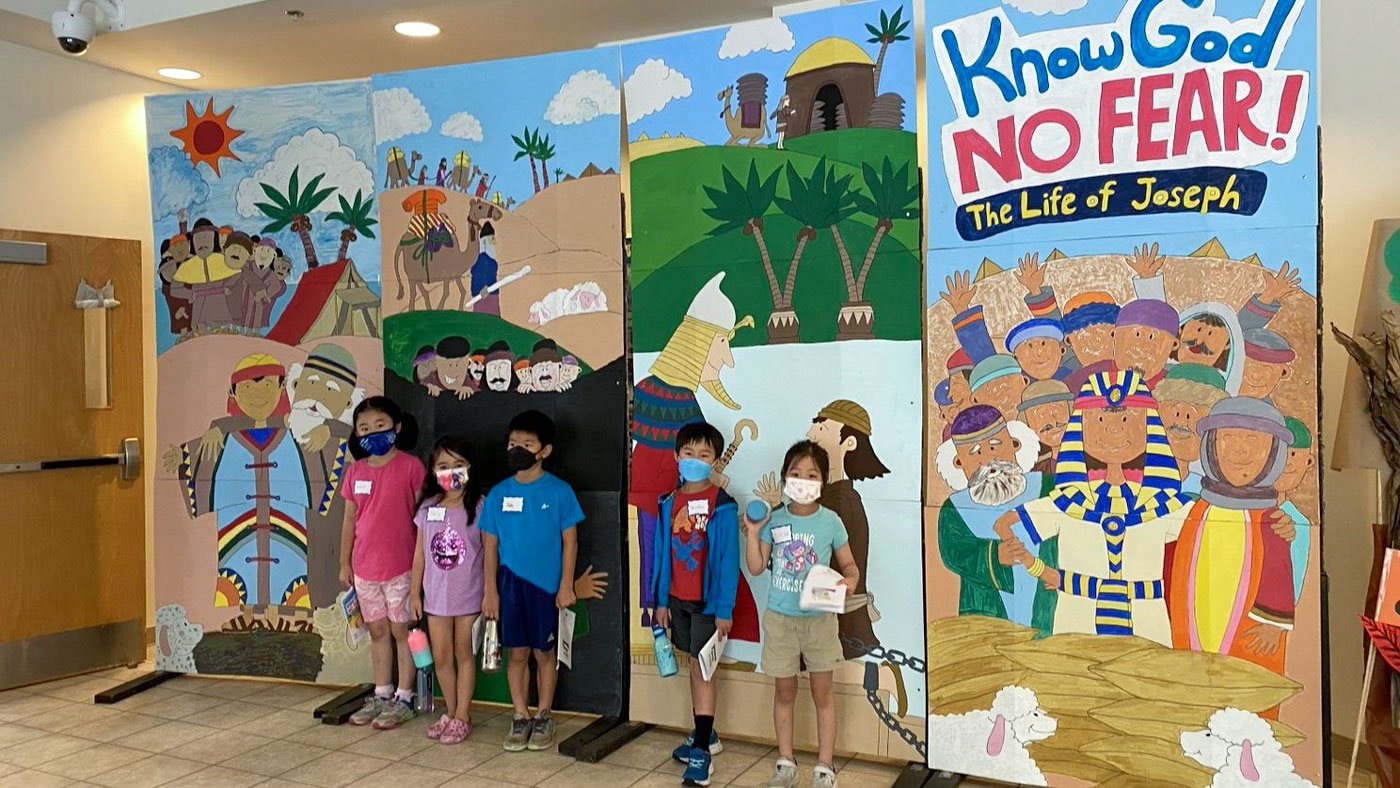 VBC group - USA Chinese church
Online + In-person + Vacation Bible School + Backyard Bible Clubs = Vacation Bible Club
By: Sophia Wong
International Coordinator, BCM Children's Ministries
The above title may seem far too long and is certainly a mouthful to say. So what does it mean? Simply put, it describes a children's outreach that combines online and in-person elements with the components of Vacation Bible School and Backyard Bible Clubs. The online portion includes singing, puppet shows, and Bible teaching. The in-person portion includes crafts, games, snacks, handbook exercises, and small group discussion. As long as a computer and stable internet are available, participating groups can meet either at church or in a home. Put it all together, and you have Vacation Bible Club.
The idea originated from a five-day winter camp BCM missionaries in Asia were planning early this year for children who live in different cities. Their goal was to reach as many children as possible with their limited resources. After much prayer and discussion among BCM children's ministry leadership, it was decided that an online format would permit using already existing overseas faculty and programming such as puppet shows and Bible lessons while in-person activities such as games and crafts could be carried out locally.
So was born the Vacation Bible Club. The online team included BCM international children's ministry coordinator Sophia Wong and other volunteers from a Chinese church in the United States, who livestreamed songs, drama, and Bible teaching in Mandarin. For the in-person teams, each group of children had at least two adult Sunday school teachers or church volunteers coordinated by regional BCM missionaries. Written and craft materials were sent out to each group in advance.
No one really knew what to expect or whether churches would favor this format. But the results turned out to be very encouraging. About one hundred and fifty children meeting in nineteen separate groups in ten cities participated. Meeting places included churches, homes, schools, and rented facilities. By the end of the week, twenty-two children had accepted Jesus as their Lord and Savior.
So much positive feedback was received from participants that BCM Asia held a similar Vacation Bible Club in the summer. This time, over four hundred children in thirty-six groups from thirty cities participated. Forty-six children committed their lives to Jesus.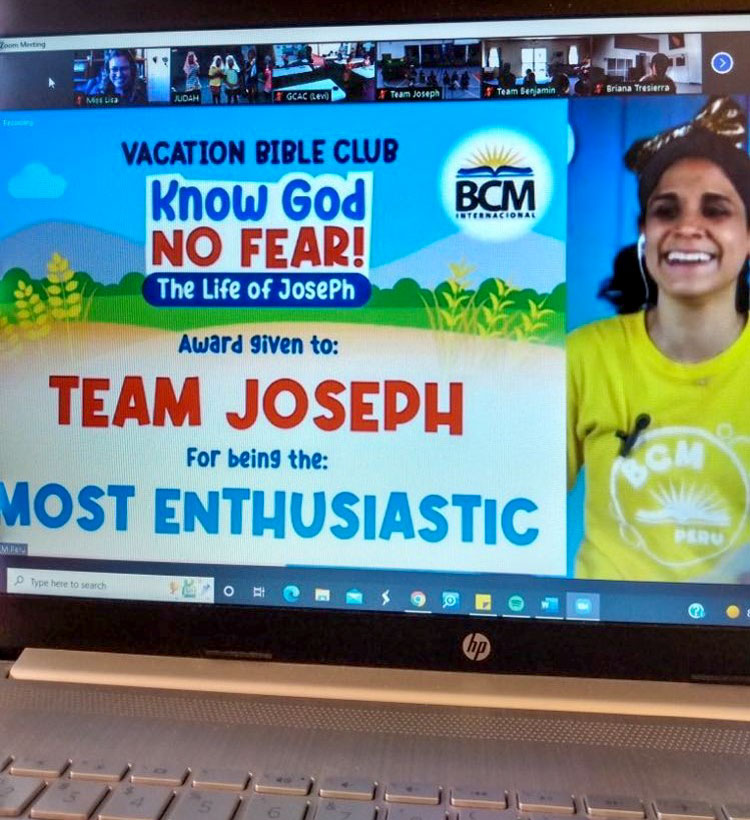 VBC awards ceremony with Shantal Odicio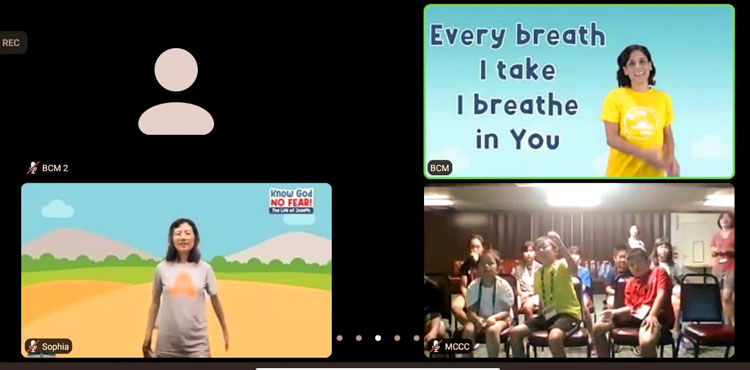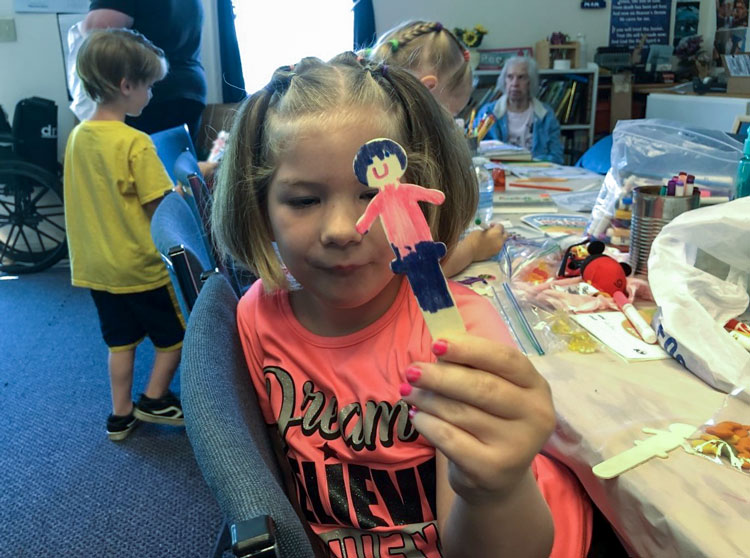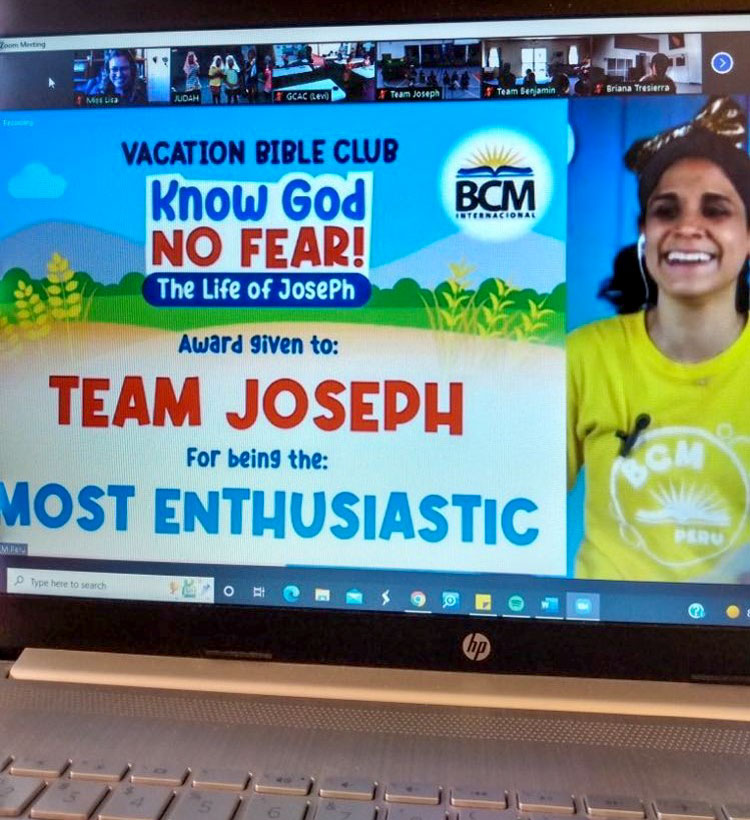 It became clear this format was an effective means of reaching more children with the gospel of Jesus Christ in this post-pandemic era. With the help of Shantal Odicio and Lisa Biegert the program was tested out in the United States July 2022. The Bible teaching was centered around the life of Joseph with the theme of "Know God, No Fear." Bible lessons taught by Lisa Biegert (BCM USA) and puppet dramas created by Shantal Odicio (BCM Peru) were prerecorded. Shantal emceed live sessions and led interactive singing while Lisa introduced her teaching videos and provided follow-up Q&A sessions. Sophia coordinated with churches and volunteers, designed handbooks, games, and scheduling, and provided tech support for online sessions.
A total of fifty children from four churches (Delaware, Indiana, Maryland) and a few families at home (Pennsylvania, Texas, and Peru) joined the VBC. While the number was less than hoped, it was a good start. Even better, twelve children placed their faith in Jesus.
Ultimately, this combination format has demonstrated many advantages. A major advantage is being able to showcase BCM's high-quality curriculum and solid Bible teaching to churches who may not yet know BCM. In the evaluation following this summer's VBC, all churches commented on the excellence with which BCM missionaries carried out the online elements of Bible teaching, puppet shows, and music.
Another advantage is the opportunity for children to interact with children from other cities, states, and even countries. On the first day, excitement filled the screen when different groups from Pennsylvania and Delaware all the way to Texas and Peru were greeted and introduced to each other. On the final day, each group happily shared their own presentation of songs, skit, or Bible recitation with the entire club.
This format also gives each group flexibility on when to start and the length of in-person activities. One group chose to start their activities before the scheduled online sessions. Another group extended their in-person segment to ninety minutes instead of the suggested one hour. As long as each group logs in for the online segment, they have a lot of leeway to design the rest of the program according to what best meets their needs.
With all the positive feedback received on the Vacation Bible Club program, the BCM children's ministry team is planning another VBC for next summer with the goal of making it available to more people. Our aspiration is to involve BCM missionaries around the world in making this a truly "BCM International" Vacation Bible Club that will permit participating children to meet missionaries from other countries and learn about God's work in each country.
If interested in participating or in hosting a VBC in your church or home, contact Sophia Wong at swong@bcmintl.org.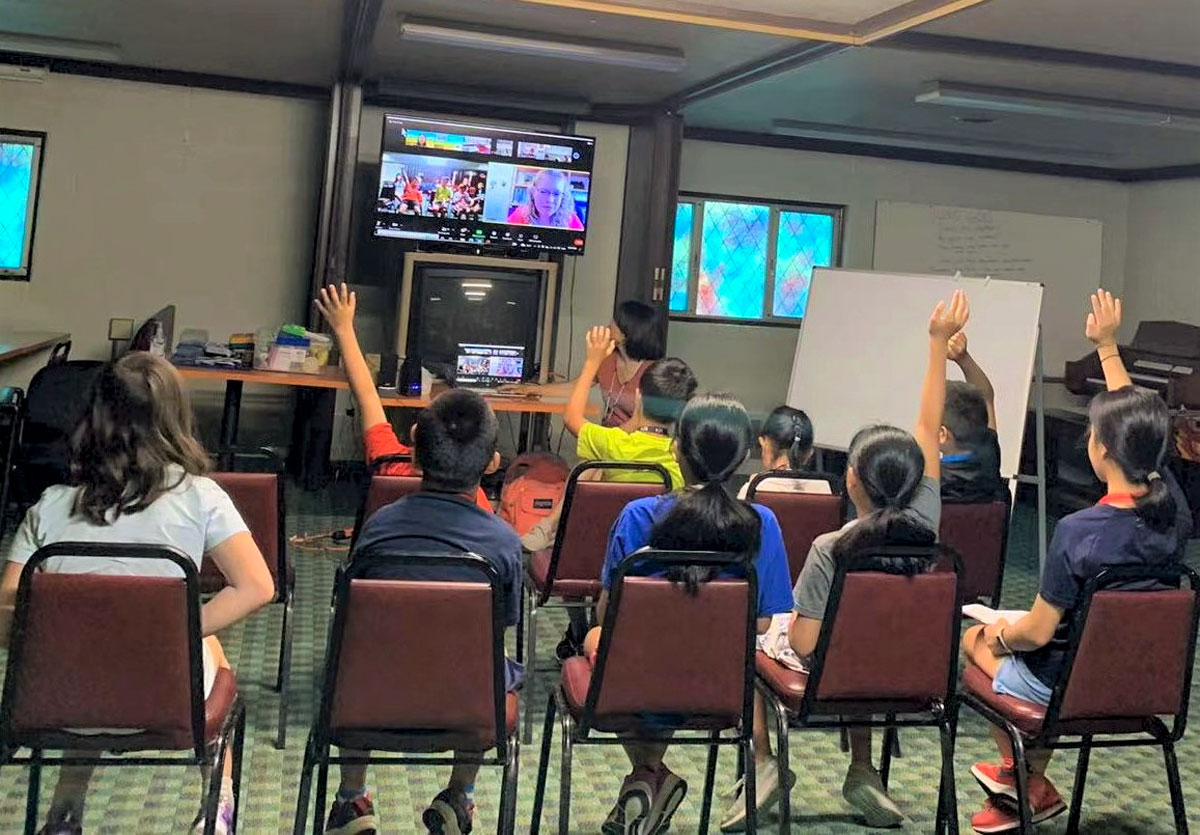 Live music session with Sophia Wong and Shantal Odicio; VBC in-person craft;
VBC award ceremony; Live VBC session with Lisa Biegert
Live VBC session with Lisa Biegert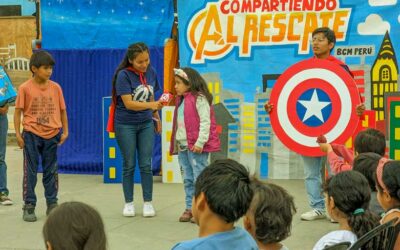 In June 2023, Ecuador became BCM's newest ministry field with the commissioning of Juan Fer and Rita Sanchez from the capital city, Quito, and Jose Quezada in the coastal megacity of Guayaquil. Participating in a week of inaugural events were BCM president Rick Rhoads and wife Naomi, Latin America director Carlos Odicio, president emeritus Marty Windle, and wife Jeanette Windle. BCM Latin America began in Peru in 1993 with a very specific vision: "Pointing children to Christ and pointing churches to children." BCM Quito missionary Juan Fer explains why this is so urgent…
read more