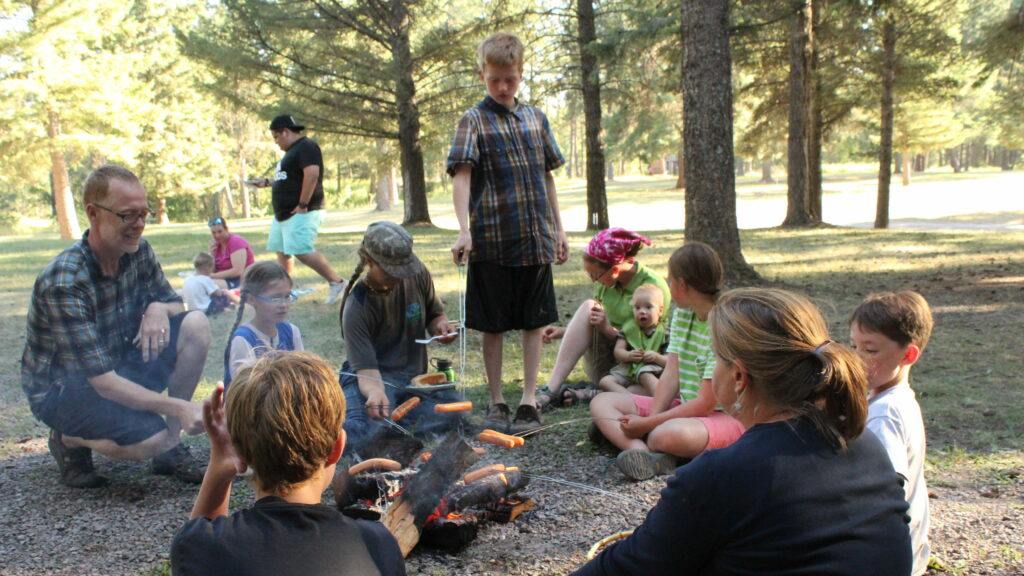 By: Lisa Biegert
On July 22, 2017, BCM's Big Sky Bible Camp in Big Fork, Montana, celebrated its seventieth anniversary. The celebration included an Open House with two-hundred-fifty attendees from as far away as California and Arizona. To showcase popular camp features, BSBC opened up its waterfront, ropes course, espresso machine, and camp store. Attendees were able to enjoy inflatable games and tour the camp's grounds. In true Big Sky camp style, the day ended with a hot dog roast.
To honor Big Sky's seventy years of history, pictures chronicling the camp over the decades were enlarged and displayed. BCM missionary and Big Sky historian Karen DeVries also compiled a slide show to share the camp's history.
That history started in 1947 on a small ranch outside of Missoula, MT, when BCM missionaries Jean Clark and Hazel Simonton founded the area's Bible Club Camp on three convictions: vision, faith, and hard work. Jean and Hazel had moved to Montana from New Jersey in 1944 to begin a Bible club ministry. Over the years, this ministry blossomed into a camping ministry, and by 1962, Big Sky Bible Camp owned its own property in Big Fork, Montana, near the entrance to Glacier National Park [read more about Big Sky's history here]
Today Big Sky is overseen by director Jamy Landis and wife, Lisa. They came to Big Sky in September, 2008, with their six children. They are joined by five full-time staff, multiple part-time staff, and several other BCM missionaries.
Big Sky sits on 220 acres bordering beautiful Peterson Lake against a backdrop of snowcapped Rockies. Where Big Sky started in 1962 with only two weeks of camp, there are now seven weeks of traditional camp, four weeks of Day Camp, backpacking trips, and a year-round conference center. Every week of camp is filled to capacity with over a thousand campers total each summer. Camp Promise, a ministry to special needs campers, was founded in 1990. This last summer, Camp Promise hosted two weeks of camp with thirty-three special needs campers in each.
When Jean Clark and Hazel Simonton first founded Big Sky Bible Camp, they could never have imagined all God would do there over the next seventy years. Big Sky's next goal is building a new dining hall with seating capacity of 230 along with eight new duplex units. These new units would enable them to run Camp Promise simultaneously with the rest of summer camps. The goal is to break ground in the spring of 2018. Meanwhile, the BCM team at Big Sky are looking forward to what God has in store for coming decades as they continue to move forward with vision, faith, and hard work.
Read about Big Sky's recent fundraiser here.
[slideshow_deploy id='4762′] [hr]
Originally Published in BCM World August 2017