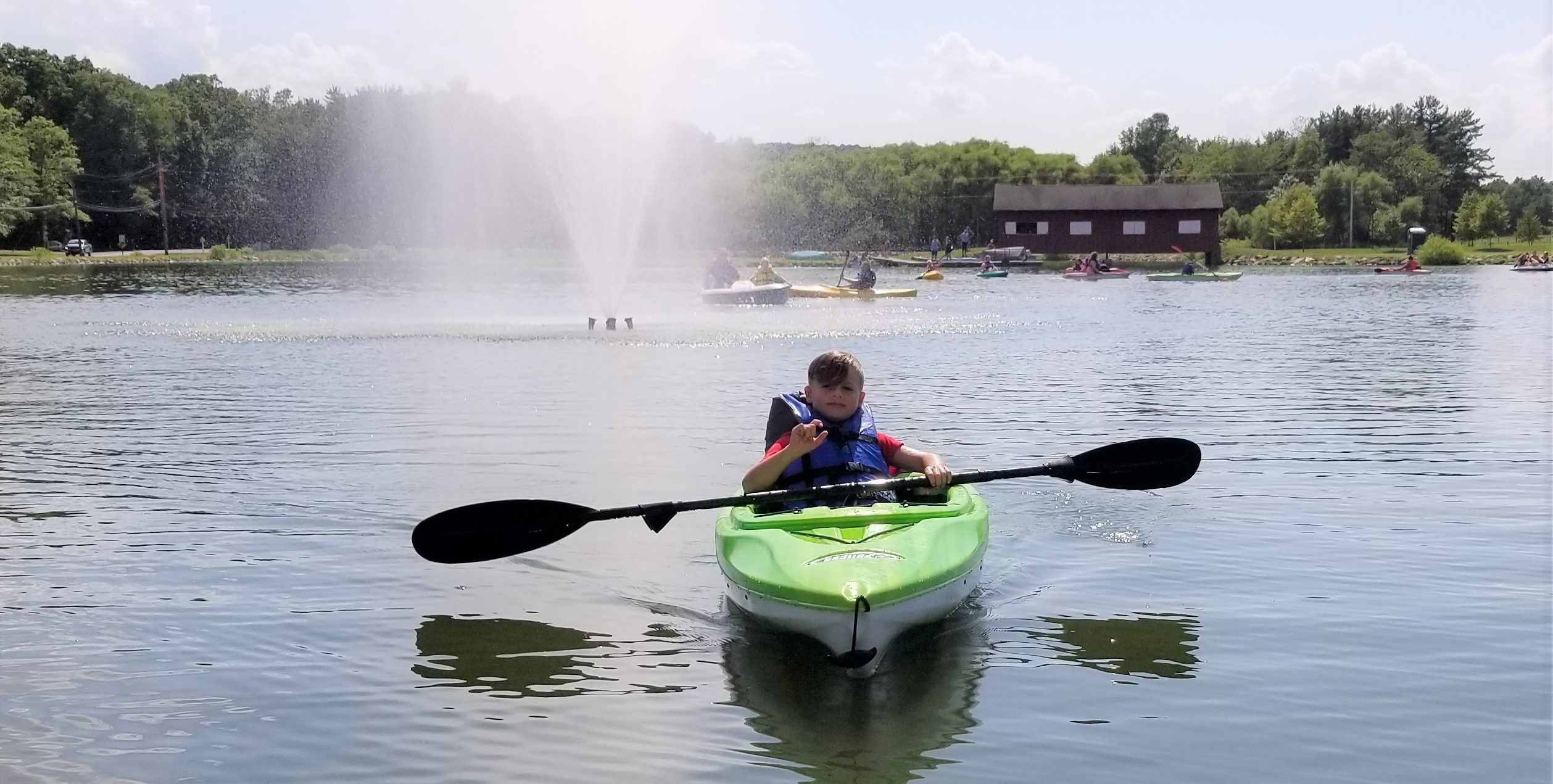 Water sports at Camp Sonshine
BCM International reaches approximately 35,000 children in camping, mostly in the summer months. But there are other BCM summer children's ministry outreaches happening, including backyard and sidewalk Bible clubs, Vacation Bible School, and children's missions conferences. Here are a few up-close glimpses to what God has been doing to reach children through BCM this summer across North America.
Unreported Heroes Effect True Change in North Philly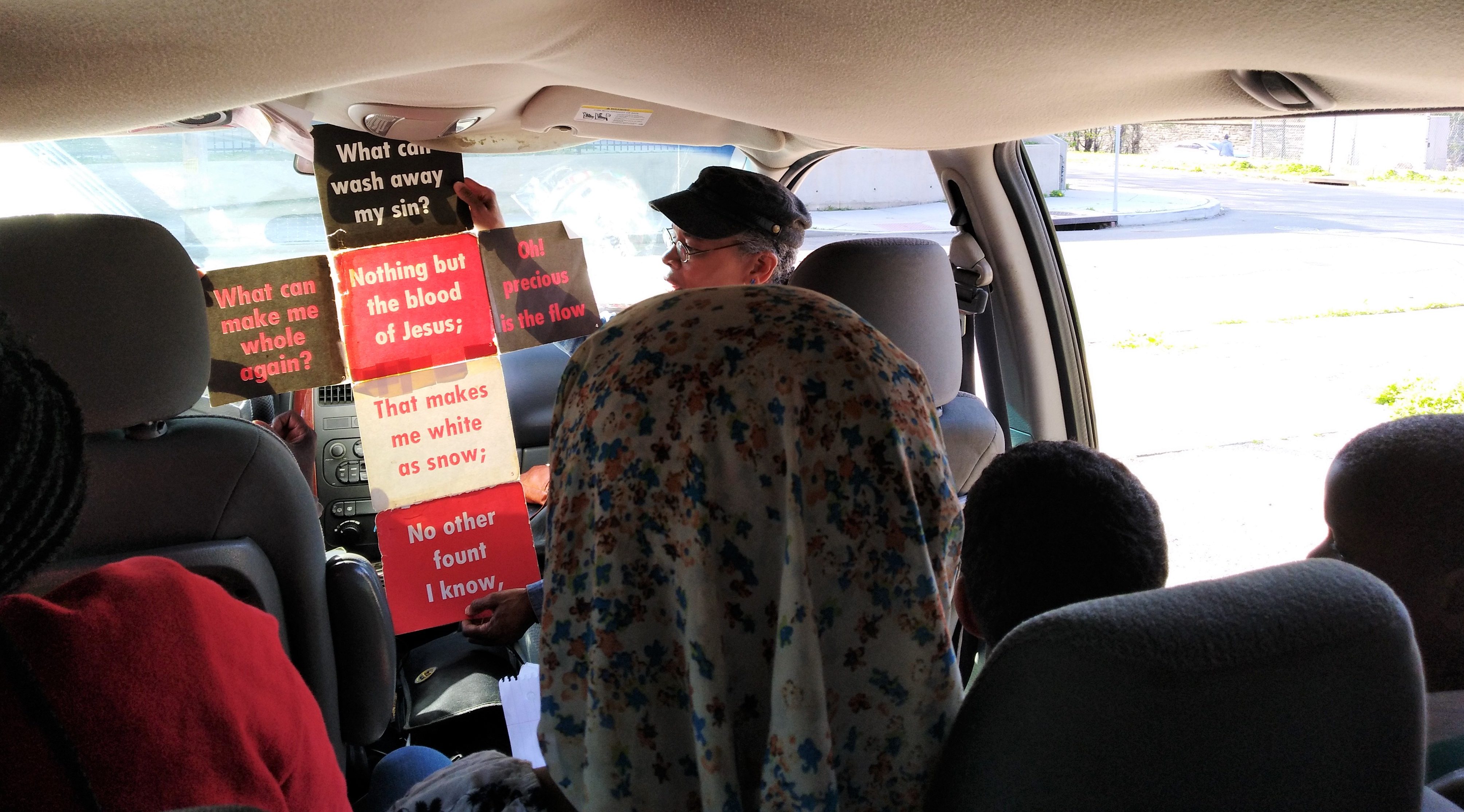 Bible Club - North Philly
Contributed by Marc Hoyle, BCM USA Director
"Six Philadelphia Police Officers Shot During Gun Battle!" This news headline on August 14, 2019, briefly turned national attention to North Philadelphia. No attention has been given to a van parked every Tuesday in a neighborhood not far from the shooting. Belonging to BCM volunteer Sandy, this van is the venue for an afternoon Bible Club that takes place every week during the school year.
Every Tuesday after school lets out, Sandy and BCM missionary Lisa drive into North Philadelphia, first picking up one child, then driving on to a home where several other children live.  Inviting any nearby children to join them, they hold an outdoor Bible Club. Attendance shifts constantly. On one afternoon, a large family that usually attends is missing, but a small boy standing nearby gets drawn in by the story and joins the group.
What about when it rains?  Kids and Bible club teachers pack into the van, up to a dozen people!  Songs, activities, Bible story, and snack are all carried out inside the van's tight quarters.
In the chaotic urban realities of our current society, people constantly demand an answer to such senseless violence as the gun battle that wounded six Philly police officers.  The answer is right there in that van on the street—changed hearts!  Imagine the impact if every church sent a van out on the street to hold an after-school Bible club or welcomed a Bible Club in every public school.  We may look to government for security instead of the God of the Bible. Yet it is through people like Sandy and Lisa that God is accomplishing his everlasting purpose.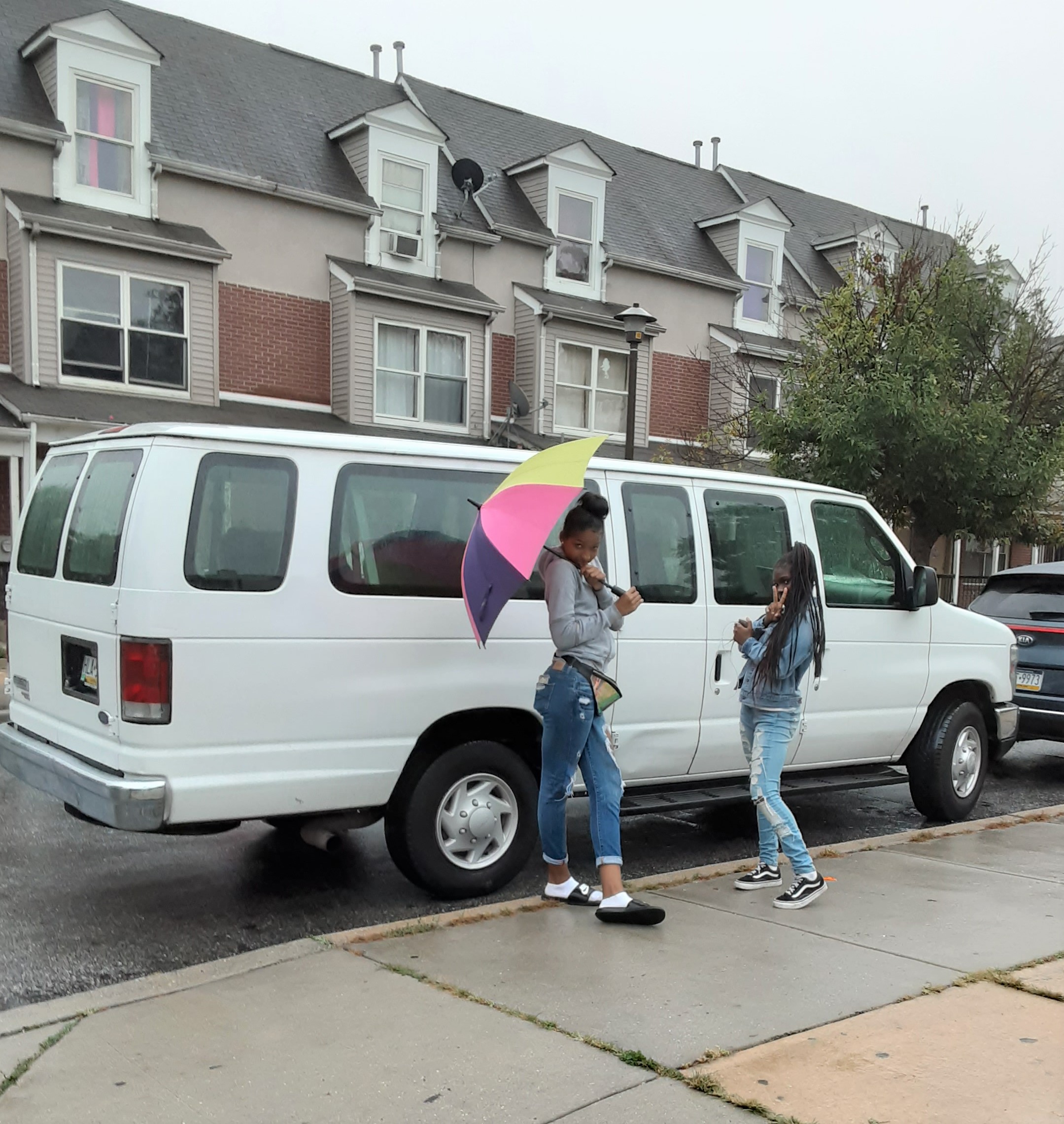 A Second Birthday for Sammy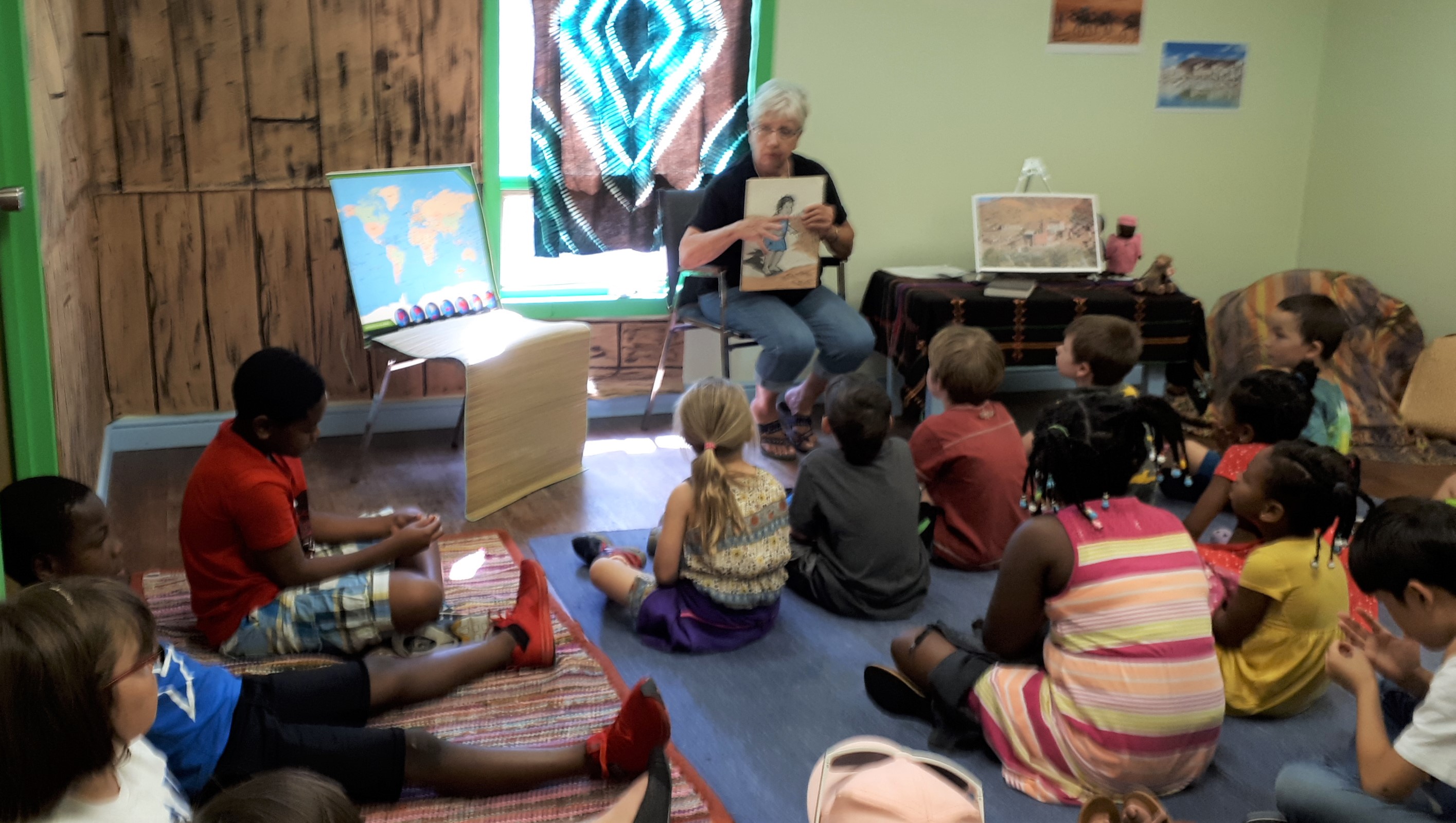 Pam Rowntree teaching missions story
Contributed by Pam Rowntree, BCM Canada
All week long, six-year-old Sammy sat with rapt attention, listening to the continuing five-part missionary story of Hamid, a small boy in Morocco who faces danger and trials as he tries to save his blind two-year-old sister from an evil master (No Darkness at All, adapted from Star of Light by Patricia St. John). He doesn't know where to turn when he meets an English missionary who helps the two children and shares with Hamid the Good News of Jesus Christ.
Sammy was attending this summer's Vacation Bible School at the home church of BCM Canada missionary Pam Rowntree. From a broken home, he lives with his single mom, but a Christian grandmother had taken the time to bring him each day to VBS. Pam taught the missions hour throughout the week, a topic she sees as a continued priority for children's ministry, not only to introduce them to global missions, but because missions stories themselves contain the message of salvation from darkness and fear and the knowledge of a loving, caring God. The five-chapter format brings children eagerly back each day of VBS to hear the "rest of the story."
On the third day of the story, Hamid discovers God's forgiveness and accepts the missionary's invitation to ask Jesus to be his Savior. Hamid proudly shares that he now has two birthdays since he has been born again into God's family. As Pam told the story, she challenged the children about their own lives. Were they sure they had a "second birthday"? Were they part of God's family?  Could they put a second candle on their birthday cake as Hamid could?
The very next day at the end of the missions hour, Sammy waited behind to speak with Pam.  Excitedly, he told her, "Now I have a second candle 'cause I'm part of God's family."
"How did that happen?" Pam asked him.
"Well, I just told God I wanted Jesus to be my Savior and be in his family, and my words went right from inside of my head," Sammy pointed to his head, then upward. "and right straight up to God! I KNOW it! I could feel it! They went right up to God!"
Sammy was even more excited to realize that as part of God's family, he was now "related" to Miss Pam. Though only six years old, it was clear talking with Sammy that he was very certain of what he had done and that he now belonged to Jesus. A reminder that we never know what is going on in the heart and mind of a child sitting in an audience we are teaching. Sammy's grandmother was a believer and had brought him to church, so this wasn't the first time he'd heard about Jesus and salvation. But this time Sammy was ready to take the step of receiving Jesus as his own personal Savior, becoming part of God's family, and adding that second candle to his birthday cake!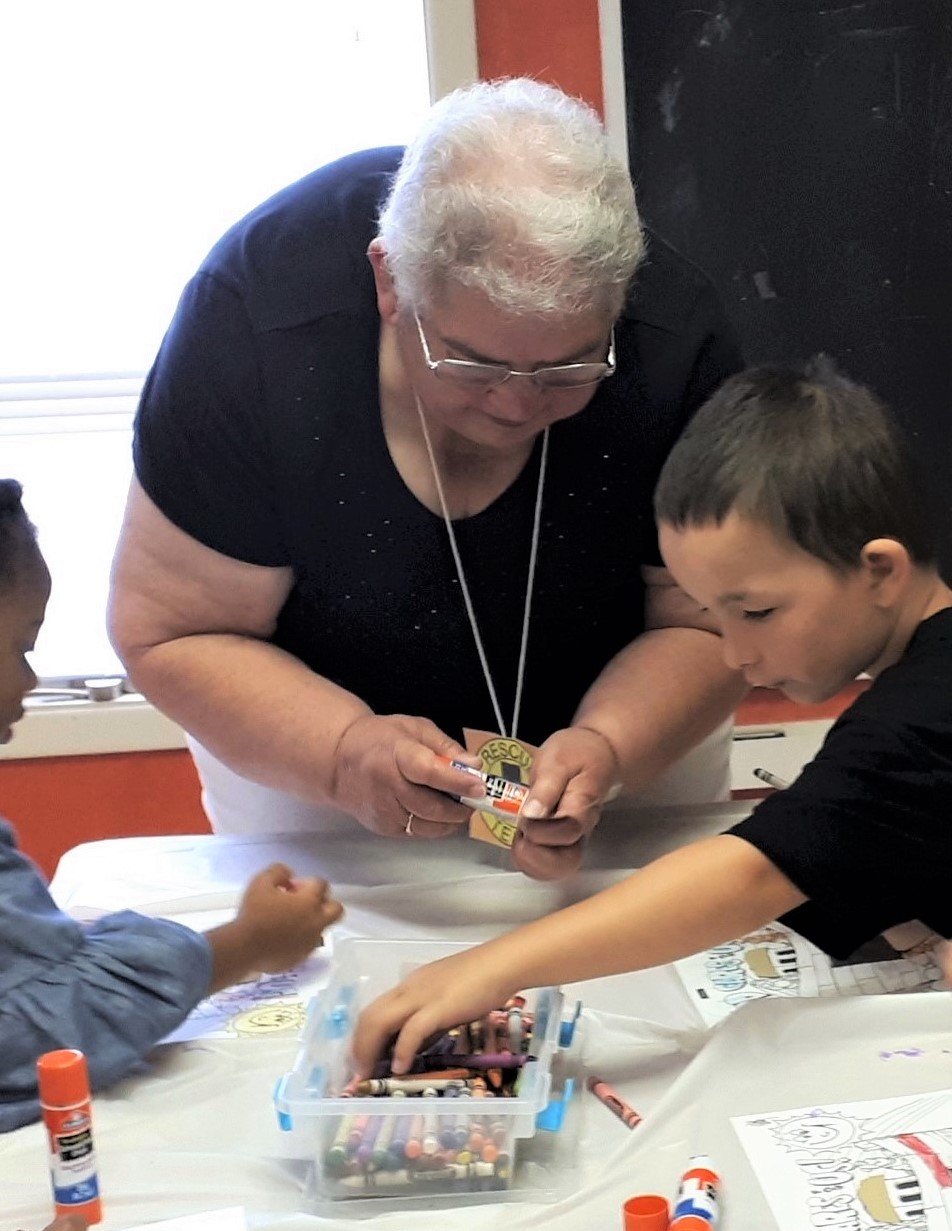 Camp Sonshine Turns Forty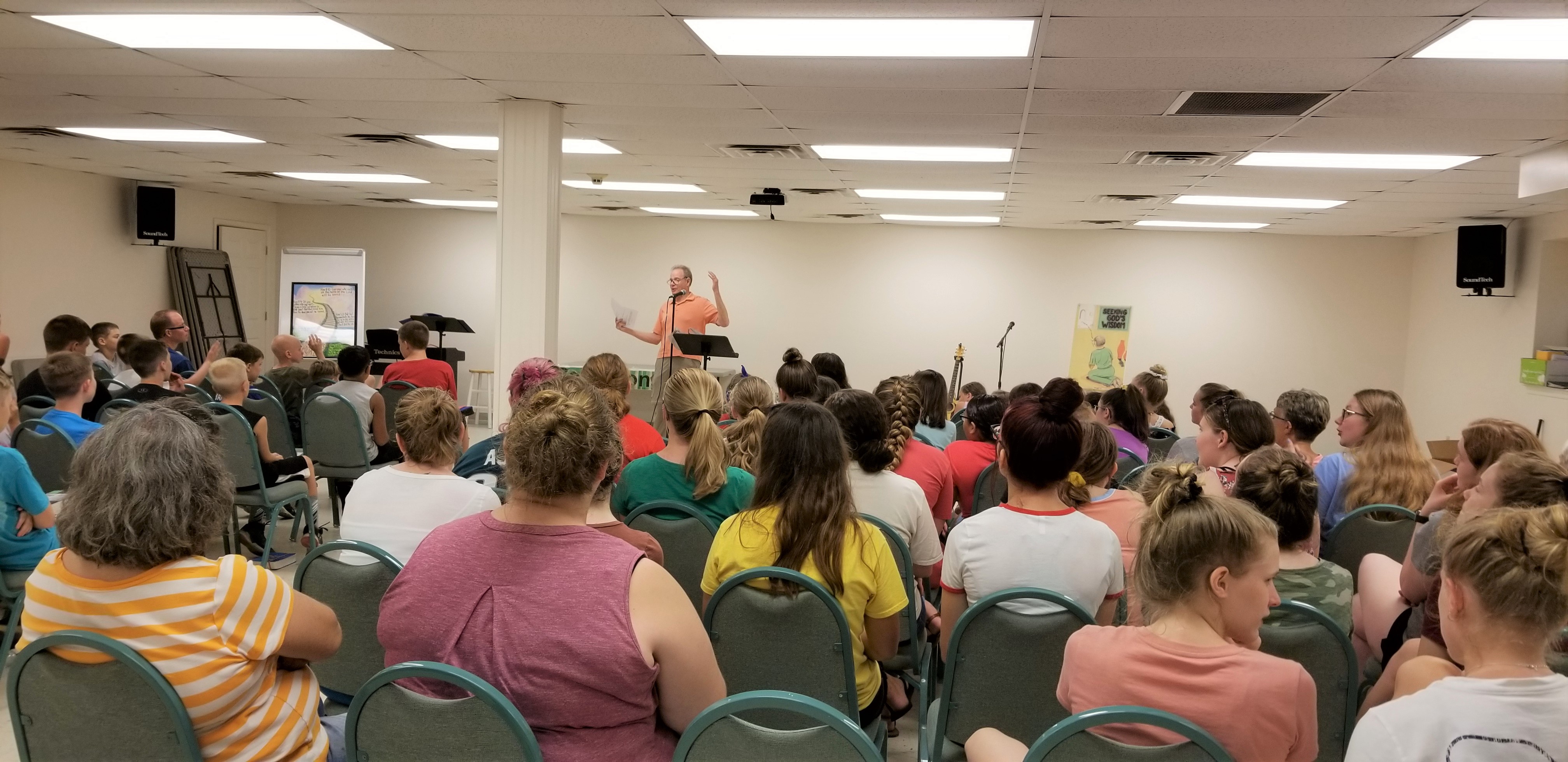 By: Norman Wray III, Director Camp Sonshine
Camp Sonshine celebrated an important milestone July 21-27, 2019—its fortieth consecutive summer of camp! Eighty-three campers ranging from ages 7-17 gathered at Camp Tel Hai in Honey Brook, PA, for a week of Bible teaching and lots of great outdoor fun.
Camp Sonshine was founded by BCM missionary Eleanor Manzullo, who worked with children and teen Bible clubs in South Philadelphia (USA) and served at Camp Sonshine for thirty-three year (see The Call to Camp Ministry Continues, BCM World, August 2015) Today many Sonshine campers and staff are children and grandchildren of the original Bible club members and campers, traveling from across Pennsylvania, Delaware, and New Jersey to continue the legacy of Camp Sonshine.
Each morning began with raising the American flag and reciting the Pledge of Allegiance, then doing some stretch exercises before heading to breakfast. After morning chapel came a wide selection of activities, including horseback riding, zip lining, wall climbing, archery, riflery, human foosball, volleyball, basketball, street hockey, soccer, fishing, obstacle course and miniature golf. Camp Tel Hai is on a beautiful seven-acre lake, so there was swimming, canoeing, paddle boats, and kayaking as well, especially appreciated since the heat index topped a hundred degrees Fahrenheit. When tired of outdoor activities, campers had plenty of arts and craft options, including ceramics. A favorite evening activity was playing capture the flag with flashlights.
This year's theme was Seeking God's Wisdom. Our Bible study focused on the life of Daniel the prophet, and our memory passage was Proverbs 3:5-6: " Trust in the Lord with all your heart and lean not on your own understanding; in all your ways submit to him, and he will make your paths straight."
Our theme and these verses reminded us to stop each day and make sure we've committed our day to the Lord instead of taking matters into our own hands. Daniel was a great example of a steady walk with God, not conforming to the ways of Babylon, which included the worship of false gods. God was with Daniel to protect him, and reward him with great talents for serving kings and his nation in a way that honored God. Our study of Daniel finished with a humorous drama performed by campers. While bringing laughter, it ended with a challenge from Scripture for each camper as they headed home to remember that God is our Provider and Deliverer and to stand firm in our faith to God.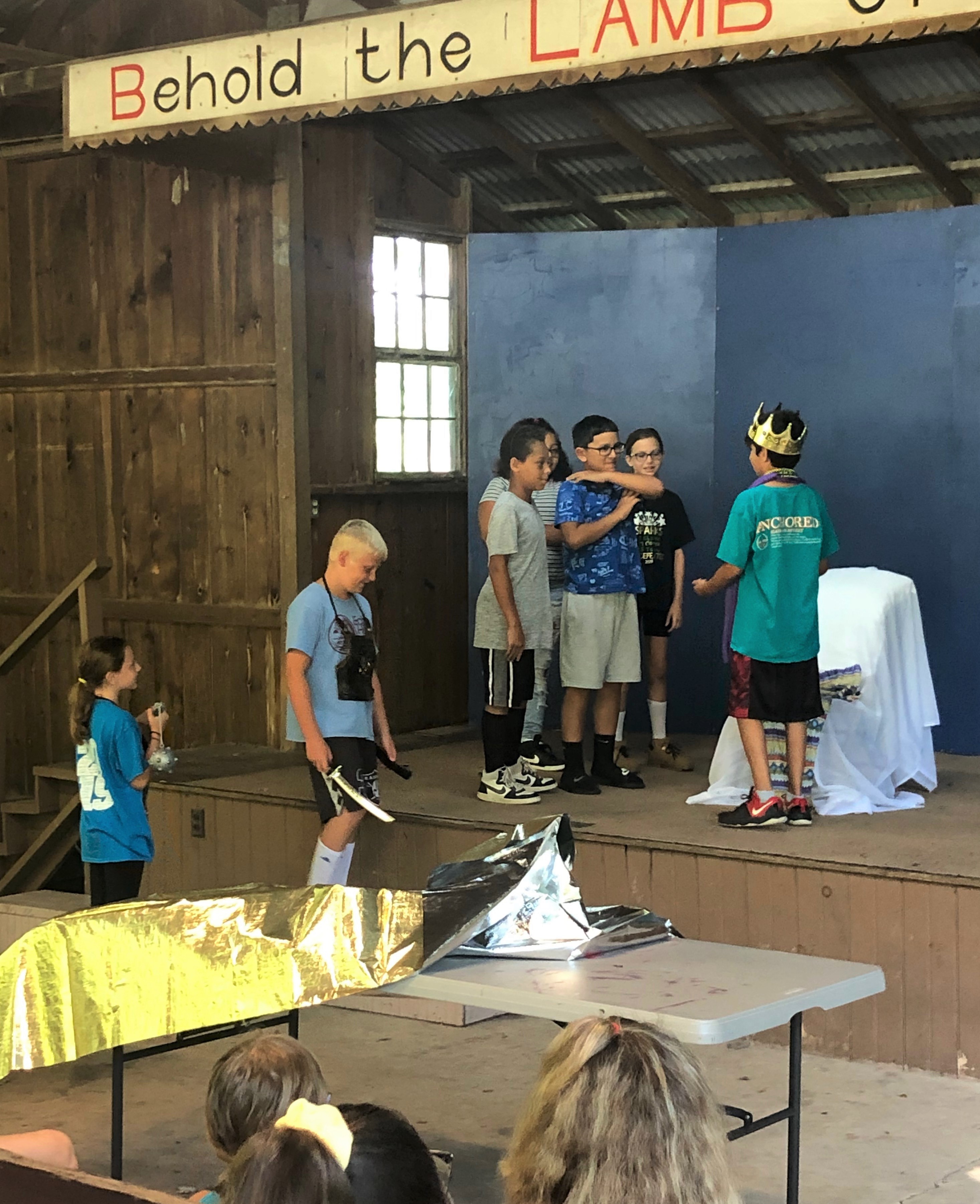 Life of Daniel drama at Camp Sonshine
Christmas in Summer with BCM Canada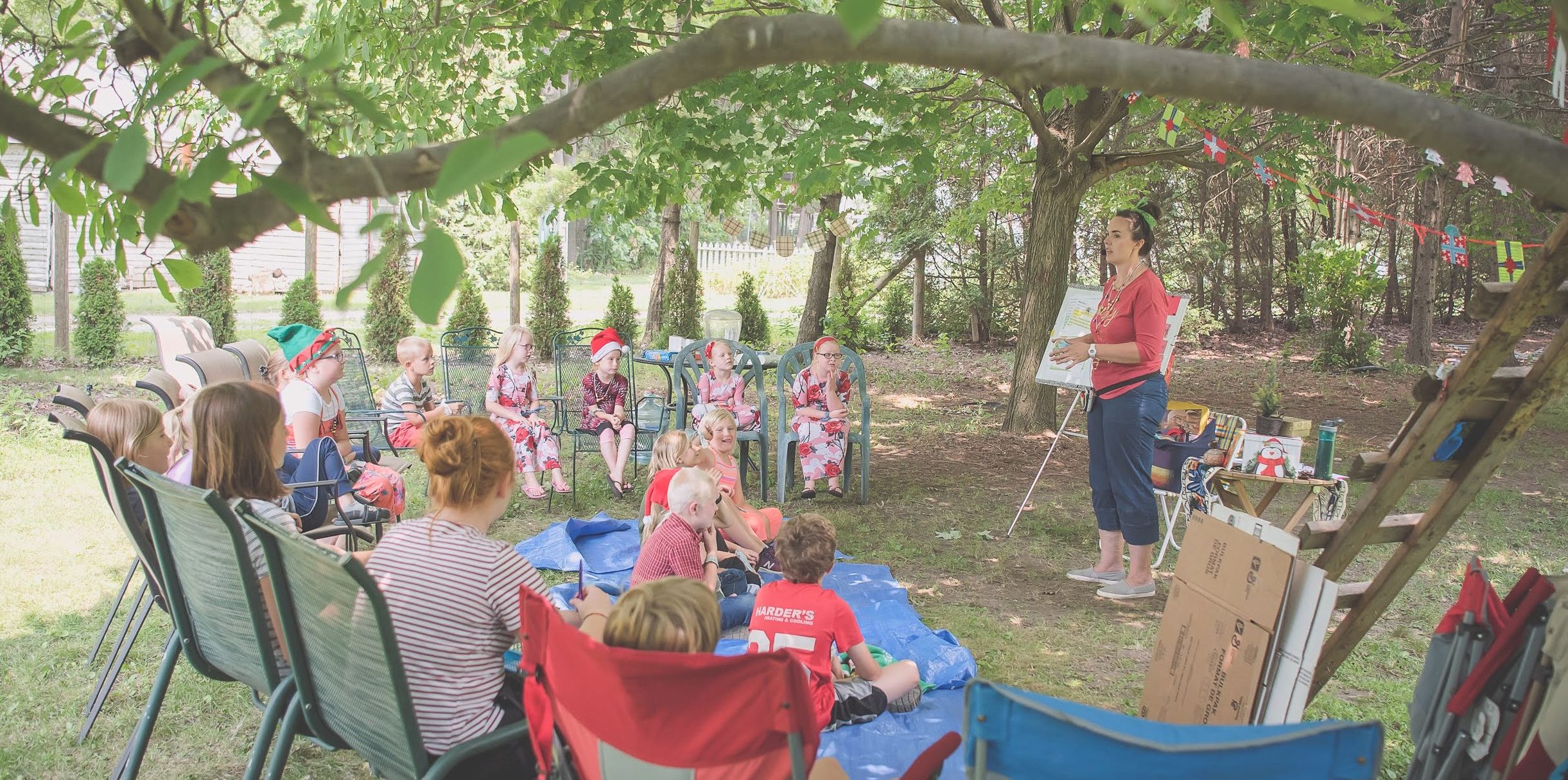 Judy Hiebert teaching Bible lesson
Contributed by Judy Hiebert
Where do Christmas and summer go together? South of the equator—as well as this summer's BCM Canada backyard Bible clubs in Essex County, Ontario.
BCM Canada missionary Judy Hiebert grew up going to school-year and summer-time backyard Bible clubs so Bible clubs are dear to her heart and a main focus of her ministry with BCM. When she met BCM missionaries from Peru, she learned of their Pennies for Peru program, a street ministry that reaches thousands of Peruvian children each year during the Christmas season, which in Peru is the height of summer.
For two full weeks in December, BCM Peru missionaries and volunteers head out to different districts to hold evangelistic outreach in the streets, including puppets, songs, games, and a gospel presentation. At the end, children receive a Christmas treat of hot chocolate and panetón (a traditional Peruvian Christmas cake filled with jellied fruits and candies). Sunday school classes across Peru and North America collect pennies and other coins to help purchase the panetones and other supplies, hence the name Pennies for Peru.
What a wonderful opportunity, Judy recognized, for children to reach other children while hearing the gospel themselves. Christmas in Summer became the theme for her 2019 backyard Bible clubs. Along with collecting coins for panetones, the children learned about the birth and life of Jesus, Christmas customs in Peru, and the needs of children there. They even learned a Christmas carol in Spanish, "Navidad, Navidad, hoy es Navidad" (sung to the tune of Jingle Bells).
The Christmas in Summer program was a great success with a record attendance of 185 children ages kindergarten to sixth grade over five different Bible clubs along with a record number of 37 volunteers, including many teens. One teen alone volunteered at twenty-four out of twenty-five days of Bible clubs. When Judy asked her if she had trusted in Jesus for salvation, the teen volunteer replied yes. In fact, she'd accepted Jesus at an after-school Bible club. Like Judy, she is now passing on what she received to the next generation.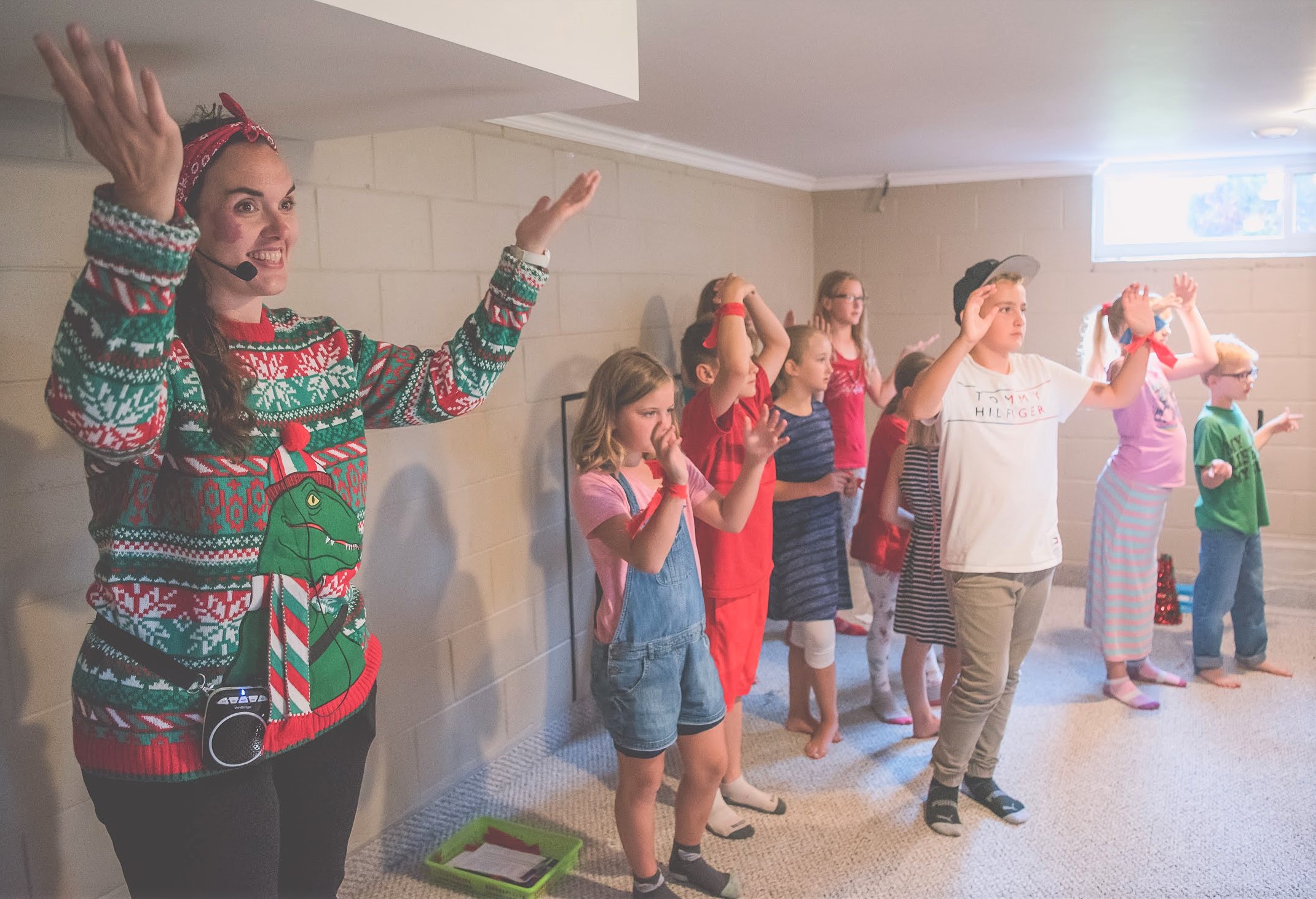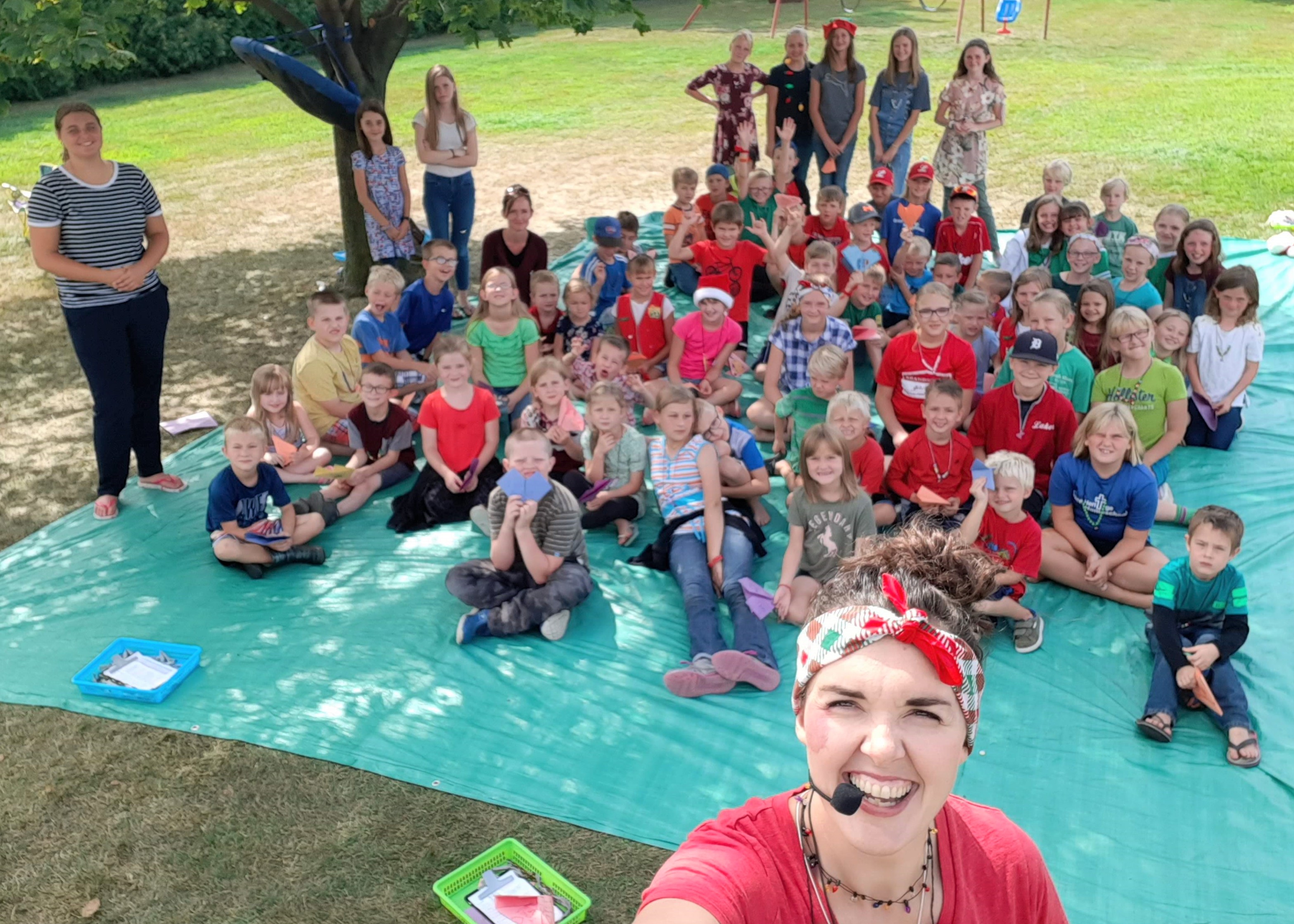 BCM Canada - Backyard Bible club