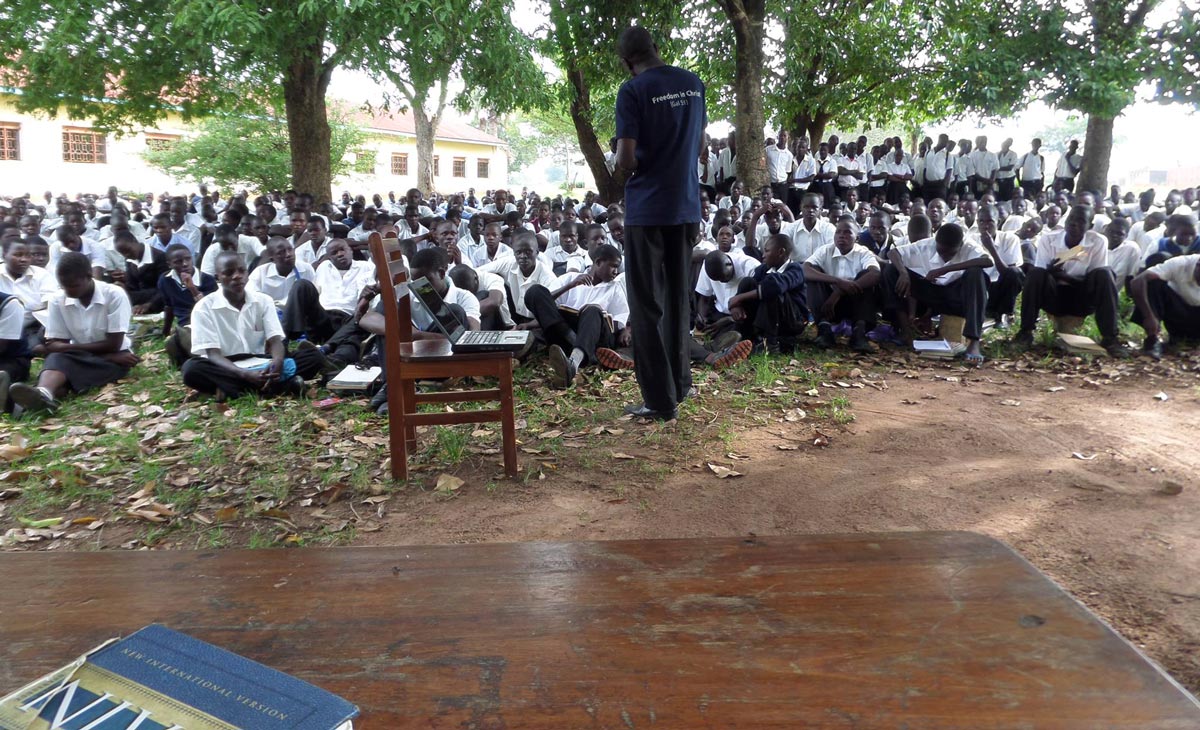 BCM Uganda youth outreach
By Lisa Biegert
In October 2021, BCM's newest ministry field of Uganda was opened with Joshua Anguyo named as director. In eastern Africa, Uganda is a country where seventy-five percent of the population is under thirty years of age and twenty million are under the age of fourteen. So BCM's focus on equipping children's ministry workers and challenging the local church to reach children is what initially drew Joshua's interest to BCM.
Joshua was born in northwest Uganda, the sixth child of Rev. Reuben and Yemima Avujoa. He spent his childhood in rural areas where his father pastored various churches. Growing up in church gave Joshua a false sense of spiritual security, accentuated by the lack of programs for children so that the Bible teaching he heard was directed primarily to adults. That faith needed to be personal wasn't something he understood.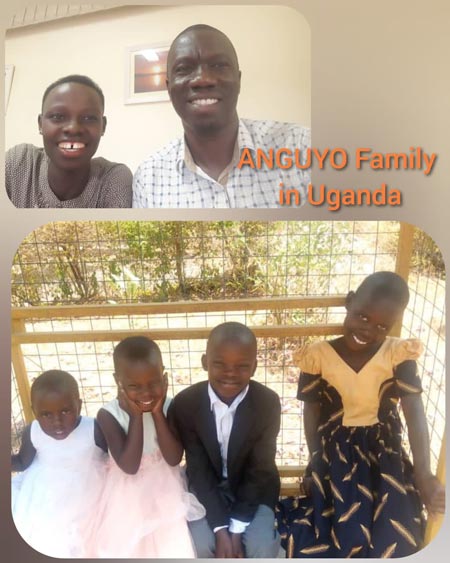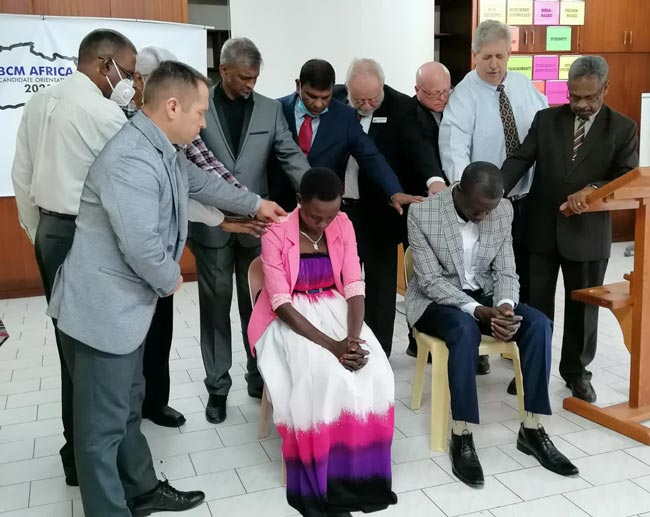 Commissioning Anguyo family
BCM Uganda director
While in high school in 1997, Joshua was challenged by a preacher to make a personal commitment to following Jesus. This became a turning point in his life. In college, Joshua served in Christian student leadership. After graduation, he joined an international charity organization. But he felt God calling him into full-time ministry work. In 2009, he was presented with the opportunity of joining Scripture Union, an international evangelical ministry organization that promotes using Scripture to inspire children, youth, and adults. Joshua accepted the position of children's ministry coordinator for northwestern Uganda and was later promoted to regional coordinator for both children and youth ministry.
In 2014, Joshua attended an In Step with the Master Teacher (ISMT) training course. This was his first exposure to BCM's unique multiplication process of training children's leaders who in turn return home to train more leaders. He soon became a Lead Trainer for Uganda. In 2019, Joshua attended Mobilize Africa, an event for top regional Lead Trainers to provide the additional training to be able to run the entire ISM program in their own regions. This event also gave Joshua more exposure to the ministry of BCM International and what God could do in Uganda through BCM.
"BCM gave me the concrete foundation I needed to serve children better," Joshua expresses. "ISMT is the best curriculum I have ever experienced for training children's workers. I became convinced that the transformation of the nations is possible by intentionally targeting and equipping children's workers and challenging church leaders across the globe to do the same. BCM provides the best platform for this to happen."
Upon returning from Mobilize Africa, Joshua began sharing this vision (see Taking the Lead, BCM World, 2019), including within one diocese of the Church of Uganda with over seven hundred churches, a two-day training event with two hundred church leaders, and ongoing training with Scripture Union coordinators and other church leaders. In 2021, Joshua stepped down from his ministry with Scripture Union. In October 2021, he and his wife Nollah attended BCM Africa Candidate Orientation in South Africa and were commissioned as BCM Africa (BCM-A) missionaries. Joshua was also appointed director of BCM's newest ministry field— Uganda.
Along with the Anguyos, the BCM Uganda team consists of a seven-member national board of directors, three-member board of trustees, as well as volunteers serving in the three ministry areas on which BCM Uganda focuses—discipling youth, strengthening local churches, and holistic ministries.
Discipling Ugandan Youth: Young people will in coming days hold the largest sphere of influence in their country. So BCM Uganda's vision for discipling youth includes developing a leadership program for young people. Joshua describes this as raising up "leaders like the biblical characters of Daniel and Joseph, young men who were full of integrity, faith, and courage. Currently, we do not have God's kingdom representatives in these spheres of influence. We need to disciple the children and youth of Uganda to be the kind of influential leaders our country needs."
Strengthening Local Churches: Prioritizing children's ministry within local churches happens best through the multiplication strategy, which Joshua and his team have already implemented. This involves a nine-month intensive course for children's ministry leaders with in-person sessions lasting three weeks at a time. The first in-person course addresses the foundational topics of children's ministry. The second is an intensive ISMT training that prepares participants as Lead Trainers who can take this course back home and continue training others. The third level puts training into practice through a two-week outreach to children spread across the country. All three levels must be completed to graduate.
"This approach has refueled the multiplication strategy," Joshua explains. "For example, thirty-three children's workers trained five hundred additional children's workers over the course of two months."
Holistic Ministries: Along with a large population of young people, Uganda has a strong Muslim minority (13%), and high levels of poverty. Uganda is also a refugee host nation. Refugees from Democratic Republic of Congo (DRC), South Sudan, Somalia, and Rwanda have all made their home in Uganda over the last thirty years, creating sizeable refugee settlements.
Joshua explains: "Having these refugees in our country allows us to reach people who haven't yet had access to God in their own nations. We intend to strengthen those in exile so that when they do return home, they will be stronger and able to bring the gospel back with them. But the challenges in refugee settlements are real, including tribal issues, teen pregnancies, and humanitarian needs."
All this creates unique challenges that require a more holistic approach to ministry. For example, in majority Muslim regions, direct children's ministry is not an option while ministering to family needs is. Where there is extreme poverty, physical demands like hunger must be met before addressing the spiritual. In refugee settlements, survival essentials need provided along with the gospel.
Such a varied field of ministry requires a base of operation. Currently, BCM Uganda has purchased seven acres of land in Arua, an eastern city near the DRC border of the Democratic Republic of Congo, with the goal of adding fifteen more acres. This base would host a Bible school, the training center for children's ministry, a camping and retreat center, and holistic ministry site to the community with the goal of reaching not just Uganda but into the DRC and South Sudan.
Joshua Anguyo and the BCM Uganda team ask for prayer that God would raise up the necessary funds to complete this BCM ministry site. They also ask for prayer as they seek to partner with key Ugandan Christian universities to incorporate ISMT as a special course for training theology students and future church leaders.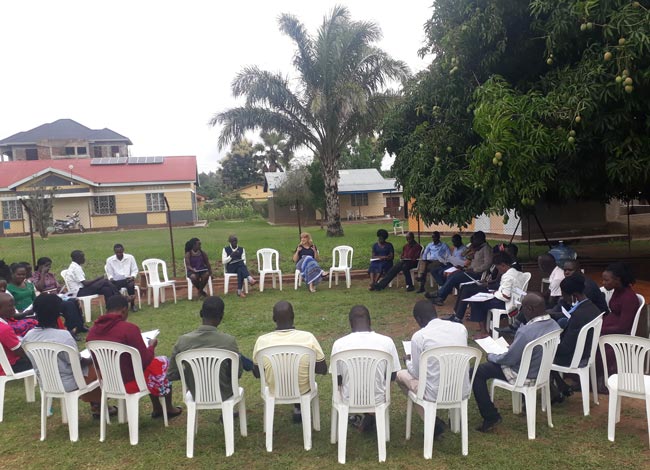 BCM Uganda ISMT partnership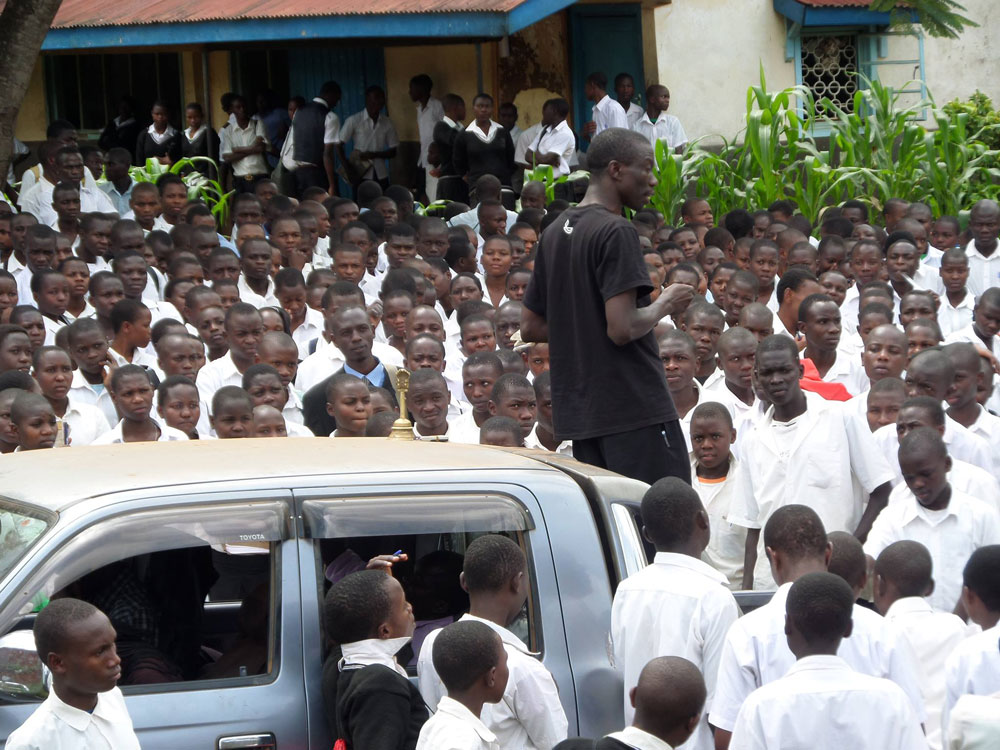 Joshua Anguyo leading youth outreach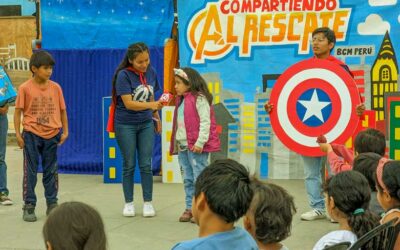 In June 2023, Ecuador became BCM's newest ministry field with the commissioning of Juan Fer and Rita Sanchez from the capital city, Quito, and Jose Quezada in the coastal megacity of Guayaquil. Participating in a week of inaugural events were BCM president Rick Rhoads and wife Naomi, Latin America director Carlos Odicio, president emeritus Marty Windle, and wife Jeanette Windle. BCM Latin America began in Peru in 1993 with a very specific vision: "Pointing children to Christ and pointing churches to children." BCM Quito missionary Juan Fer explains why this is so urgent…
read more